Mar 25, 2018; Omaha, NE, USA; Kansas Jayhawks guard Devonte' Graham (4) and the Kansas Jayhawks celebrate after beating the Duke Blue Devils in the championship game of the Midwest regional of the 2018 NCAA Tournament at CenturyLink Center. Mandatory Credit: Steven Branscombe-USA TODAY Sports
Watching Iowa State fans on Twitter during last night's Elite 8 game between Kansas and Duke was fascinating.
On one hand, there was the group that was passionately rooting against Kansas. There is the rivalry (I think we can call it that) to consider that budded during the Hoiberg Era. Bill Self, to some (not me, I love him), is a man worthy of every boo that he gets around the Big 12. For crying out loud, KU has won (or shared) the Big 12 14 years in a row. It's getting old!
I get it. Trust me, I get it.
I just don't view this Kansas team like most Kansas teams, which along with my enjoyment of Big 12 basketball, put me on the side of fans rooting for the Jayhawks.
[yop_poll id="4″]
Kansas starts two seniors, two sophomore and a junior. Other than watching them grow together as a team (and I guess the whole Billy Preston deal), it's been a drama free year in Lawrence (minus the whole FBI thing, but that's been a worry for every program in America). When it comes to pure basketball, the season has been been Bill Self coaching the hell out of the least talented team he's probably ever had, and they have peaked at the perfect time.
This is by far Self's best coaching job ever. Even as an Iowa Stater, I can appreciate that.
I won't deny it: I rooted like crazy for Kansas last night and I don't even feel bad about it. I hope they win the national championship (sorry Cinderella).
Then I hope Iowa State snaps that streak next season.
On football recruiting…
I absolutely love the 2019 football commitment that Iowa State received over the weekend.
In case you missed it, Blake Peterson, a 6-foot-4, 240-pound defensive lineman out of South Dakota committed to the good guys over an offer from Minnesota and interest from a handful of other quality power five programs.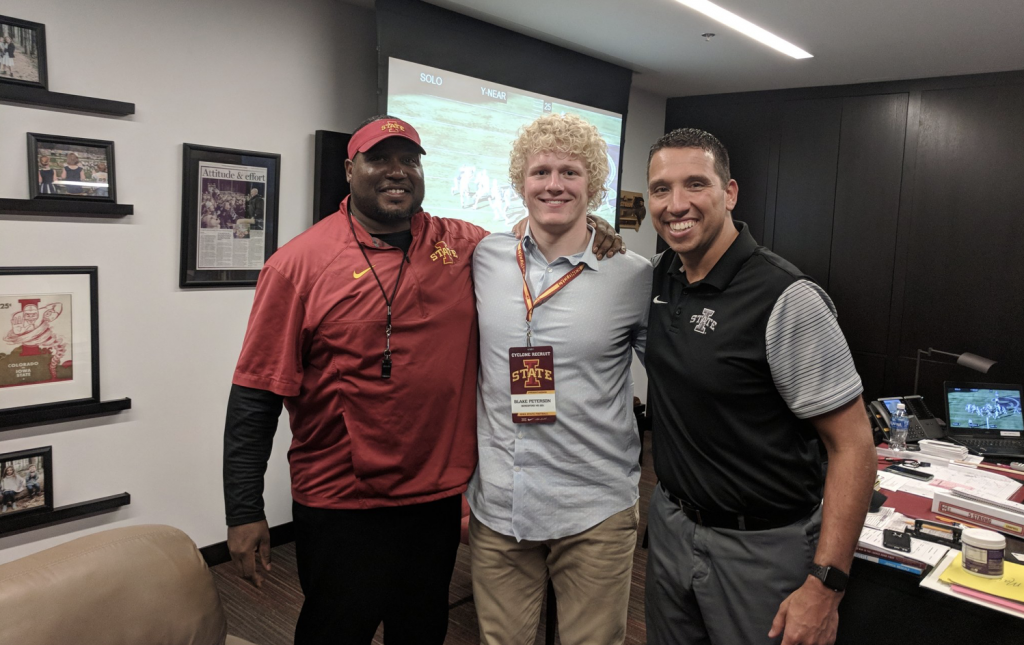 I'm starting to sense that this is exactly the Matt Campbell recruiting playbook, a move we have seen twice already in the class of 2019.
1 – Identify talent (that has the body type to play in the Big 12) in an area of the country that is under-recruited.
2 – Make sure that the talent LOVES the game of football. This is an absolute must for Campbell.
3 – Offer early to show your commitment to the prospect.
4 – Secure the commitment and sign him early.
I need to emphasize No. 2. This is something that you've all heard Campbell talk about in media sessions and what not but he's pointed it out to me in conversations as well when the recorder wasn't rolling. If you're going to play in this program, you have to love football and be passionate about the situation that you are walking into. It's the whole culture/process thing we're always hearing about.
The other example that I think fits this mold is 2019 quarterback Easton Dean, who hails from the state of Kansas.
Of course, Iowa State was in the thick of it for blue-chipper Max Duggan out of Lewis Central High School in Council Bluffs. Iowa State got there early but in the end, found itself in the middle of a dogfight with every coach from Urban Meyer to Kirk Ferentz to Brian Kelly. Campbell is fine with recruiting against the big boys but he also loved Dean, a player he thinks can too be elite at the next level.
Do you wait it out with Duggan or take the commitment from a prime talent who just happens to be from an area of the country where he hasn't been seen much at this point in time? Dean has the talent and at 6-foot-6, 220-pounds, the body type is there.
Since committing to Iowa State, Dean has received an offer from Iowa and Kansas State started sniffing around. The dude loves football. He checks all of the boxes.
Perhaps I am overanalyzing all of this, but I don't believe that to be the case. The more I study what Campbell wants to do on the trail, the more I believe guys like Peterson and Dean will be the real foundation of this program going forward.
I think the days of snagging a flier from Florida or Texas – just because they are from Florida or Texas – are in the past.