While Kansas has powered its way to 14 straight Big 12 regular season titles, that dominance hasn't translated quite as smoothly to the Big 12 Tournament.
Since the 2004-2005 season in which "The Streak" began, the Jayhawks have claimed seven of the 13 corresponding Big 12 Tournament titles. Grabbing the majority of the tourney trophies during that time is still impressive, no doubt, but winning three games in as many days is a different kind of animal that has been wrangled by more than just those who call Phog Allen Fieldhouse home.
Since the Big 12's inception, five different teams have taken home the bacon: Kansas, Iowa State, Oklahoma, Oklahoma State, and the now-departed Missouri Tigers. All of those schools have won the tournament at least twice, with KU's 10 wins leading the pack.
Iowa State has the second-most tournament titles with four wins in four championship game appearances. Three of those victories have come within the last four years, with the only blip happening in 2016, when the Cyclones fell victim to Naismith Award Winner Buddy Hield and the Oklahoma Sooners in the quarterfinals.
The recent string of success in Kansas City has led Iowa State fans to affectionately refer to the Sprint Center as "Hilton South." Photos of the Power and Light District flooded with seas of cardinal and gold have circulated around social media thanks to hordes of Cyclone fans that made the trip down Interstate 35 to support their team. Tournament championship games in 2014 and 2017, especially, were essentially home games for Iowa State thanks to Kansas (and their proximate fan base) getting bounced early.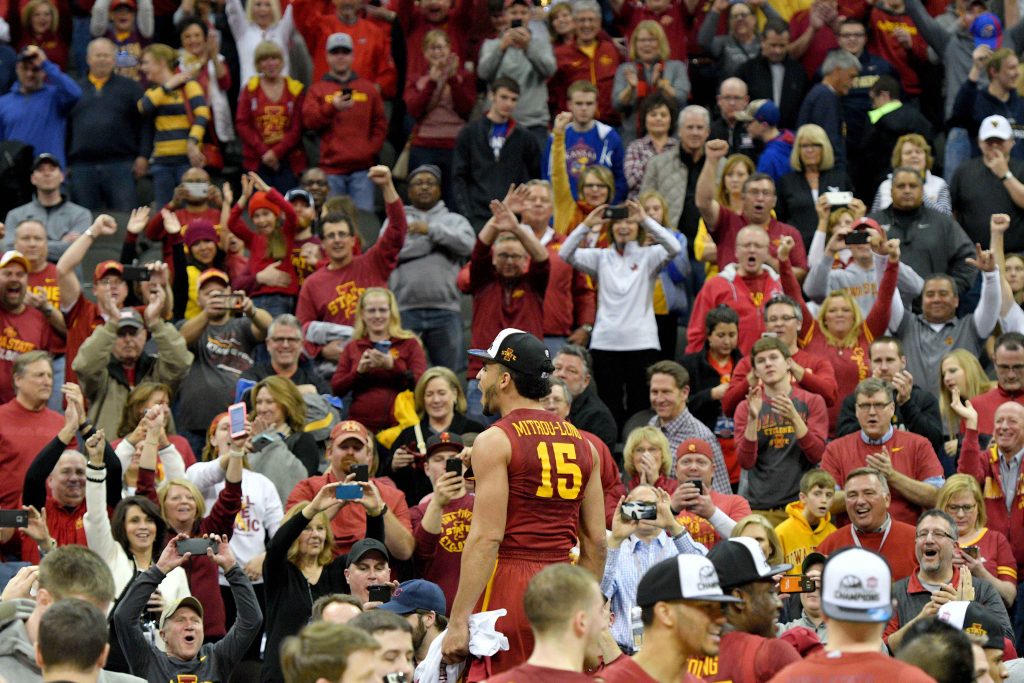 The 2018 edition of the Big 12 Tournament figures to have less of a Hilton South vibe as recent years due to a down season for ISU. The Cyclones finished dead last in the conference's regular season thanks to a relatively young team that was also marred by attrition. When Iowa State takes the floor against Texas on Wednesday night (8 p.m. on ESPNU), they'll be without the services of starters Nick Weiler-Babb and Solomon Young, who have both been shut down for the season thanks to injuries.
Nevertheless, there WILL be a contingent of Cyclone fans in Kansas City whether Iowa State makes a run or not. The question is – what can those fans expect to see?
The Bracket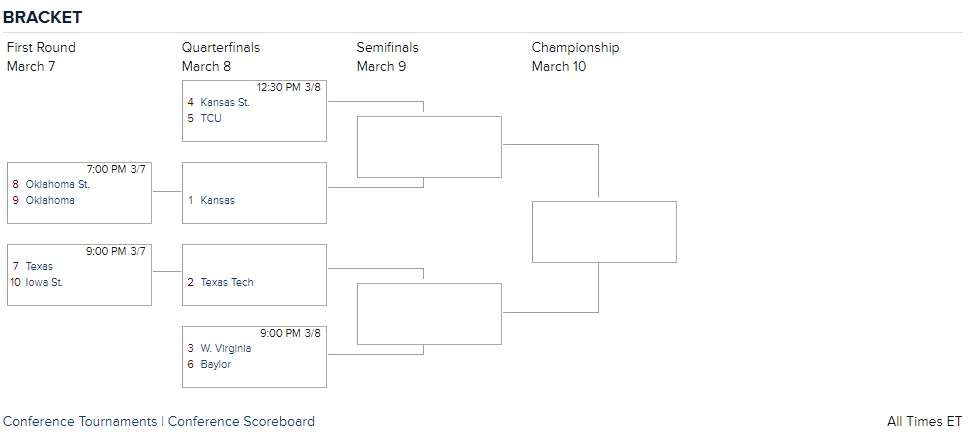 A couple immediate thoughts jump into my head upon looking at the bracket…
First, this shows just how deep the Big 12 is as a whole. Oklahoma, which was at one point the No. 4 team in the nation, comes into the tournament as the 9-seed.
Of course, that seed also speaks volumes about how deep the Sooners' slide has been to close out their season (4-10 since receiving the No. 4 ranking). Regardless, a 9-seed in a CONFERENCE tournament that possesses potentially the national player of the year in Trae Young speaks volumes about the meat grinder that was the Big 12 slate.
Speaking of Oklahoma – their game against Oklahoma State very well could be a play-in game for the NCAA Tournament. Joe Lunardi's most recent Bracketology has the Sooners as a 10-seed in the Big Dance with the Cowboys slotted in the dreaded "first four out" group. Whichever team wins that game will feel much more comfortable on Selection Sunday.
My second thought is that if Iowa State can get past Texas, which is admittedly a big "if", they will play Texas Tech and either West Virginia or Baylor on their way to the championship game – all teams the Cyclones beat during the regular season.
It's admittedly tough to see the Clones going on a run, especially considering ISU beat all of those teams with a healthier roster. Donovan Jackson and Lindell Wigginton would need to shoot the lights out and Cameron Lard would need to go into beast mode down low.
Crazier things have happened!
TV Schedule
Want to avoid having to Google when and on which channel the games are played? Look no further!
Wednesday, March 7

No. 8 Oklahoma State vs. No. 9 Oklahoma (ESPNU) 6 p.m.
No. 7 Texas vs. No. 10 Iowa State (ESPNU) 8 p.m.
Thursday, March 8

No. 4 Kansas State vs. No. 5 TCU (ESPN/2) 11:30 a.m.
No. 1 Kansas vs. Game 1 Winner (ESPN/2) 1:30 p.m.
No. 2 Texas Tech vs. Game 2 Winner (ESPN/2) 6 p.m.
No. 3 West Virginia vs. No. 6 Baylor (ESPN/2) 8 p.m.
Friday, March 9

Game 3 Winner vs. Game 4 Winner (ESPN/2) 6 p.m.
Game 5 Winner vs. Game 6 Winner (ESPN/2) 8 p.m.
Saturday, March 10

Game 7 Winner vs. Game 8 Winner (ESPN) 5 p.m.
The Odds
If you (or your friend…) are a betting individual, Kansas is the favorite to win this year's tournament. Here's the full list of odds, per oddsshark.com.
Kansas +200
West Virginia +300
Texas Tech +450
Kansas State +700
TCU +1000
Baylor +1200
Oklahoma +2000
Oklahoma State +2000
Texas +2000
Iowa State +2500
It's tempting to go away from the favorite Jayhawks if you want to win some extra dough, but if you read this recent Kansas City Star article, you might be more inclined to stay with the safe pick. This season's KU team, which has thrived with a four-guard lineup, is eerily similar statistically to last year's Iowa State team that trotted out Monte Morris, Naz Mitrou-Long, Matt Thomas, and Deonte Burton.
That team won the Big 12 Tournament, as you might recall.
If you're still not convinced and are looking to lay down some cash on one of the long-shots, I have two options for you.
1. Baylor. The Bears have been in three Big 12 championship games in the last decade. Even though they've never won, Scott Drew has proven he can get his team to play well over the course of a few days. The Bears got to the 2009 championship game as a 9-seed and played the DeAndre Kane Iowa State team in 2014 as a 7-seed, so they're no stranger to advancing without a lower number next to their name.
2. Oklahoma State. While no team has played on Wednesday of the Big 12 Tournament and won the entire thing, the Cowboys would be my pick to do it of the four teams this year. If OSU can get past Trae Young and Oklahoma, they'll play a Kansas team they swept during the regular season. After that, it's anyone's game. Why not the Pokes?
For you fans that are heading down Wednesday to watch the Clones or have taken a few days off work to go on an annual basketball and booze-filled vacation, I wish you safe travels! Hopefully Iowa State can steal a game or two to make your excursion more enjoyable. Be sure to check Cyclone Fanatic throughout the week for more news and coverage of the Big 12 Tournament.