AMES — Let's cap that win off with a dose of reality followed by a massive pint of Cyclone Kool-Aid.
No. 17 Oklahoma (16-8, 6-6), who Iowa State (13-11, 4-8) defeated 88-80 on Saturday afternoon inside of a sold out Hilton Coliseum, has lost four of its last five games and likely won't be ranked next week. This was a very good and much needed Big 12 win, but hardly a program changer.
But friends, the day-to-day trends that are surrounding the Cyclones right now are what fans should focus on. The progress we've seen from Steve Prohm's young program without Nick Weiler-Babb at the point is absolutely worth getting giddy about.
Two months ago, we all knew that Iowa State's freshmen Lard and Wigginton were good. As the season goes on, they are starting to look elite.
Lindell Wigginton set a new freshman record on Saturday with his ninth 20-point game of the season.
"He's just learning the position, really," Prohm said about Wigginton's brief period of playing point guard for the Cyclones. "It's trial by fire throwing him out there. He's growing. He's thinking score it because by nature, that's what's in his blood. You know five assist and three turnover game can become a seven assist game as he continues to grow."
Wigginton's final line was a game-high 26 points, five assists to only three turnovers.
Enter Cameron Lard and his video game box score of 19 points and 17 rebounds.
"His energy is just so good when he is locked in and competing," Prohm said. "Think about this: He had 17 rebounds and he was guarding a guard."
During Wednesday's loss to Texas Tech, Lard scored 22 points in only 20 minutes. That makes him 17-for-22 from the field in his last two games.
"When Cameron is locked in, he is really good," Prohm said. "Now it just just daily habits with him. How good to you want to be? I think he has a chance when he gets it all figured out to be elite."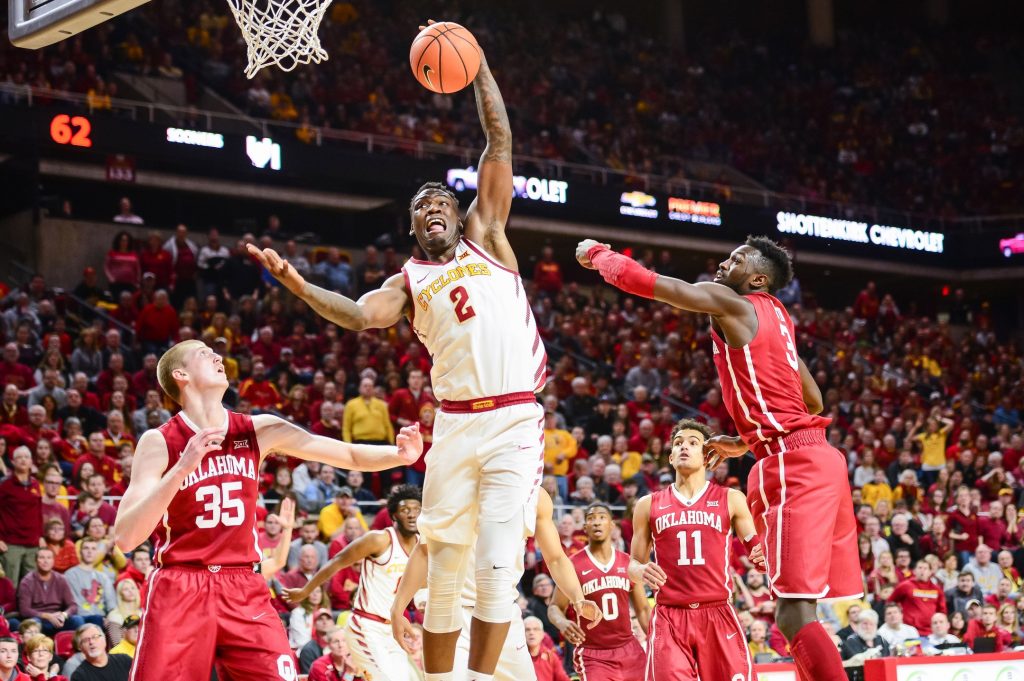 Oklahoma's Trae Young, who was rightfully the most hyped up player we have seen come into Hilton Coliseum in years (perhaps since Michael Beasley), was outplayed by both Iowa State's freshmen in this game. That's really saying something considering Young, likely a top five pick in next summer's NBA Draft, is considered by many to be the next Steph Curry.
"In my mind I feel like I am one of the best guards in the country," Wigginton said.
Noted.
Young entered the game averaging almost 30 points per and was held to 22 on 7-of-21 shooting. It was a team defensive effort that slowed the Wooden Award candidate down.
"His change of pace is really good," said Donovan Jackson, who was fantastic during his time defending Young. "He puts his head down and he draws fouls really well too. If you think you know what you need to do, you can stop him."
Jackson, along with Wigginton and for a short frame of time, Zoran Talley, made Young's life a living hell. Young went 1-for-8 from long range. Oklahoma was 6-for-27 as a team.
"Obviously Trae is one of the best guards in the country took," said Wigginton. "We had a good matchup and are looking forward to the next one."
Steve Prohm on Lindell Wigginton's performance against Oklahoma in this CFTV. pic.twitter.com/dnaxI5s25m

— CycloneFanatic.com (@cyclonefanatic) February 10, 2018
It's not just about the freshmen though.
Jackson is Iowa State's one real contributor that is moving on after this year. He hit some huge shots in 40 minutes of play, scoring 19 points along the way.
Everybody else – sans an often injured Hans Brase and Jeff Beverly – will be back next year though.
Solomon Young (11 points, four rebounds, four steals) is playing some of the best basketball of his career. A guy like Talley (10 points, three assists) has come a long way since this fall.
As you are all very aware, one of the best recruiting classes in program history is on its way to town.
"I told them at the end of practice yesterday that they had prepared to win a game today," Prohm said.
From now until March, that's the main focus for this program going forward. Show up every day. Prohm noted that consistency is the key to Lard's game and while it is accentuated with him, it's also a microcosm for the entire program.
"Right now we are just trying to stay locked in because everyone else is trying to count us out other than Cyclone Nation," said Jackson. "We are just trying to fight this battle as a family. That's bringing us closer together."
A wounded Kansas program will be the next team to enter Hilton Coliseum (Tuesday, 6 p.m. on ESPN2), where Iowa State has beat three ranked teams this season. The Jayhawks are a hot mess right now. Kansas lost at Baylor 80-64 on Saturday and is in real danger of not at least sharing the Big 12 regular season title for the first time in 13 seasons.
Who knows if the Cyclones will win that game on Tuesday, but one thing is for certain: It's going to be entertaining. The Baby Cyclones are finally hitting their stride.