AMES — Nick Weiler-Babb referred to Wednesday night's 23 point loss at TCU as "embarrassing."
At this level of basketball, what's the best way to bounce back from an "embarrassing" loss vs. when you've got a top-10 team invading your home court?
Don't even worry about the opposition, apparently. Focus on yourself.
That's the route that Steve Prohm went leading up to Saturday's 70-52 behind-the-woodshed type of beating the Cyclones gave No. 8 Texas Tech.
"We did not walk through Texas Tech yesterday at all," Prohm said. "Not a bit. I wasn't worried about Texas Tech. We did some drills and simulated motion but I didn't walk through one thing on the floor. We got up this morning at 8:30 and went through and we did. We have to be about us and our habits."
That's why you make the big bucks, Coach.
Prohm hates using the world "rebuild," but we can all be honest and admit that's exactly what is going on here. That's the case with more than just what fans see on the court. It happens during the week, between the ears of fun, young players like Lindell Wigginton and Cameron Lard, to name a few.
"We have to play for each other and with the most special teams I have been around, it's been about investment," Prohm explained. "Investment in, I am invested to them. I will do anything that these guys need from me. I want them invested in me, likewise."
That was the focus between Wednesday and Saturday in the Sukup Basketball Complex – surprisingly not defending the pick and roll.
Some comments from Steve Prohm regarding today's win over Tech. pic.twitter.com/9HMtfIzE3I

— CycloneFanatic.com (@cyclonefanatic) January 20, 2018
The game
As the kids say, Hilton Coliseum was "lit," despite Iowa State's meager 1-5 start to conference play. The victory marked Iowa State's largest ever over a top-10 team, but there was nothing flukey about it. The Cyclones nearly led wire-to-wire. Chris Beard's Red Raiders, who won at Kansas on Jan. 2, grabbed a one point lead for only 16 seconds in the second half.
The win was encouraging on a number of levels but mainly because we all just watched a rebuilding Iowa State program establish dominance over a top-10 opponent.
Perhaps the sky isn't caving in on the 2016-17 season.
Just three days following a night that TCU shot 60.3 percent against the Cyclones, Iowa State held Texas Tech to 33.9 percent on the day (31 percent in the first half).
Cameron Lard was the catalyst on both sides of the ball. Heading up Iowa State with 18 points, six rebounds, three blocks and two steals, Lard isn't exactly a leader on the court but at this point, appears to be this team's spirt.
"He's our emotion. He's our guy who gets us going," Weiler-Babb said. "We couldn't do it with out him. He's out here tipping balls out after a missed shot. He's getting 50-50 balls. He's finishing around the rim. That's what we need him to do. We can't ask for anything more."
Lard's 35 blocked shots on the season now ranked him third all-time among Iowa State freshmen.
Weiler-Babb, Donovan Jackson and Lindell Wigginton all chipped in with 13 points a piece.
Finally, some bench production
Here's a tip of the hat to Zoran Talley, who as Prohm put it, was "due" for a big game.
"I was joking in the locker room, he was due for that three," Prohm said. "What he did a great job today of is he put pressure on the basket. We wanted to spread them and play off of penetrate and kicks. He finished. He offensive rebounded. Once he got into the groove, I thought defensively he did a great job."
Talley, who entered Saturday's game shooting 33 percent from the field this season, went 5-of-8 to tie a career high of 11 points. Talley also tacked six rebounds onto his box score.
"That's what we are missing," Prohm said. "We need one guy to establish himself on the perimeter off of the bench. I was really proud of him because he sat out for six weeks and he's hung in there."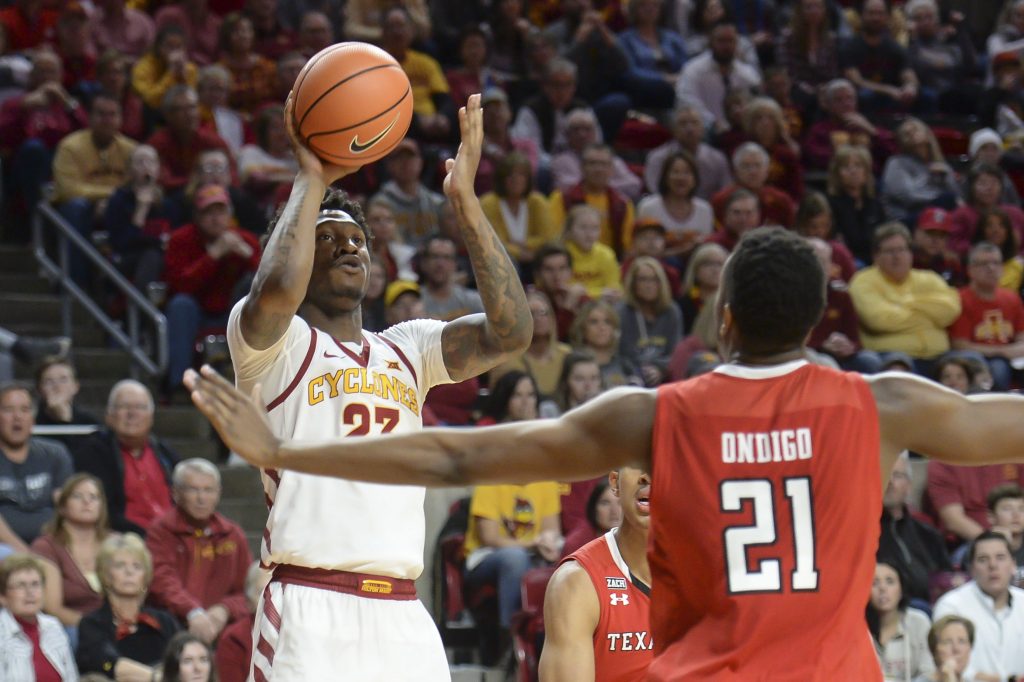 JOTTINGS
FANTASTIC FRESHMEN: Lindell Wigginton now has 13 games that he's scored in double figures this season. Wigginton hit two 3-pointers on Saturday, nudging his number to 40 on the year (third most all-time by an Iowa State freshman). Meanwhile, Cameron Lard has eight games with three or more blocked shots.
HILTON MAGIC: Iowa State is 20-7 against ranked opponents in Hilton Coliseum over the last seven seasons.
HISTORY: Prior to Saturday's win, Iowa State's largest win over a top 10 foe was in the 1985 Big Eight semifinal, by 16 points over No. 10 Kansas.
UP NEXT: Iowa State will attempt to ride this fresh wave of momentum with a rare Monday, 6 p.m. tip vs. Texas. The Longhorns, who beat this Texas Tech team at home last Wednesday, were routed in Morgantown on Saturday 86-51. Perhaps this is a decent time to catch the Longhorns?
"We have to grow up at some point and take the next step and you've got to win in the paint and at the free throw line," Prohm said about the looming road trip. "That's how you win on the road. It's a great opportunity for us."
QB GETS LOVE: Iowa State football had a big time quarterback prospect named Brock Purdy in for an official visit on Saturday. Guided by Iowa State coaches, the student section chanted "we want Brock" as he entered Hilton Coliseum for the second half. Purdy is expected to decide betweenez the Cyclones and Alabama over the next few weeks.