Feb 3, 2018; Waco, TX, USA; Iowa State Cyclones guard Lindell Wigginton (5) drives around Baylor Bears guard Jake Lindsey (3) during the first half at Ferrell Center. Mandatory Credit: Andrew Dieb-USA TODAY Sports
Lindell Wigginton is putting together one of the best freshman campaigns that Iowa State basketball has seen, especially when you consider the amount of weight that is being put on his shoulders. He has come in and been far better than anyone could have hoped. The truest portion of that statement for me is that he has made 50 of his 113 3-point attempts this season (44 percent).
One area where Wigginton has struggled has been converting shots from inside the arc. On his 2-point shots, he has made just 64 of his 164 attempts (39 percent). That isn't for a lack of converting shots at the rim where he has made 30 of 45 attempts at the rim (tip-ins, dunks, or layups) but more due to his 2-point jumpers where has made just 34 of 119 attempts (29 percent). The first note is that he has likely taken too many 2-point jumpers, the second that he obviously hasn't made enough of them.
For comparison, Cam Lard has made 46 percent of his 94 2-point jumpers (though his jumpers are probably made up of more shots from six feet instead of 16 feet). Wigginton has one of the lowest 2-point percentage jumpers on the team but is still taking 43 percent of his shots from that territory.
Below is the full table for each player and their 3-point attempts, 2-point jumper attempts and makes, and shooting percentage at the rim-the larger numbers (red) to the smaller numbers (blue). (**all data from www.hoop-math.com)

How does that affect his overall impact? While he's shooting 39 percent on 2-point shots, he has still amassed an Offensive Rating of 104 with a usage of 26 percent. That essentially measures how many possessions end with him on offense whether it is a field goal attempt or turnover. The higher the usage rate, the more difficult it is to have an exceptional Offensive Rating. For reference, this year Trae Young has a usage at 40 percent (astronomically high) and a ridiculous Offensive Rating of 118 to go with that high usage.
For comparison to Iowa State players in the past: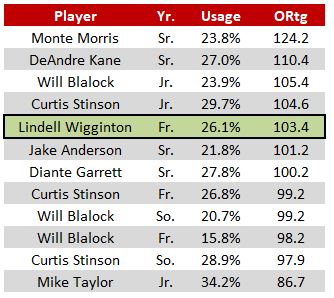 Wigginton as a freshman is comping pretty evenly to both Curtis Stinson and Will Blalock in their junior seasons for the Cyclones. But, here's the interesting part; if he can improve his 2-point percentage, his Offensive Rating can increase dramatically. Right now, he's making 39 percent of those attempts but if everything else was equal and he made 45 percent his Offensive Rating would jump to 108. If he was making 50 percent of his attempts it goes to 112.
He is already a top six or eight guard in the Big 12, but some small improvements could vault him well into the top five.
That's a bit, "if's and but's, candy and nuts" but for a freshman having a tremendous season it shows how close he is to having a historic season when compared to some great guards of recent Cyclone seasons.
Chasing 3-Point Records
More Wigginton…The freshman record for made 3-pointers at Iowa State is 61, from Jake Sullivan in 2001. A team that had a much different makeup where Sullivan was the supporting cast instead of the dude. He has already passed Matt Thomas (44), Adam Haluska (40), Georges Niang (38), and Wesley Johnson (32) with his 50 made 3-pointers.
But he isn't the only one chasing a record for 3-point field goals made. Donovan Jackson has made 74 of his 176 attempts (42 percent) for 3.36 made 3-pointers per game. The record for long ball makes in a season is Dedric Willoughby in 1997 with 102, followed by Michael Nurse in 2000, Naz Mitrou-Long with 98 in 2017, and Tyrus McGee with 96 in 2013.
Below are the projected made 3-pointers for both Jackson and Wigginton if they continue to make their averages and based on the total number of games played. Wigginton will almost certainly dethrone Jake Sullivan's 61 made 3-pointers and Jackson has a great chance to supplant Dedric Willoughby.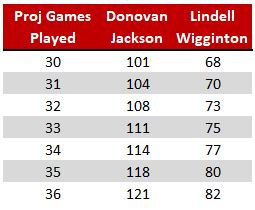 If Wigginton makes at least 68 3-pointers, it would be just the second time in school history that two guys have made 68 or more. The other came last season with Naz Mitrou-Long making 98 and Matt Thomas making 89.