Northern Iowa will show up in Des Moines on Saturday night with a 6-3 record and a notable win over North Carolina that should have everyone's attention. Beyond that, they have pummeled some bad teams and lost their season opener to Larry Eustachy's very mediocre Colorado State Rams. UNI also lost road games at Richmond and New Mexico in decisive fashion.
Their next most notable win other than knocking off the No. 1 and Marcus Paige-less Tar Heels is a 70-60 win over a struggling Stephen F. Austin in Cedar Falls that was a larger lead than 10 for most of the game. Beyond that, their other four wins have come against teams ranked No. 192, No. 295, and No. 320 teams per KenPom.com and a D-2 team while they lost their games to No. 169, No. 61, and No. 44.
(All stats per KenPom.com)
When UNI has the ball…
The Panthers are a good offensive team by adjusted scoring with the 64th best offensive scoring average in the country. They may not knock your socks off but they are a very good shooting team that plays smart and takes care of the ball, so basically the standard setup for the Ben Jacobson led Panthers.
As per the norm, UNI plays at the 310th fastest tempo and has an average possession length that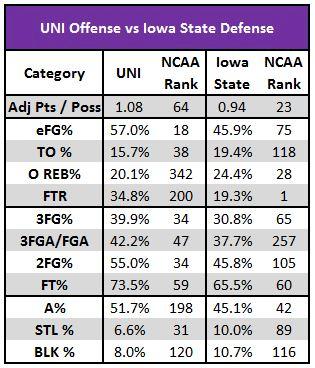 ranks 225th in the country.
They sport an effective field goal percentage of 57 percent which is the 18th best in the country and rarely turn the ball over with the 38th lowest turnover rate. Like Iowa State, they basically punt on attempting to grab offensive rebounds and they get to the free throw line at a rate slightly below par. The Panthers have notched an effective field goal percentage above 50 percent in all nine of their games (for reference Iowa State has done that in all but the Colorado game to open the season).
They shoot lights out from beyond the 3-point arc and take the 47th most attempts from distance with 42.2 percent of their field goal attempts coming from the outside. But the Panthers also shoot a high rate from inside the arc by hitting 55 percent of their two point attempts.
Iowa State's defense matches up okay with Northern Iowa and their strength has been in keeping opponents off of the free throw line, cleaning up the glass on defense, and doing a decent job preventing made shots inside the arc,
ISU's opponents haven't hit too many of their 3-pointers but they have been able to get shots from outside almost at will as ISU has given up the 257th most attempts from 3-point land. Maybe one of the biggest keys with Iowa State's defense has been keeping team's assist rates low which usually indicates that they forced the opponent into a stagnant offense.
When Iowa State has the ball…
The Cyclones again have a very good offense but not quite to the elite level of the past three seasons. They are shooting the ball at a very high level and not turning it over and that's the basic story. They're hitting very well on their 3-pointers but even better from inside the arc.
The Panthers have a solid adjusted scoring efficiency on defense but teams have been able to hit shots against them, avoid turnovers, and find some success on the offensive glass.
UNI's opponents have really been able to shoot the ball pretty okay from outside and get that shot whenever they want with nearly 38 percent of field goal attempts being three-point attempts. But the Panthers have really been hurt on the interior where teams are lighting them up by making over 50 percent of close range shots.
Who to watch…
UNI has a variety of good players but it all starts with their most dynamic athlete and creator, Wes Washpun. The one time Tennessee Volunteer is a human highlight reel that can get into the paint, convert when he's there, draw fouls, or dump off to the open teammate.
He is surrounded by a trio of dudes that look almost identical by their offensive statistical profiles. Matt Bohannon, Paul Jesperson, and Jeremy Morgan all have similar playing time and usage rates while hitting at a high clip on their three-point shots and rarely turning the ball over. The flip side of that is that they do not create much on their own or do too much damage inside the arc (though they are all making over 62 percent of their tries, they just don't attempt many of them).
Bennet Koch rounds out the starting five and is a solid post player that rebounds at an okay level but will have his hands full with Georges Niang or Jameel McKay in this matchup. Behind Koch isn't a ton of impressive depth but guys like Klint Carlson and Ted Friedman will play serviceably.
UNI is also somewhat hurt by Aarias Austin transferring out earlier this week as he was playing nearly 33 percent of minutes and he was a solid three-point shooter.
The number trends…
UNI opponents have registered an effective field goal percentage greater than 55 percent in four games and in those games they have one just once. In their other five games they have held opponents to under 50 percent and are 5-0. In the cases where opponents shot well, they did most of their damage inside the arc by shooting over 55 percent.
The Panthers have been a bit boom or bust getting to the free throw line but when they have gotten there more often they have had better team success. Their three games with the lowest free throw rates (24 percent or less) they have lost and in the other six games (with a free throw rate north of 31 percent) they have won.
Similarly, when opponents have gotten to the line the most (a free throw rate better than 21 percent) UNI is just 1-3.
What I think will happen…
When I say, "strategery", I basically mean machups. Monte Morris will obviously draw Washpun and really his only job needs to be to keep him out of the paint. Washpun has taken just 16 3-pointers this season and made four of them so you can afford to play off of him and make it tougher for him to beat you off the dribble where he causes a lot of problems for opponents.
He can score at will at the rim and get to the free throw line, and convert, very often. He also has the nation's 37th best assist rate.
When it comes to what I'm dubbing the triplets because their numbers are so alike, I'd imagine we'll see Matt Thomas chasing Bohannon (who is UNI's most frequent and lethal 3-point shooter) while Abdel Nader will draw Jeremy Morgan. Morgan is the one of these three guys that is a little bit more likely to make a play off the bounce or get to the offensive glass so he needs extra attention in that way.
McKay will get Koch and leave Georges Niang to cover Jesperson. That could be a bit of a tough matchup for Niang depending on what UNI tries to do. Will they try to keep Niang chasing on the perimeter where his slower feet struggle to keep up and wear him down? If so there will be some matchup issues for ISU to re-consider. Perhaps an excess of small-ball would be the answer.
The trouble for UNI is that they don't really have a guy to matchup with Niang. This is an ideal game for him to plant his butt on the block a little bit more and facilitate from there, instead of the perimeter. I've been calling for it more for the past 12 months but I've rarely been pacified. Niang creates mismatch issues and usually has bigger guys to take off the dribble but he also needs to exploit the smaller guys on the block.
Morris has a tall task with Washpun but he can afford to lay off of him and force him to shoot jump shots. He can offer some help but giving up too much leverage to Washpun would allow him to get into the paint even easier than usual. McKay will be the guy that can roam and has to stay active and crisp in rotating and helping to contest shots.
But the biggest key is not giving up open looks to Bohannon, Jesperson, Morgan, or Wyatt Lohaus. Iowa State defenders will have to stay engaged and on their toes to cover up when UNI does have a crease to find a shot.
Defensively, contest on three-pointers, keep Washpun out of the paint, and keep the Panthers off of the free throw line.
Offensively, find the mismatch on the block with Niang, Nader, or McKay, attack the rim, and stay consistent in taking care of the ball and taking (and making) good shots.
Iowa State wins a semi-close one that requires just a few made free throws to win by eight to 10 points.