Tim Floyd had a bit of an issue when he took over the Iowa State program in 1994. He had three seniors that were incredible offensive players and only one basketball to share. Fred Hoiberg, Loren Meyer and Julius Michalik each averaged over 20 points per game in their respective junior seasons in the final year under Johnny Orr. This is pretty incredible and probably hasn't happened in a major conference since.
The caveat being, Meyer missed almost the entirety of Big 8 play because a pickup truck he was a passenger in was struck by a 44 car train, shattering Meyer's collarbone, in an event that could have been way more tragic.
Still, having three players AVERAGE over 20 points was unheard of and was an interesting quandary for Floyd. Floyd came in as a defensive minded coach from New Orleans. He had a style that was nearly opposite of Orr's teams and he was not a huge fan of the track-meet style of offense. This meant valuing the ball, grinding out shot clocks and finding the best possible shot.
As the story goes, Floyd instituted a rule in his first season that nobody else could shoot the ball until all three of Hoiberg, Meyer and Michalik touched the ball first.
Oh you're open Derrick Hayes and Jason Kimbrough? Pass it to Fred first. Got a jump hook James Hamiton? Meyer has the better look. Julo Michalik was the European stretch four before Dirk Nowitzki was even in high school. Get him the ball.
And, Jacy Holloway, you just don't get to shoot. Ever.
Floyd was into the data analytics before there was such a thing. He knew his percentages were much better when one of those three were in control. This isn't a revolutionary concept to get your best scorers the ball, but Floyd took it to the extreme. He would in fact bench guys if they took shots before they passed it to one of the big three first.
The stats reflected that, Hoiberg, Meyer and Michalik combined to have 65 percent of Iowa State's shot attempts that season. Everyone else played their role, Iowa State was markedly better on defense and rebounding than the year prior and the Cyclones made the NCAA Tournament.
This year's Iowa State team has some similarities to Floyd's first group, albeit without the experience. As the season has trended on, it has become evident Iowa State is best when the trio of Lindell Wigginton, Donovan Jackson and Cameron Lard are taking the most shots.
Here are the shot attempt totals in Iowa State's four Big 12 wins and percentage of team shots:
Baylor: Wigginton (17) Jackson (10) Lard (10) Rest of team (26) = 59 percent
Texas Tech: Wigginton (13) Jackson (11) Lard (11) Rest of team (22) = 61 percent
West Virginia: Wigginton (14) Jackson (14) Lard (12) Rest of team (18) = 69 percent
Oklahoma: Wigginton (22) Jackson (11) Lard (11) Rest of team (21) = 68 percent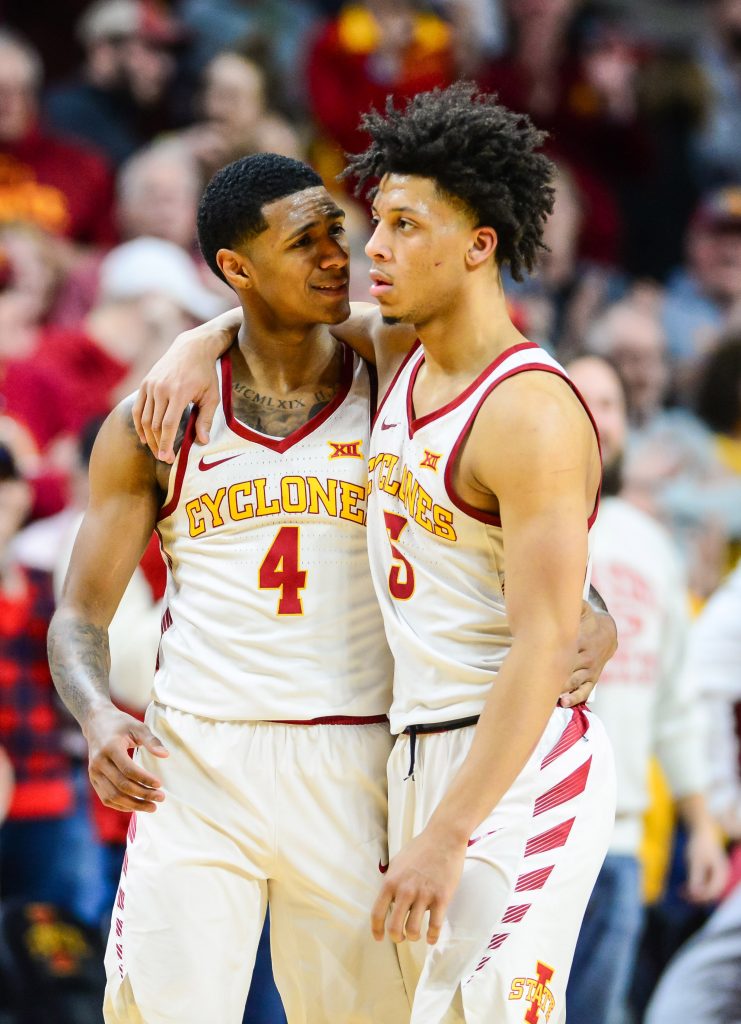 In those four wins, the percentage of shots the Wigginton/Jackson/Lard trio has taken is 64 percent. In the eight losses, the percentage of shots the trio has taken is 54 percent.
Not coincidentally, Iowa State has averaged 81.5 points in wins, 70.5 in losses.
Keep in mind, Nick Weiler-Babb's injury has impacted totals recently, yet in the game at Texas Tech, Zoran Talley led Iowa State in shots with 15 and Talley led all the guards in shots at Baylor with 15. Talley isn't to blame here, but Iowa State is best when he is not the focal point of the offense.
Much like Floyd's first team, the trio of Wigginton, Jackson and Lard have proven they are more than capable of carrying the offense. This allows the rest of the roster to concentrate on what they do best and not force low-percentage shots, which can create run-outs and issues on the other end.
Iowa State doesn't need to implement the "Floyd rule" but continuing to find ways for the Wigginton/Jackson/Lard trio to get the ball most often is beneficial.
Oh, and Jacy Holloway, thank you for finally shooting against Kansas in the Big 8 Championship game. That was awesome.