Iowa State freshman Lindell Wigginton lines up a free throw during the Cyclones' exhibition win over Emporia State. (Photo credit: Chad Bassman)
Iowa State and Iowa will renew their rivalry Thursday night when two teams on seemingly polar opposite trajectories collide at Hilton Coliseum.
The Cyclones enter the game on a five-game winning streak dating back to the first round of the Puerto Rico Tip-Off while the Hawkeyes have lost five of their last six, including their current three-game skid extended Monday night against Big 10 rival Indiana.
But as last season's 78-64 Hawkeye win at Carver-Hawkeye Arena showed us, this is a rivalry where you can throw out the records. Anything can happen and that's what makes the game so dang fun.
Here are three things to watch when Iowa visits Hilton Coliseum for a 7 p.m. tip on ESPN2.
1 — How will Iowa State matchup with Iowa's length?
I've talked a lot on podcasts about the unorthodox approach Fran McCaffery has taken to building this 2017-18 Iowa basketball roster. The Hawkeyes have 10 players 6-foot-7 or taller and two more that are 6-foot-5.
That's a whole lot of wings and posts in an era of college basketball dominated by guards. To make it even more interesting, 11 of the 14 players on Iowa's roster have found a consistent slot in the team's rotation.
The way this team has been constructed through nine games is just kind of weird and that can make them a challenge to prepare for.
"Scouting report is important because guys have got to know personnel," Iowa State head coach Steve Prohm said on Tuesday. "Who can shoot. Who is a driver? Who we doubling on. Who we not doubling on. The more players, the more options, the more your guys have got to think. I like playing a shorter group and kind of sticking with those guys, but everybody has different philosophies."
The makeup of Iowa's rotation could especially create odd matchup situations for the Iowa State backcourt. Lindell Wigginton and Donovan Jackson are both 6-foot-2, which leads to the belief that one of them will be tasked with guarding Iowa point guard Jordan Bohannon, who is 6-foot.
Isaiah Moss at 6-foot-5 will be the next most likely matchup for whoever doesn't draw the Bohannon assignment. That also means Nick Weiler-Babb will most likely be undersized against whoever the traditional three is in Iowa's starting group.
"We're going to play against legit size three, four, five," Prohm said. "They do have good size at the three, four, five. They can be 6-9, 6-9, 6-9. Lindell at times could guard 6-8, 6-9. The big threes when they put their big three, four types out there. We've got to do our work early. We've got to be tough and we've got to be fundamentally sound. We've got to get in our position and our gaps early. Offensively, we've got to have a great pace to where we're making those guys move."
2 — How will Iowa do against Iowa State's spot up shooters?
An inability to slow down spot-up shooters has been one of the biggest Achilles heels for Iowa during its current skid. The Hawkeyes are allowing .994 points per possession to spot up shooters so far this season, according to Synergy Sports Tech, which ranks in the 27th percentile nationally.
On the flip side, Iowa State's spot-up shooters have been really good while shooting with a 54.8 percent adjusted field goal percentage (field goal percentage adjusted for 3-point attempts) and averaging 1.007 points per possession. That ranks in the 75th percentile nationally.
Indiana was able to get a lot of wide open shots Monday night against Iowa's defense, which makes it not very surprising the Hawkeyes allow a 50.9 percent adjusted field goal percentage on spot-up shooters.
If the Cyclones can move the ball effectively like they did in the second half against Northern Illinois, there will be open shots to be had. They've proven to be pretty effective at hitting those shots when they get them during this winning streak.
3 — What kind of impact will Cameron Lard have on the game?
I will go as far as to call Lard Iowa State's x-factor in this game. The Cyclones were plus-17 with the 6-foot-9 freshman on the court Monday night and they're a much different team when he is playing to his potential.
This will be by far the biggest challenge Lard is faced so far in his career, but I think his ability to run the court could be one of the deciding factors in this matchup against Iowa's bigs. Lard has a big-time motor and can really run when he puts his mind to rim-running on every possession.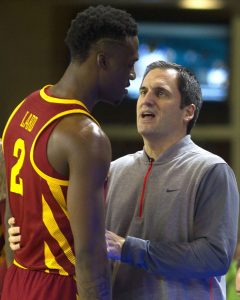 "If you want to be a great transition team, you've got to have a 1-to-5 option or a 1-to-2-to-5 option or a rim-runner," Prohm said. "We've got that in him. We've got to continue to challenge him and push him and push him and push him. He's young. He's played four games in probably two and a half years."
Lard has scored on 56.4 percent of the possessions he has been on the court for since coming back from suspension at the start of Iowa State's winning streak. He has also been pretty efficient while shooting 64.5 percent from the floor and averaging 1.128 points per possession.
He has been at his best while running in transition where he is 6-of-9 from the field and averaging 1.333 points per possession. Obviously, that is a really small sample size, but it goes to show that he's been effective when he gets out and runs the court.
It has also helped to open up lanes for Wigginton and Jackson as they rank in the 86th and 90th percentile in points per possession on transition opportunities, respectively. Iowa State is going to have its most success when it gets out and runs in transition at every opportunity.
Lard has been a big reason why they're succeeding in that area right now.
"Offensively he runs the floor every single time and he's in the right position," Prohm said. "When you're running the floor, it's a selfless act, but it's going to reward everybody. He got a lot of easy baskets because of that."