Matt Campbell won me over before he even coached a game at Iowa State, and that really solid initial recruiting class didn't have much to do with it.
Shortly after he took the job, time and time again I heard Iowa State's then 34-year old head coach reference his admiration for Bill Snyder.
There could not be a better man and program to mimic at Iowa State.
My radio and podcast audience often jabs at me for the man-love I have for certain coaches around the country. There is a consistent trend here though, I promise.
The common list: Art Briles (obviously back in the day), Scott Drew, Pat Fitzgerald, Bill Snyder, Gary Patterson, Lon Kruger and Mike Leach to name a few.
The reason I am drawn to all of the above is because they do more with less at places that aren't considered to be destination jobs.
The architect of the greatest turnaround in college football history, Bill Snyder, is the godfather of that group.
In 1988, Kansas State became the first program in D-1 history to lose its 500th game. The day Snyder took the Kansas State job in 1989, the Wildcats were on an incredible streak of 27 winless games (0-26-1).
It took him five seasons to get to a bowl game (K-State beat Wyoming 52-17 in the 1993 Copper Bowl) and in the 1990's, the momentum was rolling. Kansas State recorded six top-10 finishes in the AP poll while going 11-0 in 1998.
As if it needed to be proven, Snyder's real value went through the roof rom 2006-2008, when he retired and Ron Prince led the Wildcats to a 17-20 mark.
You know what happened from there. Snyder returned and in 2012, had K-State winning is sixth Big 12 championship.
Iowa State has lost nine in a row to Kansas State, the school that I believe it has the most in common with geographically, demographically and academically in the Big 12. On a macro level, I have always admired Snyder. But with Iowa State factored, my appreciation for Snyder has grown over the years with every narrow, heartbreaking loss to the Purple Kitties.
Snyder's teams rarely blow Iowa State out, but they seem to always bring the worst out in the good guys. Missed PATs. Dumb penalties. Horrible turnovers. Worse coaching. We have seen it all.
I can't quite explain how, but Bill Snyder teams force you to beat yourself, which is what Iowa State has done to many of its victims in year two of the Matt Campbell era. It's why I am so genuinely excited about the future at Iowa State.
Check these stats out:
— Iowa State has yet to lose a fumble so far this season.
— Eleven games in, the Cyclones lead the Big 12 in turnover margin and are ranked sixth nationally committing turnovers on only 6 percent of possessions.
— Iowa State has given up the fewest number of sacks of any team in the Big 12.
— Iowa State is the lowest penalized team in the Big 12 and it isn't even close.
— Meanwhile, the Cyclones are forcing the opposition to make mistakes at an incredible rate.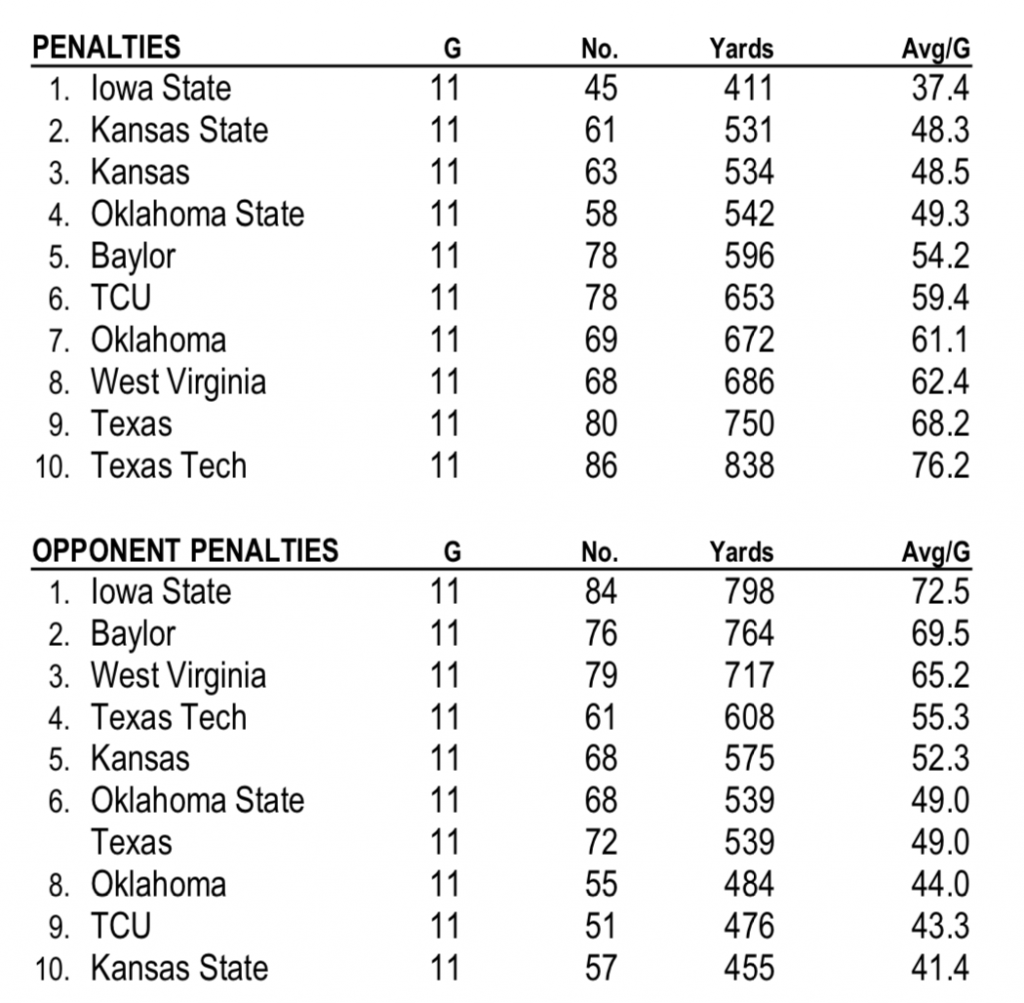 All of the above – those are Bill Snyder stats. Those are winning stats.
Iowa State's talent level is higher than it has been in at least a decade and that should continue to rise according to recent recruiting trends. But in Ames, it's never going to be done like it is in a place like Austin or Tallahassee. You have to do more with less and be better at the little things than everybody else.
That's how Bill Snyder built his program at Kansas State. Let's hope that Matt Campbell will continue to do the same in Ames.