MYRTLE BEACH — Iowa State's annual holiday tournament is taking place a week earlier this season. Instead of spending Thanksgiving away from Iowa, the Cyclones are in Myrtle Beach, S.C. for the Puerto Rico Tip-Off.
Below are snippets on each team that will be participating.
Iowa State's first game is on Thursday at 4:30 (ESPN) vs. Appalachian State. On Friday, Iowa State will play either Tulsa or Western Michigan at a time to be determined.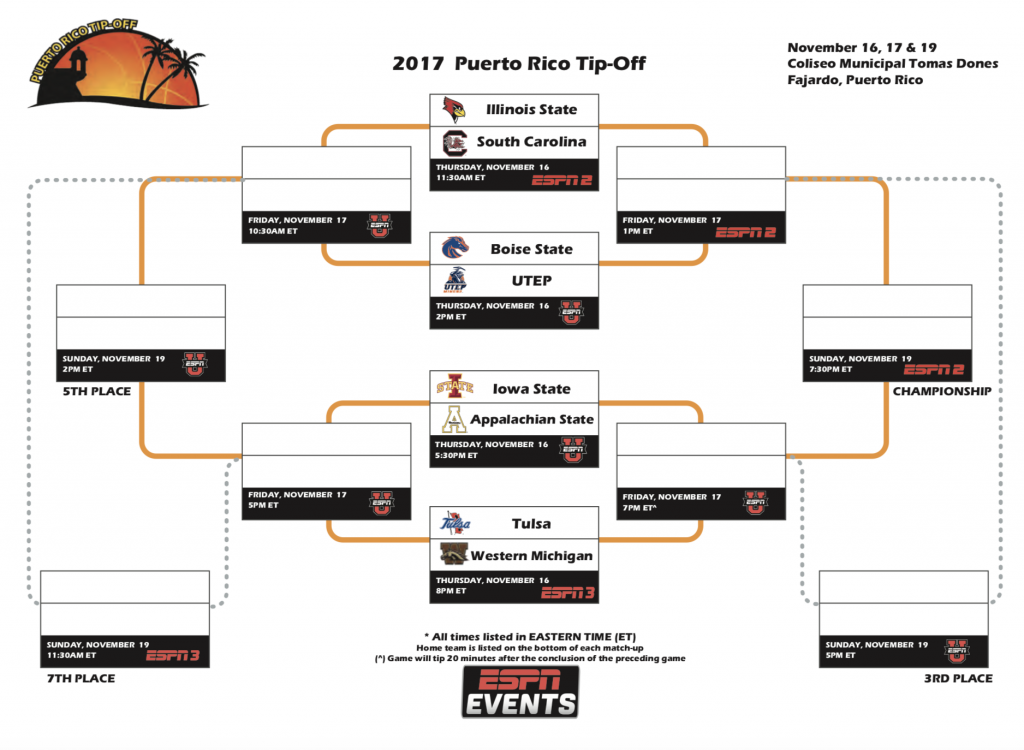 Appalachian State (2-0)
— Picked to finish 11th (out of 12) in the Sun Belt.
— Head coach Jim Fox spent over a decade as an assistant at Davidson, where he recruited multiple time NBA champion Steph Curry.
— Appalachian State has outscored its first two opponents on the season, Toccoa Falls and Bridgewater, 230-91. Those same two opponents shot a combined .23 percent against the Mountaineers.
— Appalachian State guard Ronshad Shabazz is potentially a future pro. He's averaged just over 26 points per game in App State's two wins this year and is one of the top players in the Sun Belt.
Western Michigan (1-1)
— The Broncos were picked to finish first in the MAC's western division.
— Thomas Wilder, Western Michigan's senior point guard, is thought of by many to be the MAC's best player. Wilder averaged 19.3 points per game last year and was on the All-MAC first-team. Wilder, who is the only one of the MAC's nine-leading scorers from a year ago who is back, averaged a league high 44 percent from 3-point range last season.
— Through two games this season (a win over Siena Heights and a loss to South Carolina), Wilder's assist-to-turnover ratio is 11-0.
— Western Michigan has four starters returning from last year's team that went 16-16 overall and 11-7 within the league.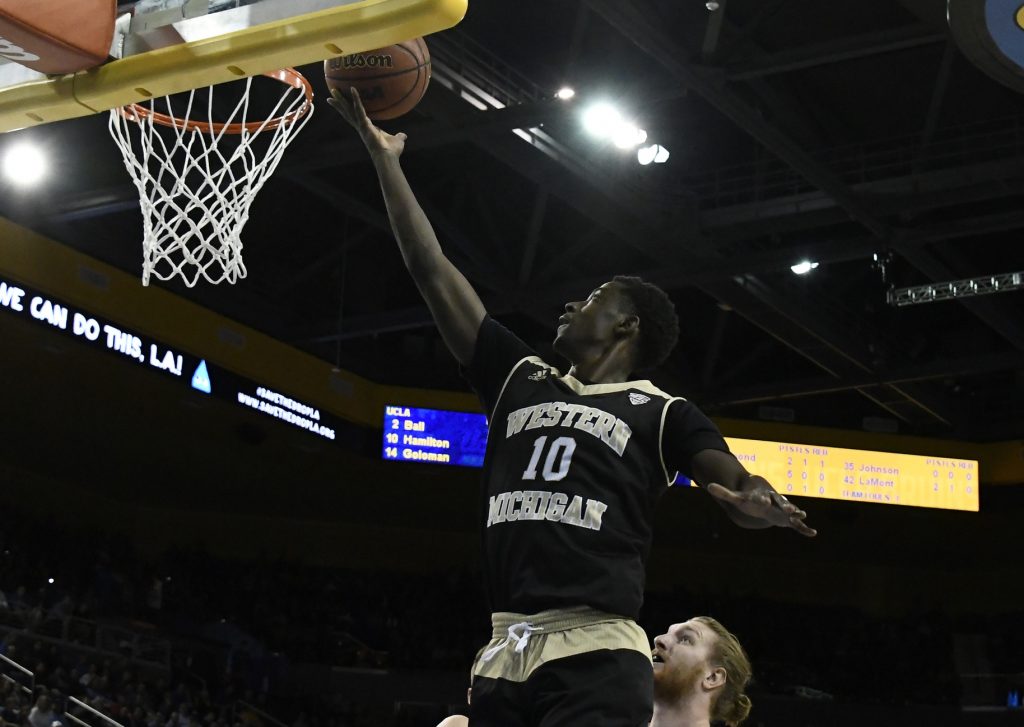 — Western Michigan head coach Steve Hawkins has been with the school for 14 years. During that time, Hawkins has a piece of eight MAC West titles with a legitimate shot to claim No. 9 the season.
Tulsa (1-1)
— Picked to finish eighth (out of 12) in the American.
— The Hurricane are led by former Missouri head coach Frank Haith, who is entering his third season with the program. Tulsa went 15-17 last season while going 8-10 in the American.
— A 6-foot-1, 200-pound junior named Sterlin Taplin leads Tulsa in scoring at 17.5 points per game.
— Tulsa is led by a 6-foot-8, 235-pound senior Junior Etou, who was tops in scoring in scoring and rebounding last season after transferring from Rutgers.
— Remember the name Elijah Joiner? The freshman guard out of Chicago was once an Iowa State target. He's now at Tulsa and through two games, is averaging 23 minutes of action and 5.5 points per contest.
UTEP (1-0)
— Picked to finish seventh (out of 14) in Conference USA.
— It's Tim Floyd's team! Wouldn't this be a fun matchup…Floyd, the former Iowa State head coach, is entering his eighth year at UTEP where he's gong 137-94.
— UTEP is a lot like Iowa State with all if its newcomers – seven to be exact (five high school, two JUCO).
— There are a lot of unknowns with this group, but the Minors certainly have potential. Floyd's UTEP team was the only program in Conference USA to beat Middle Tennessee State last season, a 57-54 slugfest where the Minors forced 19 turnovers.
Boise State (2-0)
— Picked to finish third (out of 11) in the Mountain West Conference.
— The Broncos have established a nice basketball program under the leadership of Leon Rice. Entering his eighth season at the helm, Rice has led Boise State to six 20-win seasons. He's really changed the culture there, considering Boise had just seven 20-win seasons prior to his arrival dating back to 1970.
— Boise's 6-foot-7 senior guard, Chandler Hutchison, might be the best player in the league. He averaged 17.4 points, 7.8 rebounds and. 2.6 assists a year ago.
— However this year, a 6-foot-4 sophomore named Alex Hobbs has stolen the show. Through two games, wins over Southern Utah and Eastern Oregon, Hobbs has led the Broncos in scoring at 20.0 points per game.
— Rice calls this version of Boise State the best shooting team he has ever coached. Through two games, the Broncos have knocked down 48 percent of their shots from three.
South Carolina (2-0)
— With two returning starters from last year's team that improbably went to the Final Four, South Carolina was picked to finish seventh (out of 14) in the SEC.
— The Gamecocks are headed up by former Kansas State coach Frank Martin, who is entering his sixth season with his alma-mater. South Carolina is off to a 2-0 start on the season, with one one coming over Western Michigan, 78-60.
— A 6-foot-9, 223-pound junior forward named Chris Silva is the top returner from last year's team. He averted 10.2 points and 6.1 rebounds as a sophomore and was a key role player in South Carolina's postseason success. Martin has been quoted believing that Silva is a future All-SEC type of player.
— Big man Make Kostar, a 6-foot-10, 245-pound center out of Estonia is an interesting player. He started 33 games as a freshman last season.
— This is a deep, frontcourt driven team that should be back in the NCAA Tournament.
Illinois State (0-1)
— One of the most controversial programs from last year's NCAA Tournament "bubble," Illinois State is being picked second in the Missouri Valley. The Cardinals went 17-1 in league play last season but only return one starter from that roster.
— Phil Fayne, a forward who averaged 9.1 points and 6.1 rebounds last season, is that lone returner.
— Illinois State's top three scorers are all gone from last season.
— It's a backcourt driven team, that should struggle around the basket.
— Head coach Dan Muller is 104-65 in five years at the helm.
— The Cardinals lost in the NIT's second round last season.