Mar 18, 2017; Milwaukee, WI, USA; Iowa State Cyclones guard Donovan Jackson (4) celebrates after his three point shot during the second half of the game against the Purdue Boilermakers in the second round of the 2017 NCAA Tournament at BMO Harris Bradley Center. Mandatory Credit: James Lang-USA TODAY Sports
AMES — The net-strafing numbers quickly add up.
Donovan Jackson's brain serves as the shooting sessions' precise calculator, attuned to his personal time signature that starts beating each morning, bright and early.
It's a new, demanding and ultimately revealing routine for Iowa State's recently-minted senior leader, who spent last season picking his spots (ahem, Allen Fieldhouse) and biding his time behind all-time program greats Monté Morris, Naz Mitrou-Long and Matt Thomas.
"Crazy," said Jackson, whose dagger 3-pointer against Kansas on the road last season capped a stirring comeback from 15 points down that snuffed out the Jayhawks' 51-game home win streak. "I come in here pretty much every day at 7:30 in the morning. Get up 300-400 shots — all makes. And then come back, practice. I work out before practice, like 30 minutes before. Then I shoot after practice."
Shoot, shoot, shoot some more.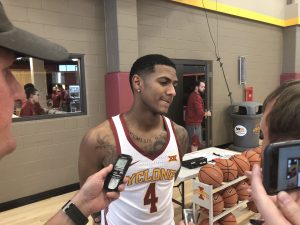 Jackson's work ethic matches the oversized role he'll need to play for the young and mostly inexperienced 2017-18 Cyclones.
But he's also teaching, teaching and teaching some more — balancing his twin starring roles as top returning scorer and de facto floor general.
"(He's) trying to help me get around the ropes, what I'm supposed to do on the floor, what I'm not supposed to do on the floor," said raw and talented freshman guard Terrence Lewis. "(He's) been a great leader, a great senior, a great player, and a great person. I'm just going to take some of that advice and bring it to myself."
How so? By broaching hard truths? Gently instructing during one-on-one sessions?
"Donovan gives you both," Lewis said.
That's asking a lot from a guy who averaged 6.4 points off the bench last season while shooting a torrid 45.4 percent from long range. By all accounts, Jackson's up to the task. He and junior combo guard Nick Weiler-Babb took part in a leadership conference in August at Coach Steve Prohm's urging.
"I prepared to try to be a real top-notch leader," Jackson said. "But it's pretty difficult. It's not like you can take a day off trying to be a leader. It's an everyday thing from going to class, to being on the floor, to just talking to individual guys and stuff like that. So it's been pretty tough, but I like it."
WILLIAMS: Join us Thursday to celebrate Iowa State basketball
Of course he does. Jackson describes himself as "fiery." He's the ultimate gamer, which is why becoming a role player last season proved to be a challenge. He adapted and is reaping (and sharing) the rewards now.
"It definitely taught me a lot," the former Milwaukee prep standout said. "Because there's definitely going to be times and possessions where I'm off the ball. Nick Babb might be running the point. Lindell (Wigginton) might be running the point. Then I have to go back to the position I was last year. So I'm real comfortable with doing that too, just because I am a scorer."
ISU assistant coach Daniyal Robinson knew last season's transition was hard on Jackson. He also knew he'd respond — and is ready to take another big step forward now.
"He had the adversity of coming from JUCO where he was the guy and then when we recruited him, Naz was going to be gone," Robinson said. "Monte could have been gone. And for those two guys to be back, it was kind of a shock to him. It took him a little while to adjust, but once he did he found his role by playing great defense and then being opportunistic when he got in games. Then this summer, he had a really big summer. He went to a leadership conference. His work ethic is unbelievable. He's picked up where those guys left off in terms of continuing to create the culture of work in the gym. He's a smaller guy, so he's used to overcoming. So he's got to be the toughest guy on the floor."
Jackson began honing his leadership skills well before attending that conference. He reached out to Wigginton, a prized recruit, in early April, just to check in.
"He called me (at the Nike Hoops Summit)," Wigginton said. "He called me first and then Monte called me right after. That was kind of the first time I talked to him and he told me that day when I get get here that he's going to push me and he wants me to push him. So right after that our relationship just got better and better."
And now?
"I've got to listen to him," Wigginton said. "He's like an older brother. He's experienced it. Just me learning from him, it's just going to make me a better player because he's experienced it. He knows what it takes to up a level and get to where we're trying to get."
Jackson's biggest struggle — though he hesitates to call it that — is keeping the highs and lows from fluctuating wildly.
"When I'm amped up, I tend to have a lot of emotion," he said. "I'm a fiery type of guy so that is going to be a big struggle for me, I think. Well, it probably won't be a struggle. I think it's just going to be a little tough task."
The "fire" stokes Jackson's desire to improve himself and those around him. But it can't become all-consuming. There's a Yin and Yang balance that must be struck.
"Just be Donovan," Prohm said. "Max out your strengths. The best thing Donovan does, without a doubt, he's as good of a shooter as there is in college basketball. So we've got to make sure we're getting him really good looks, whether that's putting him off the ball at times, whether that's putting him in ball screens at times, getting him out in transition. One of the best things he does is attack the defense in transition for pull-up 3s or pull-up jump shots. But putting him in good positions to do his number one strength (is key). The one thing we've got to continue with him, because he is a competitive, competitive guy — that's what makes him good — is continue to lead in the right way and understand that you've got to stay even-keel at that point guard, lead guard, senior guard position."
So Jackson keeps count. Three to four hundred makes in the morning. Another 200 both before and after practice. Last season he helped close down the gym, knocking down shots at late as 2 a.m. Now he opens it, establishing the daily rhythm for himself and his teammates.
"I've been waiting on this moment since I committed here," Jackson said. "So I'm ready to fill my role."