Dec 1, 2016; Ames, IA, USA; Iowa State Cyclones guard Donovan Jackson (4) and guard Nazareth Mitrou-Long (15) talk during a timeout during the first half against the Cincinnati Bearcats at James H. Hilton Coliseum. Mandatory Credit: Jeffrey Becker-USA TODAY Sports
When Donovan Jackson originally committed to Iowa State, he signed on to come in and immediately be "the man."
In fact, one Iowa State staffer once projected that Jackson would lead the Cyclones in scoring his first season on the team. That's because Monte Morris had intended to go pro after his junior season and Naz Mitrou-Long was a senior on his way out.
Stuff happens.
Both guys stuck around, which is awesome for Iowa State, but it has greatly limited Jackson's role with the Cyclones early on in his junior season. The Iowa Western Community College product is still recovering from a broken wrist (last season) too.
Combine the significant jump competition from JUCO to D-1; the changing of a role (his shots are very limited compared to the last two years) along with the injury and it totally makes sense as to why Jackson struggled in the early part of the non-con.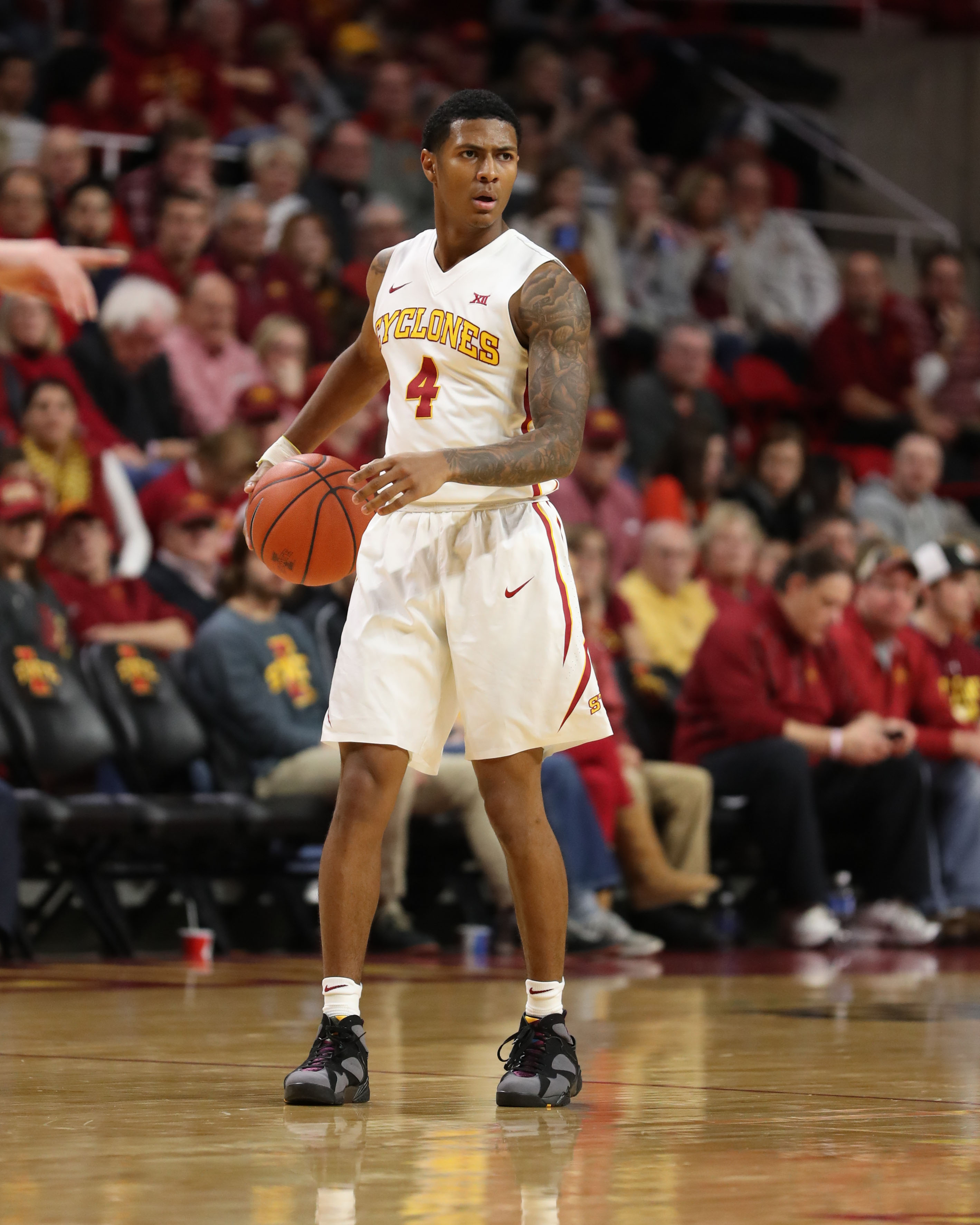 "I'm getting more confidence by the day," Jackson said. "Coach Prohm gives me the confidence to go out and play hard so I feel really good right now."
Jackson, who was shooting 49.5 percent from 3-point range before the injury, hit five threes in Monday's rout of Omaha.
THAT was the guy Iowa State who had made such a top recruiting priority out of junior college.
"I thought the made open shots," Prohm said after the win. "He made the right decisions. He got us into good offense. The one thing he has consistently done all season long is he has really guarded."
This progression really began down in Florida in the second game of the Advocare Invitational. Monte Morris picked up his second foul with 13 minutes to go in the first half vs. Miami and Prohm, when it didn't make a lot of sense to folks watching, essentially rode Jackson the rest of the way.
It all makes sense now.
"I'm trying to do a better job," Prohm said. "I probably didn't do a good enough job earlier and I need to really dive in more from a relationship standpoint to let him know that I am here for him and that I care about him. I want him to be successful. He struggled with some injuries early."
That Miami scenario is an example of a coach showing confidence in his guy hoping it will pay off in the future. Jackson finished that day with eight points and played fantastic defense in 18 minutes of work.
He was better off for it in the long term too.
After not playing much in losses to Gonzaga and Cincinnati, Jackson again responded with his best game to date as a Cyclone on Monday.
It's a process, but expect Jackson's confidence to be at an all-time high for Thursday's road trip to Iowa (7 p.m. on ESPN2). There always seems to be some sort of an unsung hero in the Cy-Hawk game.
Perhaps it will be Jackson's time to play the role of John Neal.