Nov 19, 2016; Ames, IA, USA; Iowa State Cyclones wide receiver Hakeem Butler (18) celebrates with Iowa State Cyclones wide receiver Deshaunte Jones (8) and Iowa State Cyclones wide receiver Allen Lazard (5) after he catches a touchdown pass against the Texas Tech Red Raiders at Jack Trice Stadium. Mandatory Credit: Reese Strickland-USA TODAY Sports

Fall camp always brings news of a handful of players who have seen their stock rise with coaches, teammates and fans. Names like Deshaunte Jones, David Montgomery or Jacob Park come to mind from 2016 and they proved it once the games started.
That leads to the question of: Who are some Cyclones who have seen their stock rise over the past several weeks? I have six names for you with 10 days left until the Northern Iowa Panthers roll into Jack Trice Stadium for the season opener.
Hakeem Butler
Duh.
If you have listened to a Cyclone Fanatic podcast, watched a CFTV from practice or read any of our articles in the past month you probably know Butler has been a hot name. He has been so good that Matt Campbell was recently prompted to call him "potentially the most talented receiver in Iowa State's room."
That is saying something when you consider he shares a meeting room with guys like Allen Lazard, Trever Ryen, Matt Eaton, Carson Epps and Jones. After catching nine passes for 134 yards and two touchdowns as a redshirt freshman, Butler appears to be in line for a breakout season in 2017.
The sky is the limit for the 6-foot-6, 219-pound Baltimore native who has three seasons left to play in Ames.
Marcel Spears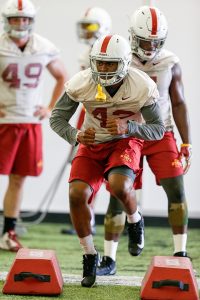 Perhaps no name was more surprising to see at the top of Iowa State's pre-fall camp depth chart than Spears. The former three-star recruit appeared primarily on special teams last season as a redshirt freshman in 11 games, but has put himself in position to see considerable snaps at one of the linebacker spots in 2017.
The potential has always been there for the Olathe, Kan. native, who chose the Cyclones over Kansas State, Missouri and Kansas. It seems as though he is prepared to put that potential together and become a serious contributor for Iowa State.
Sam Seonbuchner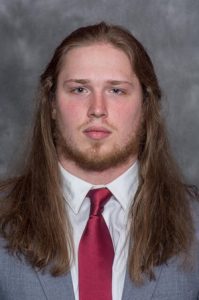 Seonbuchner emerged as a contributor for Iowa State last season after making the move from linebacker to tight end. He was a major part of the Cyclones' power running schemes and was a formidable lead blocker as Montgomery showed his potential star power late in the season.
The Oconomowoc, Wis. native has been impressive during fall camp and should see an expanded role as a redshirt junior in 2017.
Marchie Murdock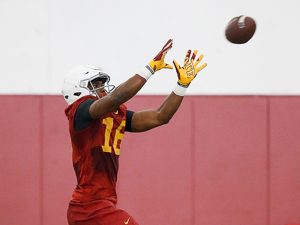 The former Illinois transfer is another wide receiver who has shown to be a major playmaker in a deep pass catching core. Evrett Edwards named Murdock as the most impressive receiver of fall camp and he has drawn rave reviews from multiple sources behind the scenes.
Murdock only caught two passes for 29 yards in his first year in Ames, but a late arrival before fall camp kept him from fully becoming comfortable in the offense until the season was almost in the rearview.
After a full spring, summer and fall camp cycle, expect to see the Arlington, Texas native in a larger role in Iowa State's stacked receiving group this season.
Keonte Jones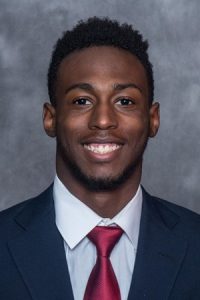 Jones was one of the gems of Iowa State's 2017 signing class and he has shown why since arriving on campus earlier in the summer. The Cincinnati native has played primarily at cornerback during fall drills and could jockey for playing time despite entering a veteran secondary.
It will be interesting to see if Jones can have the same sort of impact as a true freshman as his brother Deshaunte did last year. I would not bet against him based on what we have heard from coaches and teammates during fall camp.
Johnnie Lang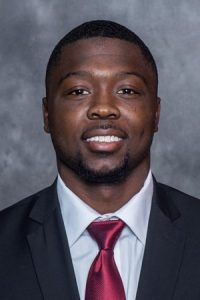 The ultimate wild card for Iowa State's offense…
The Cyclones already have two proven running backs in Montgomery and Mike Warren, but this 5-foot-9 true freshman has major playmaking ability that might force the coaches' hand into playing him this year. That is especially true if Kene Nwangwu is not able to play in 2017 after suffering an achilles injury in the spring.
Lang was described as "electric" by running backs coach Lou Ayeni and it would not be at all surprising to see him factor into the kick return game until Nwangwu returns. As it stands now, once Nwangwu returns, the two could become a scary duo over the next several seasons.