Jul 17, 2017; Frisco, TX, USA; Iowa State Cyclones head coach Matt Campbell speaks to the media during the Big 12 media days at the Frisco Star Ford Center. Mandatory Credit: Kevin Jairaj-USA TODAY Sports
—————
Note from the editor: Jay Jordan will be our X's and O's guru for the 2017 Iowa State football season. We believe that you will enjoy his "inside football" look at the game and will hopefully learn something along the way. 
The Jack will be packed on Saturday night and the Cyclones will saunter in to the first of two in-state rumbles. UNI is up first and they present a significant challenge for Iowa State.
Recent history suggests the UNI Panthers actually play like panthers. UNI has won two of the last three and Iowa State holds no rights to claim superiority in any phase of the game.
Iowa State couldn't get out of its own way in 2016 as the contest revealed a deficit in preparation, adjustment, intensity, and talent. A complete inability to run the football, turnovers, and an inability to stop the run were omens of things to come. UNI prevailed with a spirited effort.
The first game of a season is revealing. It can set a tone for a season and reveal areas of weakness and strength. In 2016, this game revealed issues that plagued this team through its first seven contests. However, after a bye week, Iowa State was able to infuse new talent, get a buy-in from the team as a whole, and make adjustments that led to a strong finish to the season.
This week I will be looking for signs, certain things in scheme and overall play that can help us focus in on where this season is headed. I will be hoping to learn about this team's initial identity. The UNI game is of vital importance, not because the season's hopes are dimmed with another FCS loss, but because Iowa State needs to establish themselves and show signs of what is to come when they leave the friendly borders of the Ha….errr…Cyclone State.
Below is a list of what I will be looking for and hoping to learn from the upcoming contest against an experienced and competent foe.
Lookin' for Intensity
Too often in 2016 Iowa State was searching instead of intensely playing the game. We all know people who are intense and impose their will upon a situation due to that intensity. Football must be played with intensity and passion.
I will looking to see if Iowa State can match or surpass the initially intensity of Northern Iowa. For Iowa State to take the next step in the "process," the Cyclones need to ascend beyond the whims of emotional responses to adversity and learn to stay on mission. Steady, calm, and unflinchingly facing down each play.
It will manifest itself most notably in get-off on the snap, finishing blocks and runs on offense, and in pursuit to the ball on defense. Effort is a part of the equation and it is easy to gauge by watching how plays are finished and started. Does Iowa State get off the ball first and finish plays? I will be lookin' for that.

Lookin' for Discipline
On defense it has been common to see Iowa State jump in to or out of gaps, take poor angles, and blow coverages. All are examples of a lack of discipline in technique and assignment. It is critical that Iowa State shore up its discipline on the defensive side of the ball.
I will be looking first at the defensive line. Will they rush and pursue within their appropriate lanes and with proper leverage. It was routine last year to see players run themselves out of plays. To make improvement and set a standard for the balance of the year, the inexperienced defensive line must show adherence to fundamental positioning.
Second and third, I will be looking at the linebackers and secondary. Will they be in position to stop completed passes and to fill the gaps in the run game. Reaction time and positioning are what I will be looking for here. Are there players attacking the football from the second and third levels. Disciplined and intense play from the second and third level helps to close down the first level. I will lookin' at ISU's discipline intensely (see what I did there?)
Lookin' for Run/Pass Balance
Pretty simple. ISU is intended to be a balanced offense with an emphasis on the power run game setting up a vertical passing offense. 2016 saw a 53 percent lean to the run game. I think Coach Campbell would like to be about the same mix this year but with a better, more efficient result.
With the prowess of the receiving corp and the development at the quarterback position, it would be easy to wing it around the lot. I wouldn't be disappointed if they did. But, the talent on the offense dictates a balanced approach as Montgomery and Warren are dangerous in their own right.
I will be lookin' at the play calling balance and the efficiencies found therein. A balanced team is harder to defend and it is important to show that balance in this first game.
Lookin' for a TE
The Campbell/Manning offense runs at its most efficient level when there is a versatile tight end that provides a mid-field pass catching threat and is effective as a lead blocker. The TE was absent from the offense in 2016. In 2017, a healthy Chase Allen brings his potential to the field.
I look for ISU to utilize Allen in the passing game. The red zone is an obvious place to use him extensively, but I believe we will see designed looks regardless of field position. It is critical that ISU develop a complete arsenal of offensive weapons in order to avoid the stagnation we have seen in the past.
A big step in overcoming offensive stagnation is the presence of the tight end in the passing game. Lookin' for it.
We Should Learn If ISU Can Run the Ball
Iowa State averaged roughly 3.6 yards per carry over the first eight games of 2016. Signs of that struggle were seen in the UNI game where ISU amassed a paltry 2.0 yards per carry. Over the last four games of 2016, ISU averaged 5.6 yards per carry and outgained their opponents by nearly 100 yards.
The key to the improvement was second-level blocking. To run the ball effectively, the initial blocks must be solid enough to allow the lead blockers (either an F back, TE, or a pulling lineman) to reach their second-level targets. It is the difference between a 2 yard gain and a 5 yard gain. Additionally, on many run plays, the initial block is designed to be a combo block where there is initial contact with a down defender then a chip to a second-level fill player. If that level of blocking proficiency manifests, then Iowa State will be in a good position in this game and beyond.
In the final stanza of 2016, Iowa State was able to reach the second-level in its run blocking scheme. UNI poses a significant threat to that ability and proved it last year. We should find out early in this game whether or not Iowa State has retained the ability to block the second-level and spring our talented backs.
We Should Learn If There IS IMprovement in Stopping the Run
No secret here. ISU struggles to stop the run due to talent and discipline in its front 7. Period. If this team hopes to achieve a win against UNI and others along the way, they have to show improvement in stopping the run.
In 2016, UNI only gained 4 yards per carry. However, at critical moments, Iowa State was unable to corral the run or create a negative or neutral yardage play. This problem persisted throughout the season.
ISU does not have the talent to be a top tier run stopping defense. However, we should find out if this group of players is better at holding the point of attack on the line and attacking the line of scrimmage from the second-level. In particular, we should learn if they can be effective on first and second down.
The ability to create neutral yardage plays on first and second down limits the offenses play calling ability on subsequent downs. Again, I do not expect a massive upgrade, but wins on first and second down runs throughout the game will result in additional time of possession and opportunity for the offense. This is a key to a successful season.
We Should Learn If The Defense Can And Will Bring Pressure
Iowa State employed an effective pressure package last year where delayed blitzes and varied edge pressure were brought to bear. It was their best scheme. So how will that be employed this year?
We will learn first if the front four can bring pressure without the use of extra rushers. Second, we will learn if Iowa State will deploy the pressure package with regularity.
I believe it is critical that Iowa State bring a pressure package to the table in every game. There is no advantage gained if this team desires to hide this package in preparation for the next week's contest. Iowa State needs to utilize its full arsenal to win decisively. UNI can throw and catch the football. Iowa State will need pressure to get off the field and we should learn to what extent they will go to get it.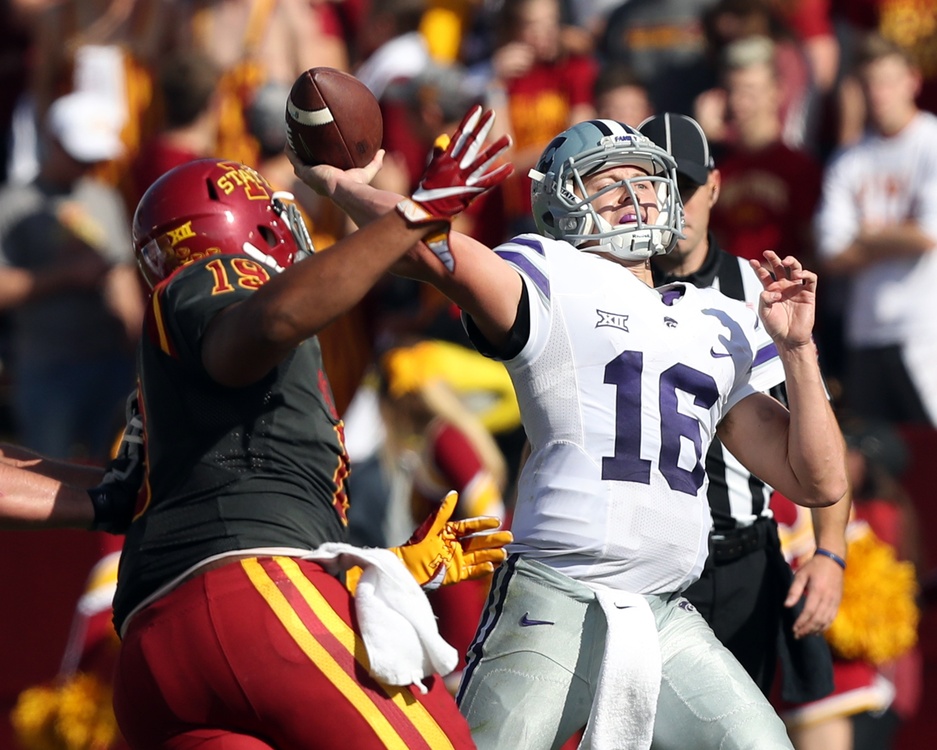 We Should Learn if There is Carry-Over or Regression
Iowa State was 2-2 in their its four Big 12 games in 2016. Over that stretch they outgained their opponents passing the ball and running the ball. They held opponents to their lowest third down conversion rate of the season (41%) while achieving their highest third down conversion rate of the season (47%). The offense and defense transitioned in to a competitive, Big 12 caliber team.
A part of that transition was due to the maturation of new talent. While a significant portion of that talent will be taking the field for its second campaign, there is another cadre of inexperienced talent playing its first game.
Will Iowa State be able to carry-over its level of play from the end of 2016, or will there be a regression while new talent (and new positions) becomes acclimated to the college game? This game will be instructive and its results will give us many clues as to whether or not ISU is taking another step forward, or taking a step back before they start moving forward again.
Puttin' it together
That is a lot to look for and a lot to learn from a first game against an FCS foe. But, this is an FCS foe that has dominated ISU in recent years. Winning this game and showing improvement and carry-over is critical to the season's prospects.
Intensity and discipline are signs of a prepared and focused football team. Neither were present last year.
Run-pass balance and the presence of the tight end as an offensive weapon are key components to an identifiable scheme and an offense that avoids stagnation.
Running the ball and stopping the run are a winning formula at every level of football. Second-level blocking on offense and disciplined routes and hungry hyena-like pursuit combine to identify Iowa State's improvement in this area. They don't win without it.
Pressure defense creates negative plays and gives the opportunity for Iowa State to win the turnover battle. More importantly, it can hide a weakness and turn a weak player in to adequate one by simplifying his purpose on a particular play. If Iowa State hopes to win this game and others, we should learn quickly that pressure on the backfield is a formula that will work.
Finally, where is Iowa State in "the process?" If the culture is changing then we should learn that early on in this game. Picking up where they left off will be evident in the areas identified here and on the scoreboard. If that is where this team is, then we can expect good things going forward. If there is retrenching needed, then we will also learn that and hope that it occurs quicker than it did in 2016.
Overall, I expect improvement in each of these areas and I expect to learn that this team is focused and cohesive out of the gate. An efficient, if not spectacular performance, is where my expectation level resides. However, if there is work to do, we have recent history to suggest that significant progress can be made on a weekly basis.