Here we are, one measly game into the 2014 Iowa State football season and the two highest profile recruits that Paul Rhoads has ever signed will each start the first game of their careers on Saturday against Kansas State. 
The Allen Lazard and Jake Campos (pictured below) era is upon us!
Exciting, right?
…………
Your silence is deafening.
This should be an electrifying time for the Cyclone Nation. Allen Lazard, an impressive 6-foot-5 freshman wide receiver could have played college ball anywhere in the country and has drawn comparisons to being a young Larry Fitzgerald.
Campos, a promising right offensive tackle, chose the Cyclones over a handful of college football's powers as well.
These young Cyclones are not only talented but of course, both young men hail from the great state of Iowa. This duo was talked and written about as much as any during the agonizingly long football offseason. These two young men have also dominated each of Iowa State's last two National Signing Days. 
Now, as rookies, they are set to start in week two.
Everybody should be jumping for joy.
Are you jumping for joy?
This isn't how the Lazard/Campos era was supposed to begin.  
Lazard is getting the nod because Iowa State's top playmaker from a year ago, Quenton Bundrage, tore his ACL in week one and is out for the season. Campos will be out there because on Thursday morning, fifth-year senior Jacob Gannon shockingly quit the team.
Hype surrounding the duo is now a thing of the past. Ready or not, here come the fighting Bill Snyders. There is a game to be played on Saturday and unfortunately for the Cyclones, a top-25 opponent in the form of Kansas State will invade Jack Trice Stadium. One would expect the Wildcats, a program that PaulRhoads has never defeated, will be licking its chops fresh off of the 55-16 spanking it gave to a pretty awful Stephen F. Austin team a week ago.
Meanwhile on the surface, the Cyclones appear to be reeling. As if a season opening 20-point loss to North Dakota State wasn't bad enough, losing Bundrage and Gannon for the season was like throwing a jar full of salt into a gaping and already infected wound.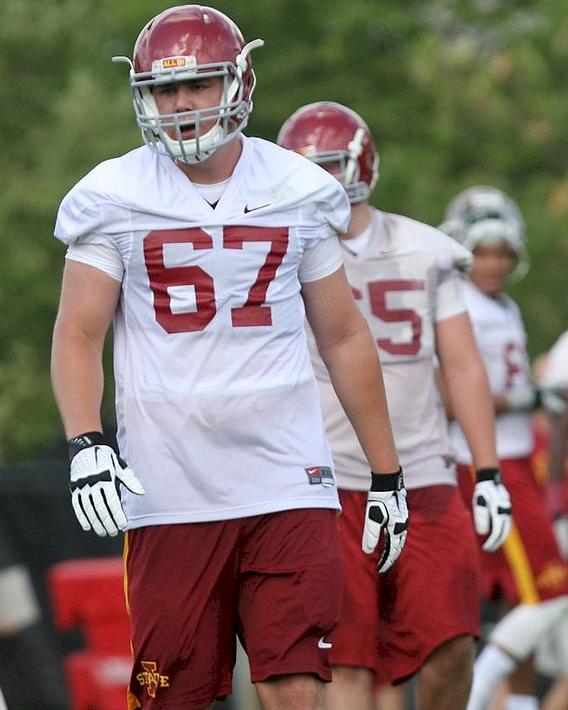 Selling hope 
That's what this game comes down to for Paul Rhoads' program. Iowa State needs to give its fans something, anything, to be optimistic about for the rest of the season. The Cyclones don't even have to win. Just improve – a lot – from game one to game two.
Sell hope for game three and beyond. Do something to keep people interested.
Fans showed patience in the offseason and were enthusiastic about the hiring of Mark Mangino as offensive coordinator. However, last week's offensive output was discouraging to state the obvious. The Cyclones started off hot but only mustered up a lousy 57 yards of offense in the second half. With that, an inexperienced defense wore down and as a result, struggled mightily.
(Note: Insiders tell me that most of the problems last week started with the offensive line and a failure to adjust once starting center Tom Farniok exited the game. Farniok, who injured his MCL in the loss, is expected to start and play on Saturday, so that's a plus.)
What makes things worse about Iowa State's second game of the season is that in 2013, Kansas State held the Cyclones to a season-low 126 yards through the air. Kansas State won that game 41-7. 
While it is better to play Kansas State early than late, this doesn't exactly scream "great matchup" for the Cyclones (but in reality, what does at this point?).
The Cyclones haven't defeated Kansas State since the Ron Prince era in Manhattan, an era that I would compare to the Greg McDermott years of Iowa State basketball.
Want some good news? Of course you do. This is CycloneFanatic.com, after all. We (well, most of us) are always smiling here.
So you're telling me there's a chance…
Here is the glass half-full approach to this game.
As mentioned before, Kansas State has yet to be tested. Iowa State most certainly has.
Iowa State loses Bundrage but gains D'Vario Montgomery this week. That isn't a wash (Bundrage at this point is the better of the two) but I don't expect Montgomery to be a non-factor either. Losing Gannon stings more from a perception standpoint than it will on the field. When fifth-year seniors (who start) quit after one game, that is NEVER a good sign (again, when it comes to perception), but Jake Campos is talented and will at least be hungry. If Gannon was "burnt out," then that likely wasn't the case for him. If your heart isn't in it, playing on the offensive line in a conference game isn't exactly a good place to be, especially against one of the most physical teams on the schedule like Kansas State. 
In order for Iowa State, a 12-point underdog, to pull this upset off, colossal improvement will have to take place and that can happen from week one to week two.
Just pray that 1) North Dakota State is like, really, really good and that Kansas State still has no idea what kind of a team it has for 2014.
Iowa State will win if…
…That offense that showed up during the first quarter of the season opener sticks around for 60 minutes of football. The Cyclones took the game's opening drive 75 yards in 3:36 and jumped out to an early 7-0 lead. It was a beautiful, beautiful drive that unfortunately, was not replicated the rest of the day.
That's what it comes down to for Iowa State. The defense is what the defense is: not very good. It needs help and if what fans saw from the offense in the second of half of last week's game is any indication, Iowa State very well might not win a game this season.
Iowa State gave up 314 yards on the ground to an FCS team. Kansas State tallied 240 rushing yards of its own in week one. If Kansas State can run the football, Kansas State will control the clock and the ending won't be pretty.
This isn't all on the offense, though. The defense needs to do its part too, when it can.
It has to execute.
Take Nigel Tribune's dropped interception last Saturday as an example. Gotta have that, man. Gotta have it.
If an upset is going to occur here, plays like that absolutely have to be made by the men wearing cardinal.
Kansas State will win if…
…The Wildcats can consistently run the football. That's what North Dakota State did to the Cyclones in the second half last week and as a result, the Bison dominated the time of possession. If the run game gets going, so will the potent Jake Waters-Tyler Lockett connection. If that happens, a best-case scenario for the Cyclones is that a shootout will occur.
How much faith would you have in Iowa State's offense in a shootout? 
Prediction
As I feel like I have outlined above, there are reasons to believe that Iowa State could very well be in this one to the end on Saturday. But those are all hypothetical at this point in time.
If you go strictly by what we all saw in week one, there is no reason to think that the Cyclones will pull off this upset.
Hopefully, I will be wrong.
The pick
Kansas State 41, Iowa State 20