Iowa State coach Matt Campbell stands with George Amundson, David Archer, Reggie Hayward, Todd Blythe, Leonard Johnson and Lane Danielsen during the spring football game at Jack Trice Stadium on Saturday, April 8, 2017. The six former Cyclones were named honorary captains for the game (Ryan Young photo).
AMES — The change was instantaneous — and an integral part of Matt Campbell's master plan. As soon as Campbell settled into his office as Iowa State's new head football coach in December of 2015, he began reaching out to former Cyclone greats.
The goal: Tap their fertile football minds and disseminate their wisdom to current players.
The result: Good vibes all around, from the past to the present.
"As soon as he got hired and got the staff together they started reaching out immediately to former players, which has been great," said former star receiver Todd Blythe, who served as one of six honorary captains at Saturday's spring game. "They've really kept up with this through phone calls and emails and things like this, and obviously the mentor program, which is great."
Blythe, the Cyclones' all-time leader in career touchdown receptions with 26, said previous regimes always welcomed former players back, but under Campbell, it's a dedicated, comprehensive effort.
So it's not only being welcomed, but feeling like a welcome mat's in place?
"Thats exactly what it is," said Blythe, who was featured in a recent Cyclone Fanatic "Where Are They Now" article. "When we came back everything was great and I had a good relationship with (former head) coach (Paul) Rhoads when he was here. He was always very nice and stuff when I talked to him, but it wasn't the feeling you get now. We feel, as former players, like they want us around. They want us to come back and be a part of the program and they want us to interact with the kids that they've got now and see if we can help them."
They can — and they have a blast doing it, whether as one-off honorary captains or as ongoing mentors.
"It feels good because we haven't really had this type of atmosphere where a coach has really went out of his way," said honorary captain Reggie Hayward, who pounced for 39.5 sacks in his NFL career.  He has to get ready for a season. He has to recruit high school students. He has to do things with boosters. It takes a lot to put something together for the people that have already come through the system and they're gone — and he has to take something out of his schedule to do this, so hat's off to him, because I know a lot programs do this, but they already have it in place, so it's just a part of their schedule. But to actually build one from the ground up and take time out of his busy schedule when he has a thousand things to do says a lot about who he is and his character."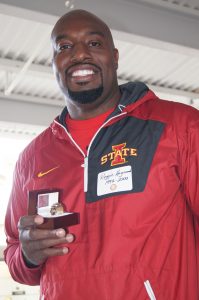 Campbell instituted both the honorary captain and mentor programs in his first season. He said the impact is already intensifying.
"I didn't even realize until Thursday night and we had 30 former players back that every junior in our program got a mentor, somebody that's graduated from Iowa State as a football player and having great success," Campbell said after the game. "We got those guys in and that was a really powerful night. … To be able to put a vision into words, that's powerful and then obviously today to get these honorary captains, George (Amundson) and these guys that have had elite success, that's powerful. So to me, I'm just grateful that there's a want-to and I'm grateful that we've got such a great former player group that it really means a lot to them and it's our job to make sure we do everything possible to feed them into our program and have them help our success going forward."
Hayward's message to current players is simple, yet powerful.
"Have fun," he said. "You put a lot of work in. You do a lot of things that the normal person can't do, is not mentally tough enough to do. You did all this work, now have fun with it. Enjoy it. Have fun with it, because it's not going to last forever."
Blythe echoed Hayward's sentiments. He'll likely see Allen Lazard break his career TD catches mark and he's all for it. Time passes. Links remain, especially now under Campbell.
"Just don't waste it," Blythe said. "Take advantage of the time they have here. This is a special time in their lives — a time they'll never get back."
Until they get to come back, that is. Blythe, Hayward and Amundson were joined by Leonard Johnson, David Archer and Lane Danielsen as honorary captains on Saturday.
Johnson, a star cornerback at ISU from 2008-11, joked that he might be pretty rough on the Cyclone defensive backs on Saturday.
"I wan't to push them, I want to motivate them," the former undrafted free agent-turned-NFL veteran said. "I don't want to say slap them around, but you know what I mean? I want to rough them up a little bit so they understand the importance, and how hard it is, and how tough you have to be to compete against somebody taller, bigger and stronger than you."
Johnson signed with the Buffalo Bills last month and indicated he would have benefitted from the honorary captain and mentor programs when he played for the Cyclones.
"I was always looking for some older guidance, because I knew — I knew since I was seven years old that I would be in the NFL," he said. "I always wanted someone that would hold my hand and guide me through the process. Some of the former players came back, but because of their busy lives, their careers, they didn't really reach out or didn't really stay around and it kind of made it hard. I'm seeing now, there's a lot of former players here and they're continuing to keep coming around and be around the current team and uplift the program and keep it going."
Blythe said that uplift should help presage a reversal of recent ISU fortunes. The Cyclones won three games in Campbell's first season and haven't been remotely within striking distance of bowl eligibility since 2012.
"You say it and it sounds like a cliché, but you've got to learn how to win," Blythe said. "I think going through what they went through last year, being so close, all it takes is for one thing to go right and then that stuff snowballs. And I think it will this year. They'll figure out how to close out those close games.
"And you're looking at all of a sudden you're going from a three-win season to six, seven eight wins. This place is just so hungry and thirsty for a winner. The fans pack the stadium regardless, so as soon as they start really closing out ball games and winning, they're going to blow the roof off this place. I can't wait. It will be fun."