Nov 3, 2016; Ames, IA, USA; Iowa State Cyclones defensive back Jomal Wiltz (17) celebrates during their game with the Oklahoma Sooners at Jack Trice Stadium. Mandatory Credit: Reese Strickland-USA TODAY Sports
AMES — If you had asked most of Iowa State's football players last season which guy on the team was the fastest, Jomal Wiltz's name would have come up. The cornerback put that speed on display for NFL scouts on Tuesday when Iowa State hosted its annual Pro Day at the Bergstrom Football Facility.
Wiltz ran the fastest 40-yard-dash of the day at 4.43 seconds, which would've tied him for the eighth-fastest time by cornerbacks at this year's NFL Combine.
"It gives you a chance," Wiltz said. "I went to a showcase in early-January and that was the main question I was asking them, what are they looking for in a (defensive back). They just basically say, 'Can you run and can you cover.'"
Outside of attending the College Gridiron Showcase, Wiltz has been training in Ames with the Cyclones' strength and conditioning staff since the end of the season. He also ran sprints for Martin Smith's Iowa State indoor track team and he plans to continue competing with the team as the sport moves outdoors.
Wiltz, who was an honorable mention All-Big 12 selection after recording 49 tackles and two tackles for loss during his senior season, thinks he took steps to improve in his last season for the Cyclones and those steps might have opened some eyes on Tuesday.
"The 2015 year I know I got beat plenty of times on double-moves," Wiltz said. "I know that was one goal that I tried to fix and I fixed it. Just being a student of the game, as well."
Former Cyclone Nealy returns to Ames for Pro Day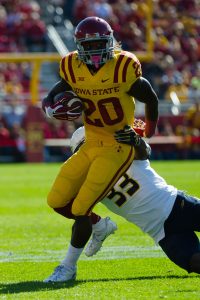 One of the more surprising participants in Tuesday's Pro Day was former Iowa State running back Devondrick Nealy. The Monticello, Fla. native was the Cyclones' third-leading rusher during the 2014 season then finished his career at Florida A&M.
He said he had originally planned on participating in Iowa State's Pro Day last year, but he wasn't able to due to an injury. More than two years after leaving Ames, he was back on the field in the Bergstrom Complex showing off for NFL scouts.
"Me and Coach Lou Ayeni still have a great relationship," Nealy told Cyclone Fanatic. "I was in contact with him a lot just to make sure that I'd have a chance to come back and have this opportunity that I had today."
Nealy ran for 179 yards and three touchdowns on 65 carries during his 2015 season with the Rattlers. Since his college career ended, he's had some time to reflect on his years at Iowa State.
"Just a lot of great memories, a lot of great plays I made," Nealy said. "I feel like I made a great impact for Iowa State to help them get to where they're at right now. I feel like I had a great contribution to be a person that helped them get to where they are."
Pro Day By the Numbers
*** There were 33 total scouts in attendance from around 20 NFL and CFL teams
*** Demond Tucker put up 24 reps at 225 pounds in the bench press. His broad jump was 8-feet-8-inches and vertical jump was 25 inches. He ran a 5.17 in the 40-yard-dash.
*** Jhaustin Thomas' vertical jump was 32 inches, he leaped 9-feet-10-inches in the broad jump and put up 24 reps at 225 pounds in the bench press. He ran a 4.99 in the 40-yard-dash, but pulled a groin as he finished and scratched from the rest of the tests.
*** Nigel Tribune ran a 4.46 in the 40-yard-dash. His broad jump of 10-feet-6-inches was the second-best by a former Iowa State player.
*** Wiltz had the highest vertical of the day at 37.5-inches.
*** Nick Fett put up 23 reps in the bench press and Patrick Scoggins put up 21.