Nov 3, 2016; Ames, IA, USA; Oklahoma Sooners quarterback Baker Mayfield (6) is sacked by Iowa State Cyclones defensive end Jhaustin Thomas (8) at Jack Trice Stadium. Mandatory Credit: Reese Strickland-USA TODAY Sports
AMES, Iowa. — Entering Iowa State's 34-24 loss to Oklahoma (7-2, 6-0 Big 12) on Thursday night, the Cyclones (1-8, 0-6 Big 12) had sacked the opposing quarterback only twice during Big 12 play. The Cyclones hadn't dropped a quarterback since losing to Oklahoma State three games ago.
That fact made it seem unlikely that the Cyclones would be able to generate pressure against OU signal-caller and Heisman darkhorse Baker Mayfield.
Iowa State picked up on something while watching film of the Sooners this week.
Oklahoma had struggled to pick up twists along the defensive front, so that's exactly what Iowa State did. They twisted all night long to the tune of three sacks and eight tackles for loss against one of the most explosive offenses in college football.
"I think when we've played well defensively we've had the ability to mix and match throughout the football game," Iowa State head coach Matt Campbell said. "I think we were able to do that at times today. That's a tough quarterback to bring down but I think you have to effect that guy in a multitude of different ways. I thought Coach (John) Heacock had a great game plan."
The Cyclones kept Mayfield from feeling comfortable. He spent a majority of the evening scrambling around the field while his stable of wide receivers ran amok in the Iowa State secondary.
Linebackers Kane Seeley and Willie Harvey picked up a sack a piece after connecting on well timed blitzes. Iowa State brought pressure off the edge with its defensive backs, including one play that ended in a joint sack by cornerback Brian Peavy and linebacker Spencer Benton.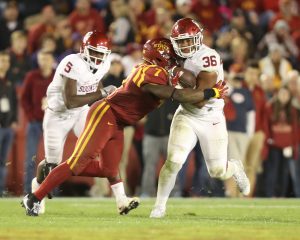 Even when defensive coordinator Jon Heacock's blitzes didn't reach their goal, they kept Mayfield from being able to stand in the pocket and pick the Cyclones apart untouched.
"I think that's the best anybody has played against them defensively through the year," Campbell said. "I thought our kids did a great job of executing the game plan, especially on a short week."
The Cyclones were even able to get consistent penetration when they brought only defensive linemen. True freshman defensive end JaQuan Bailey and senior tackle Jhaustin Thomas tallied two tackles for loss each.
Thomas was even the benefactor of Jomal Wiltz hitting on a cornerback blitz that popped Mayfield's throw high in the air where the 6-foot-6-inch Thomas could grab it like he was snagging a rebound high above the rim.
Perhaps the most impressive performance of the night came from defensive tackle Demond Tucker — even if the stat sheet doesn't show it as he collected only two tackles. He was disruptive all night long and Campbell called it "the best football of his career."
That's high-praise considering he was the Big 12's defensive newcomer of the year last season.
"I just wanted to put my team on my back," Tucker said. "We knew if we had great push up front that we could effect the game."
Iowa State's defense just became a lot scarier if that push up front carries over to next week's game in Lawrence against the Kansas Jayhawks.
Montgomery suffering from concussion-like symptoms
David Montgomery got off to a fast start in place of the injured Mike Warren before leaving the game with an injury late in the second quarter. He tallied 44 yards on 10 carries, including a 14-yard burst one play before he went down.
Campbell said after the game that Montgomery was suffering from concussion-like symptoms that prevented him from returning to the game.
"It stinks because he was off to such a great start in the football game," Campbell said. "It was more, from our end of it, just he wasn't ready. It wasn't fair for him to go back in the football game. He tried and wanted to, but it wasn't the right thing."
The status of the true freshman will be a big question mark leading up the Cyclones' trip to Kansas next week.
Fellow freshman Kene Nwangwu came in to add 26 yards on six carries, but he has carried the ball only 17 times during the season's first eight games. Senior Mitchell Harger picked up two tough yards on his one carry of the night — his fifth of the season.
Both guys were solid in their roles, but they don't really bring the same combination of speed and power that Montgomery does. Add in the fact that nobody seems to know what's up with Warren and you get a mix of uncertainty for Iowa State at running back.
"We'll play it by ear," Campbell said. "We'll kind of open it up and see what happens here. I thought Kene Nwangwu did an incredible job. He's probably been the guy that's, maybe, been a little short changed at times just because he hasn't gotten enough opportunities to carry the football. You see his explosion. Mitch Harger, I don't know if any of you guys saw that but on the touchdown throw was incredible blocking. He knocks the guy, huge steps up. We'll continue to go and then we'll see, obviously, with Mike and how he continues to come back."
Notes
*** Allen Lazard's 76 yards on six catches moved him into third place on Iowa State's all-time career receiving yards chart. His 2,059 career receiving yards makes him the fourth Cyclone to top 2,000 receiving yards in their career.
*** Joel Lanning has thrown 113 consecutive passes without an interception, the seventh-longest streak in school history.
*** After going 1-for-1 on Thursday, the Cyclones are 24-of-26 in the red zone this season (16 touchdowns, 8 field goals).