Feb 4, 2017; Lawrence, KS, USA; Iowa State Cyclones guard Deonte Burton (30) shoots a jump shot as Kansas Jayhawks forward Landen Lucas (33) defends during the first half at Allen Fieldhouse. Mandatory Credit: Denny Medley-USA TODAY Sports
The story of this Iowa State basketball season has been this team's inability to (pardon the cliche) "get over the hump."
In close losses to elite teams (No. 1 Gonzaga, No. 2 Baylor, No. 3 Kansas, No. 14 Cincinnati), Iowa State has been "right there" and folded in the final minutes.
That theme changed in a big way on one of college basketball's greatest home courts. For the first time in 54 home games, Kansas' crowd was unable to sing the "Rock Chalk Jayhawks."
Iowa State 92, Jayhawks 89.
INSTANT REACTION PODCAST: Iowa State 92, No. 3 Kansas 89 (OT)
Important note: In the first half, Kansas shot an absurd 70 percent from the field and out-rebounded the Cyclones 19-3.
Down 15 early in the second half, while most Cyclone fans were making plans for their Saturday night, Steve Prohm's team came together like a clenched fist and held the Jayhawks to 36 percent shooting during the second 20 (plus overtime).
The defensive end is where this comeback began.
"I challenged them at halftime to just keep chipping away," an emotional Prohm said after the game on the Cyclone Radio Network. "We just kept running offense and you know, your best players have to play well. When you look at Naz and Monte and Deonte, their numbers from three, compared to the ones from West Virginia. They played well and made the big plays. None were bigger than Monte's two free throws."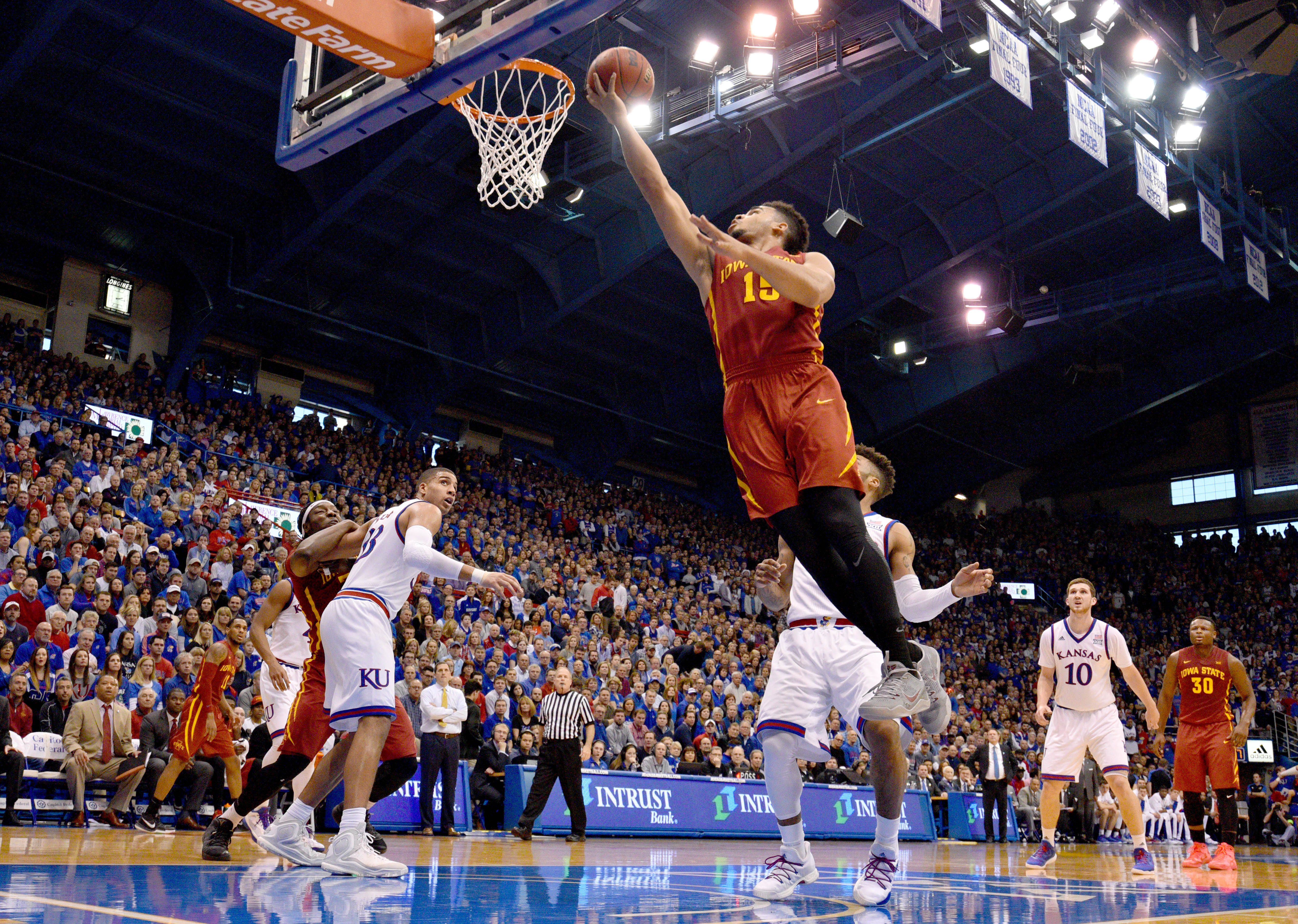 Burton led all scorers with 29 with a crazy 7-of-9 mark from three. Morris and Mitrou-Long contributed with 25 and 22 respectively.
Iowa State's 18 threes (!!!) were the most that any team has made in the history of Allen Fieldhouse. Craziest stat of the year: Marksman Matt Thomas, who had hit 16-of-22 threes leading up to Saturday, was 0-for-5 from long range.
Bonkers.
Another fun note: Bill Self has only lost 10 home games in his career as Kansas' head coach. Iowa State just became the first program to win twice in Lawrence during that time. Wayne Morgan's team also accomplished this rare feat in 2005.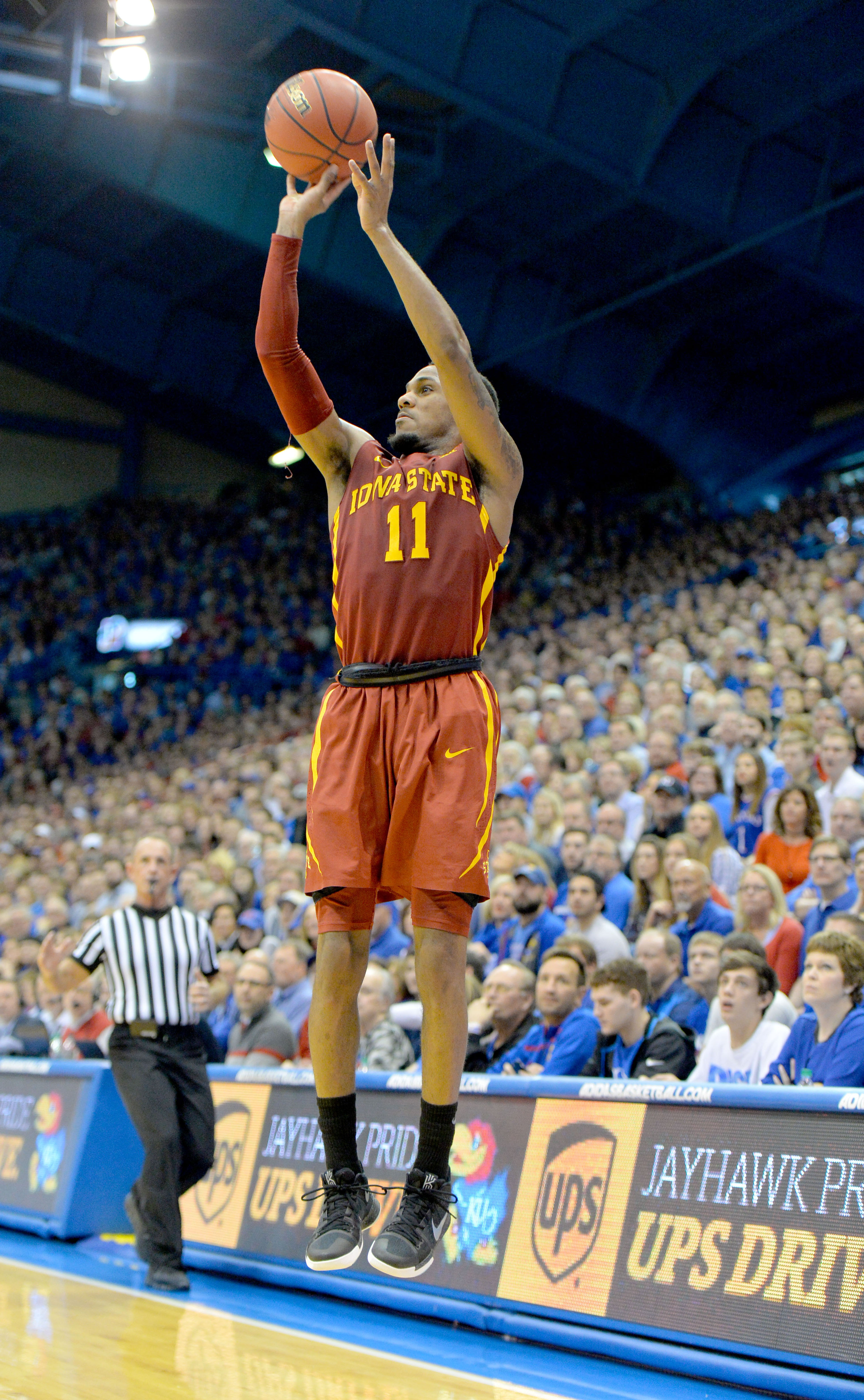 It was a critical mark for a program that desperately needed its "signature" win on the season. Iowa State, now 3-2 in Big 12 road games, has some cushion to work with in regards to its NCAA Tournament resume.
Up next is a very winnable road trip to Texas (who lost to TCU today) on Tuesday.
"We should go down there locked in and we have to build on this," Prohm said. "We can't be satisfied in the moment. We have to continue to build, understand what we did here that worked and why it worked and go down and put another one together on the road."
That's how the greatness of a win is ultimately judged.
If Iowa State loses three in a row and limps into or misses the NCAA Tournament, then this will end up being a still fun but somewhat forgettable W.
But what if coming back from 15 down in the toughest arena in college basketball fuels a very capable and dangerous Cyclone team to an impressive run and better seeding in the NCAA Tournament?
That would make it an all-timer.
Stay tuned because as you all know, the Cardiac Clones will keep us on our toes.