Feb 4, 2017; Lawrence, KS, USA; Iowa State Cyclones players celebrate after the win over the Kansas Jayhawks in overtime at Allen Fieldhouse. Iowa State won 92-89. Mandatory Credit: Denny Medley-USA TODAY Sports
The Big 12 is always weird. However, Saturday was a historic.
For the first time in the history of the AP poll, two top three teams lost at home to unranked opponents. It just so happened that these were both Big 12 programs – No. 3 Kansas losing to Iowa State (92-89 in OT) and No. 2 Baylor to Kansas State (56-54).
To top it off, No. 7 West Virginia lost at home Oklahoma State (82-75) as the Cowboys, who started 0-6, have now rattled off five in a row!
What it means for Iowa State: The Cyclones are right back where they started last week – tied for third in the league with West Virginia. Of course, the Mountaineers hold a tie-breaker over Iowa State so if you want to get technical, Iowa State is alone in fourth.
This is a big week coming up though. Iowa State has two very winnable games, at Texas and vs. Oklahoma.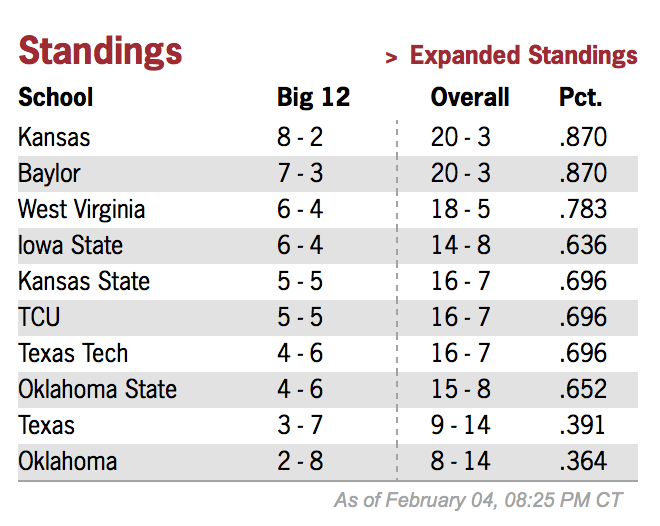 Look at these games though: 
Monday: Kansas at Kansas State (the Octagon on Big Monday)
Tuesday: Baylor at Oklahoma State (hottest team in the league)
Wednesday: West Virginia at Oklahoma (who won at WVU a few weeks ago)
Saturday: Kansas State at West Virginia, Kansas at Texas Tech
Iowa State could very well lose at Texas Tuesday night. After all, the road is a lonely place to be in this league. But if the Cyclones win, the point stands that the next seven days stand as a real opportunity for the Cyclones to improve their positioning in top-to-bottom, the most balanced Big 12 we have seen.
Iowa State goes 2-0, it could very well be looking at least a share of second place in the Big 12 a week from today.