Feb 25, 2017; Ames, IA, USA; Iowa State Cyclones forward Solomon Young (33) shoots against the defense of Baylor Bears forward Jo Lual-Acuil Jr. (0) at James H. Hilton Coliseum. The Cyclones beat the Bears 72 to 69. Mandatory Credit: Reese Strickland-USA TODAY Sports
It's hard to believe that the last week of college basketball's regular season  is upon us. It will get going in a hurry on Monday night too with West Virginia traveling to Baylor (6 p.m. on ESPNU). Oklahoma will also travel to Kansas on Monday night.
Before digging into specific scenarios, take look at the current Big 12 standings after the weekend's action.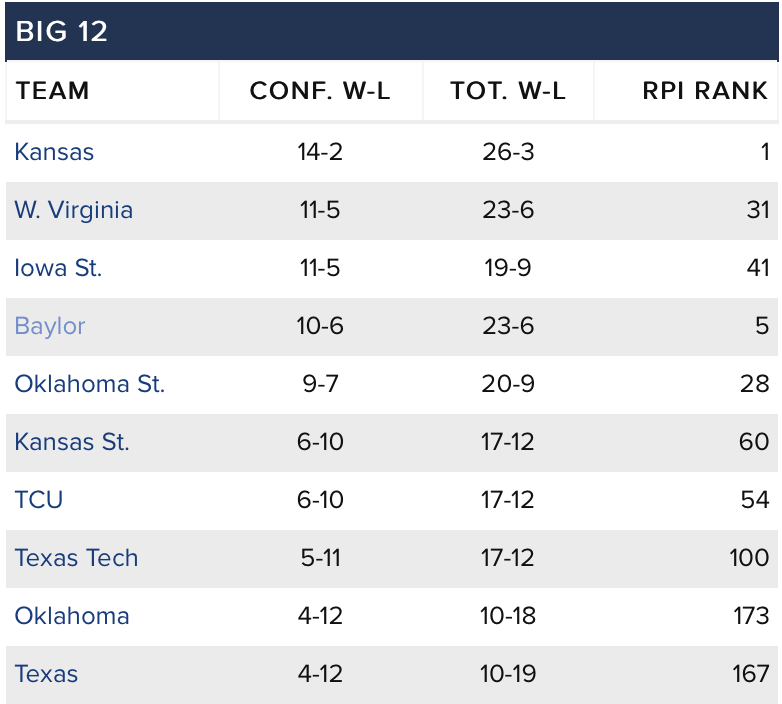 So Iowa State should be rooting for Baylor over the Mountaineers, right? 
It isn't that simple.
If you think that Iowa State is going to beat both Oklahoma State (Tuesday, 8 p.m. on ESPN2) and West Virginia (Friday, 6 p.m. on ESPN2) then yes, go Bears!
If Iowa State goes undefeated this week, regardless of what happens in Baylor vs. West Virginia, Iowa State is the 2-seed, which would be awesome.
However if you believe (which I do) that Iowa State will split this week's games (I'll pick a win on Tuesday and a loss on Friday), then Iowa State will actually be better off with West Virginia winning tonight. 
This is the best rout to the 3-seed in Kansas City.
In a Tuesday-win, Friday-loss scenario, Baylor would still own a tie-breaker over Iowa State when it comes to Big 12 Tournament seeding due to the Cyclones going 0-2 vs. the Mountaineers on the season.  (The tie-breaker is a mini round robin among the three times, where Iowa State's record would be 1-3).
Confusing? Check it out here via the awesome MRed Bracket Generator. 
The absolute worst-case scenario (two losses this week) for Iowa State at this point is to end up in the 4-5 game.
After crunching all of these scenarios, ending up in that very 4-5 game will more than likely pin Iowa State up against Oklahoma State, who is arguably the hottest team in the league.
Getting the 3-seed would be big (a likely matchup vs. TCU or Kansas State), in my opinion, to increase Iowa State's chances to make a deep run in Kansas City.