Jan 7, 2017; Ames, IA, USA; Iowa State Cyclones guard Deonte Burton (30) runs off the court after the game against the Texas Longhorns at James H. Hilton Coliseum. Iowa State won 79-70. Mandatory Credit: Jeffrey Becker-USA TODAY Sports
I've never seen another Cyclone like Deonte Burton. He is some weird combo of Cyclones of years gone by. If Royce White, Kelvin Cato, Kenny Pratt and Tyrus McGee combined talents to create a player, I think you'd end up with Burton. But even those comparisons aren't enough to describe this roller coaster.
His talent can be parts overwhelming and infuriating, often in the same sequence. And yet as his career in Cardinal and Gold winds down, there may not be a more valuable piece on the roster. As he goes, so do the Cyclones.
Iowa State fans have grown accustomed to the steady nature of a Monte Morris and Georges Niang. Their talent was in their consistency, it's like watching your favorite movie, you know what is coming, recite every line and you like it anyway.
Burton is not Niang or Morris.
Watching Deonte Burton is like being followed by a police car. You tense up, hold your breath and have no idea what is happening next.  Only Steele Jantz and Iowa State kickers have summoned similar feelings.
But man, when Burton is clicking, it's something to behold.
Saturday's win against Kansas was a Burton masterpiece. Matched up often with future top five NBA pick Josh Jackson, Burton looked like the most talented player on the floor. He kept Iowa State afloat in the first half, making each shot look more difficult than the previous. And he was the key spark in the second half rally to get the Cyclones within striking distance.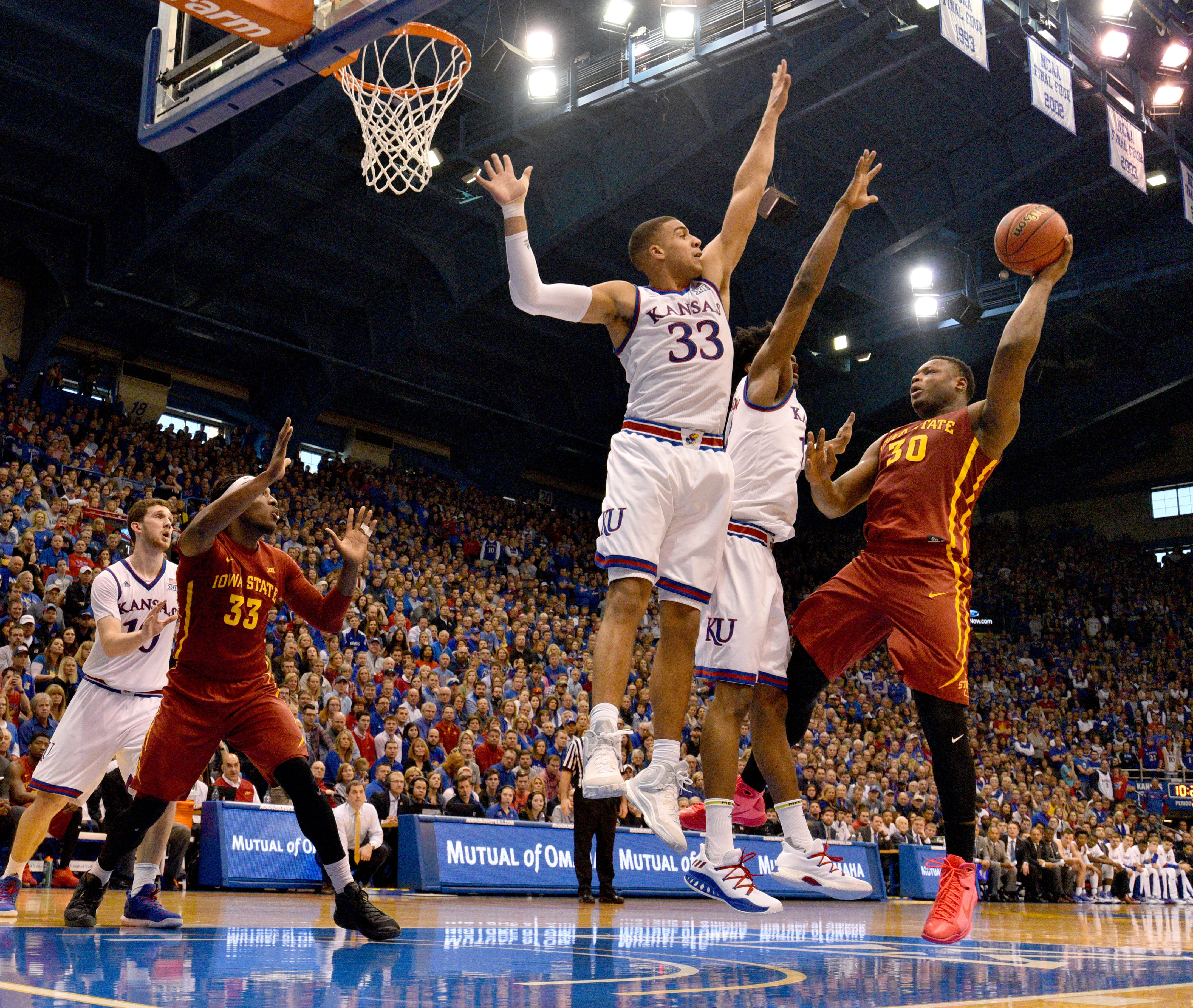 Down 73-69 with 7 minutes left, Burton drilled his fifth three of the game. After a Kansas miss, the Cyclones were looking for their first lead since midway through the first half. Most players opt to cherish possessions, work the offense in hopes of finding an easy look to take the lead in a hostile environment. Not Burton.
OH NO… OH YES!

Iowa State tied the record for most 3-pt FG vs Kansas with 18, including this dagger to take the lead. pic.twitter.com/2lgHohlvgL

— SportsCenter (@SportsCenter) February 4, 2017
Fran Fraschilla's call is perfect. "OH NO…..OH YES!!" You could not sum up Burton much better than that. Burton hit dagger after dagger, finishing with 29 points, seven threes, eight rebounds and six steals in Allen Fieldhouse.
He is the only player in college basketball since 2010 to accumulate 29 points/seven threes/eight rebounds and six steals in a single game. He did it one of the toughest venues in sports with Iowa State's season in flux.
It earned him Big 12 Player of the Week honors and gave Iowa State a signature resume victory.
For Burton, the Kansas game serves as some validation for a career that is hard to appreciate in its totality. His brilliance too often masked by irregular play. But his production, although coming in spurts, is impossible to deny.
Burton now has three games this season scoring 29 or more points. Niang had six 29+ point games in his entire career. Burton is currently tenth in the Big 12 in scoring, ninth in rebounding, fifth in steals and seventh in blocked shots.
Burton is an enigma. He does a little bit of everything yet still leaves you wanting more. Take this play against Kansas State.
Deonte Burton just tried to 1-up Dennis Smith. He missed. pic.twitter.com/yT2PIzlZz7

— Troy Machir (@TroyMachir) January 25, 2017
The raw athleticism to get the steal and see eye-to-eye with the rim, followed by a windmill that fires off the flange. One way or another, he leaves you in awe.
Through the ups and the downs Burton encapsulates life as a Cyclone perhaps more so than anyone can. When it's great, it's really great. When it's not, it can be entirely stressful. But Burton is our guy and I can't wait to see the rest of the thrill ride. Keep being you Deonte, Cyclone Nation really does appreciate you.
Oh no! Oh Yes!!