Jan 4, 2017; Austin, TX, USA; Oklahoma State Cowboys head coach Brad Underwood reacts against the Texas Longhorns during the second half at the Frank Erwin Center. The Longhorns won 82-79. Mandatory Credit: Brendan Maloney-USA TODAY Sports
For a while now, Oklahoma State basketball has had the following reputation: Some good to great players, not a lot of depth and below average coaching.
That's not even a shot at Travis Ford, who led Oklahoma State to five NCAA Tournaments during his eight year stint in Stillwater. He got players, which first and foremost is the most important aspect of coaching at this level.
It's just that his talented rosters often seemed to underachieve under his leadership.
It's only been half of a season and while the verdict is still out on his ability to recruit at this level, I am already sensing a different in-game feel under Brad Underwood. 
The 53-year old Stephen F. Austin product cut his teeth as an assistant under Bob Huggins and Frank Martin at Kansas State from 2006-2012. He went with Martin to South Carolina for a season before going an impressive 89-14 during his three years as Stephen F. Austin's head coach.
Fun Brad Underwood fact: His .839 career winning percentage ranks behind only two coaches in the history of the sport – Buck Freeman (.914, St. Johns 1928-1931 and .882, Adolph Rupp, Kentucky 1931-34) for a fourth-year coach.
The fact that Underwood, who interviewed for Iowa State's position after Fred Hoiberg went to the NBA a few years ago, comes from the Huggins/Martin tree should tell you everything you need to know.
To put it in Clone terms, Underwood is a Larry Eustachy level of intense. When it comes to on-court personality, he is the opposite of Hoiberg or current Iowa State head man Steve Prohm.
Prohm developed a relationship with Underwood when the two were winning championships at their perspective mid-major schools and knows a different side of Underwood.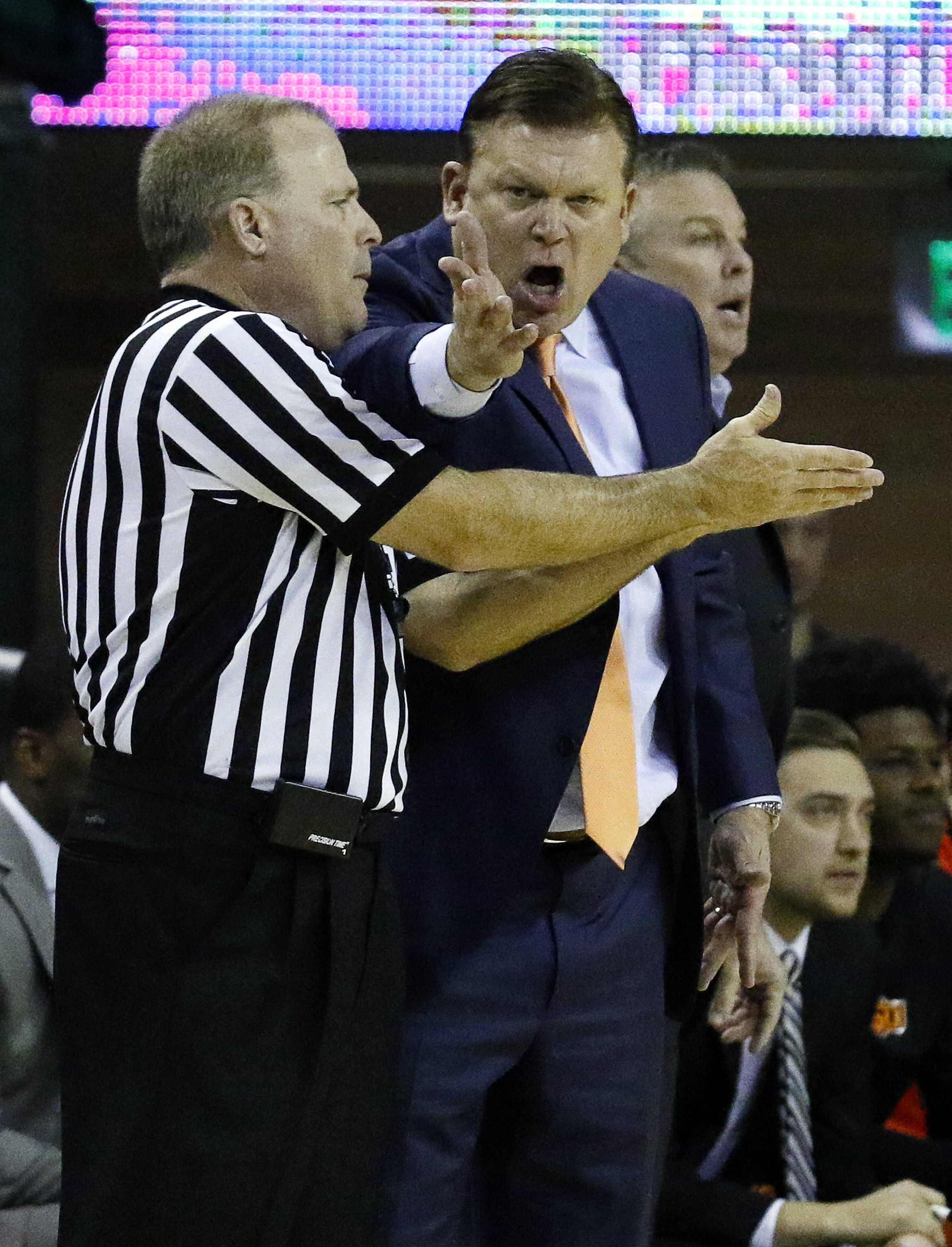 "Up close he is really different," Prohm said when asked about Underwood's intensity. "He's been really good to me. He's funny. He's down to earth and a really good guy. He's put a culture in there that I see of just toughness, a little bit of grit. That's just how his teams play and how they are built."
Demeanor aside, the early returns lead me to believe that Cowboy fans will come to appreciate the Brad Underwood hire over time. At 0-3 in the league, OSU has played arguably the toughest schedule in conference play so far (West Virginia, at Texas, at Baylor).
As Brad Underwood teams always are, the Cowboys will be ready to go at 8 o'clock tonight (on ESPNU).
JOTTINGS on tonight's game
COMPETITIVE: Picked to finish in a tie for seventh, Oklahoma State has been one of the most surprising teams in the Big 12 this season when it comes to overall competitiveness. With a 10-5 record overall, the Cowboys are ranked 31st according to KenPom.com and are 14th nationally in offensive efficiency.
BIG WINS: OSU picked up notable non-conference victories over UConn (who admittedly is way down this year), Georgetown and Wichita State.
SUPER SOPH: OSU's Juwan Evans is currently the Big 12's second leading scorer on the season at 18.9 points per game.
DON'T FOUL PHIL: At 47-for-49, OSU senior Phil Forte is a 95.9 percent free throw shooter on the season.
HISTORY: Remember when Iowa State went 18 years without winning in Stillwater? Those days are long gone as the Cyclones have won seven in a row overall against the Cowboys.
GAINING GROUND: Oklahoma State currently leads this all-time series 63-60. Obviously, Iowa State has greatly cut into that lead over the last few years.
EXPECT A NAIL-BITER: The last 10 meetings between these two teams have been decided by an average of 4.3 points. Also, Vegas has this game tabbed as a PK.