Jan 7, 2017; Ames, IA, USA; Iowa State Cyclones guard Donovan Jackson (4) and guard Nazareth Mitrou-Long (15) celebrate after the game against the Texas Longhorns at James H. Hilton Coliseum. Iowa State won 79-70. Mandatory Credit: Jeffrey Becker-USA TODAY Sports
AMES — Lightning-quick backup point guard Donovan Jackson sat still, trying to let his mind catch up to his motor.
Admittedly frustrated by fewer-than-expected minutes in his first season after transferring to Iowa State, the Milwaukee native ran through a mental inventory of his hoops strengths and weaknesses a few weeks ago.
"I get quiet," Jackson told Cyclone Fanatic in advance of Wednesday's game at Oklahoma State. "I stick to myself and I really think about what I can really improve on."
How could he carve out more court time? The answer eventually bubbled up amid his basketball brainstorm.
"Being a defensive type of guy," Jackson concluded. "I'm going to try to lead the team in a defensive type of role."
Smart guy.
Jackson, a 6-2, 175-pound junior, has helped turn the Cyclones' four-guard lineup into its best defensive unit. His swift, agile actions on both ends make ISU a better, more dangerous team — and his good thinking led to the desired minutes spike.
"The first time I saw him he made about nine threes in a row so I knew that I needed him," Cyclones coach Steve Prohm said of Jackson after Saturday's 79-70 win over Texas. "But he can defend the way that I really envision us as a team defending. He does a great job on the ball. He has stayed the course because he was probably frustrated with me a little bit. He came into a tough situation because those guys were all back. He sucked it up. He got back to work. I love his defense. That's probably the best thing that he's doing for us right now. He's making good offensive plays and not forcing things offensively."
Jackson's offense will come. He's an excellent 3-point shooter (38 percent right now) and can be electric with the ball in his hands (24 assists to eight turnovers). But defense lit the path to more playing time and Jackson's attacked that role with panache.
"He's got a lot of upside and I'm happy for him," star point guard Monté Morris said.
Speaking of upside …
The Cyclones have plenty of it, too — as long as they can navigate this tricky Wednesday-Saturday-Big Monday stretch and come out at least 2-1 on the back end. Worse than that doesn't spell doom, but earning a road win at either (or both) Oklahoma State and TCU followed up with a triumph over Kansas at Hilton would send a strong signal that ISU should challenge for a top-three spot in the league standings.
So Cowboy up.
"We've always been a good team," Morris said. "Our three losses, besides Iowa, have been by five points. So we're a good team and we didn't put our heads downs and whine, we just got back to the grind. Coach always told us we'll get a few of those games back, so hopefully these two on the road on our road trip will be those two and then wrap it up and get ready for Monday."
Getting one back against a talented and hungry Oklahoma State team (8 p.m., ESPNU) won't be easy. The Cowboys stand 0-3 in the league, but their last two losses have come by a combined seven points — and on the road. They feature one of the Big 12's most dynamic players in Juwan Evans (18.9 points), plus crack 3-point shooter Phil Forte (11 of 21 from distance in conference play) and all-around athlete Jeffrey Carroll (16.1 points per game).
We just want to get guys like that out of their comfort zone," ISU's leading scorer, Naz Mitrou-Long, said. "We have similar games. They play tight defense, so do we — as far as them denying and so forth. So just getting them out of their comfort zone and play our basketball and we'll be fine."
"Our basketball" at Iowa State finally includes a growing role for Jackson, whose personal problem solving session proved to be a fruitful exercise. He's studying film, paying attention to details and tracking every step, bounce and permutation of rhythm on the floor.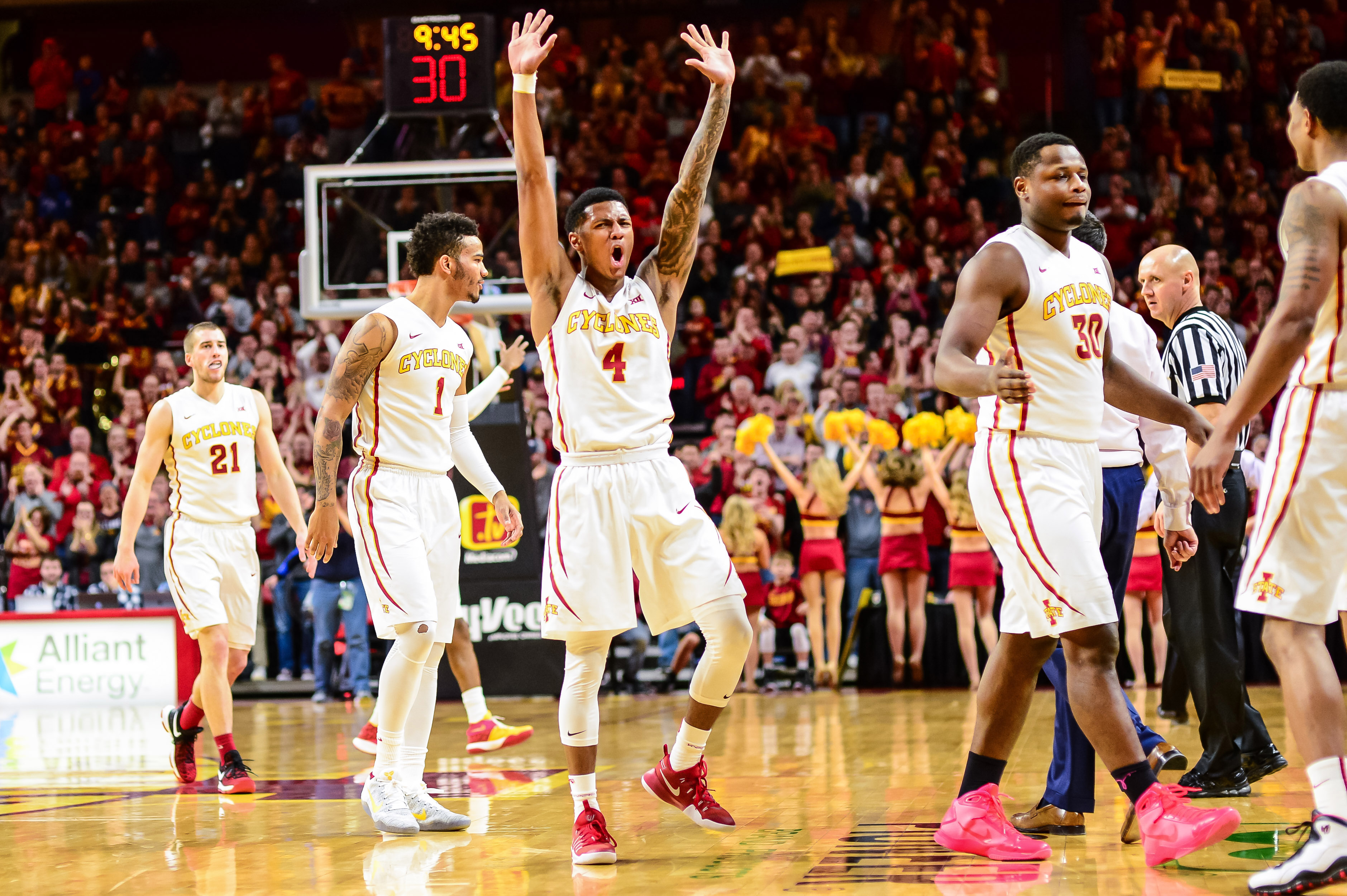 "I just time dribbles," Jackson said of his approach to stifling opposing guards. "I try to just time it up and keep up with them. It probably takes a good four times up and down; like him moving side to side to see what he likes to do."
Again, smart guy. Defense shows the way. What flows from that will come naturally — sooner or later.
"In a program like this you have to kind of accept your role and he's done that the best of anybody on the team," Mitrou-Long said. "That's why he's helping us and we need him. We've always needed him and he knows that now."
 ETC.
KenPom projects an 80-78 Cowboys win. ISU's win probability? 41 percent. … Mitrou-Long has averaged 17.7 points since going scoreless in the one-point home loss to Cincinnati on Dec. 1. He's shooting 45.3 percent from distance in that span and needs one 3-pointer to join Jake Sullivan as the only Cyclones to make as many as 200 (or more) from beyond the arc in their careers. … Morris owns a 17-to-1 assist-to-turnover ratio in Big 12 play. He's coughed up the ball just twice in his last 178 minutes of action. … Iowa State has won three straight times in Stillwater. The first of those wins ended a drought at Gallagher-Iba Arena that stretched back to 1989.