Dec 30, 2016; Ames, IA, USA; Iowa State Cyclones forward Solomon Young (33) defends Texas Tech Red Raiders guard Keenan Evans (12) at James H. Hilton Coliseum. The Cyclones won 63-56. Mandatory Credit: Reese Strickland-USA TODAY Sports
AMES — There was 17:06 left on the clock when Donovan Jackson and Nick Weiler-Babb checked in for Matt Thomas and Deonte Burton on Friday night at Hilton Coliseum. Texas Tech held a 38-27 lead at the time and had been in complete control for the first 23 minutes of the game.
The Red Raiders pushed the lead to 12 before freshman forward Solomon Young checked in with 13:07 left.
Those three substitutions did something to flip a switch for the Cyclones. During the final 13:07, Steve Prohm's four-guard lineup went on a 29-8 run to erase the deficit and clinch a 63-56 Big 12 opening win.
"We were getting out-manned," Prohm said. "Discipline and toughness, we just went with the last 10 minutes. We were the more disciplined team, we were the tougher team the last 10 minutes. They were for 30 minutes and we were for the last 10. That's why it was 38-21 in the second half. We rebounded, they just competed. I was going with my gut about what I thought needed to happen. Those guys responded."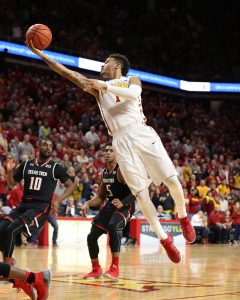 The lineup consisting of Jackson, Weiler-Babb, Young, Monte Morris and Nazareth Mitrou-Long was able to ramp up the pressure on defense. They rebounded with authority and pushed the ball in transition.
For the first time in a few weeks, it looked like the Cyclones had their mojo back.
Mitrou-Long, who finished with a team-high 19 points, was attacking and finishing at the rim. Jackson and Weiler-Babb brought significant energy defensively as they ran the wings and bushed the ball off of rebounds.
Morris was his usual self, scoring 14 points and dishing out six assists with no turnovers. The peak of his performance came when he knocked down a 3-pointer to cut Tech's lead to four with roughly eight minutes to go.
"I just thought, at the end of the day, whether you're coaching guys that are small or big, it's about production and doing what needs to be done on the floor," Prohm said. "Those guys, they executed on the offensive end. They pushed the tempo. They competed on the defensive and we held them to 26 percent shooting."
Don't think I am forgetting about Young, a true freshmen that grew up before our eyes in his first Big 12 game. Sure, he didn't score a point and he only grabbed two rebounds in his 16 minutes. It was the things that don't show up on the stat sheet that made Young's contributions so important.
He locked down Tech's Anthony Livingston, a graduate transfer from Arkansas State who scored 13 points on 5-of-7 shooting in the first half, and held him to zero points on three shots.
The 6-foot-8 youngster from Sacramento protected the rim and kept the Red Raiders from getting comfortable in the lane. He set solid screens that helped open up his teammates on the offensive end, including one that set up Morris' big 3-pointer.
Iowa State out-scored Texas Tech by 19 points when he was on the floor.
"It's funny, he's growing up a little bit," Prohm said. "We went to Iowa and we were out-scored by 16 when he was in the game. He grew up tonight. He competed the right way. I just think he threw his body around."
Young proved that he is capable of bringing the toughness to Iowa State's small-ball lineup. Does that mean he will be in the starting lineup when the Cyclones visit Baylor on Wednesday?
"I doubt it," Prohm said. "But to have great confidence in him now, yeah, I've got great confidence in him now."
Only time will tell, but Iowa State's might've found something in that last 13:07.
Thomas battling a foot injury
Prohm said senior guard Matt Thomas has been battling a minor foot injury that kept him from playing during the second half of Friday's game. He said Thomas suffered the injury in the win over Mississippi Valley State then aggravated it during practice on Thursday.