AMES — There were six minutes and 12 seconds on the clock in the fourth quarter when Joel Lanning's errant pass landed in the hands of Northern Iowa's Charles Brown on Saturday at Jack Trice Stadium.
The Cyclones had a 20-19 lead at the time, but it was the type of moment that had caused Iowa State teams of the past to fold.
How would this team react? Would they allow an offensive miscommunication to be their downfall or would they rise up and punch back?
The Iowa State defense had been on the field, essentially, all night long. They'd forced a UNI three and out barely a minute earlier and now their backs were against the wall.
The answer came swiftly. UNI quarterback Aaron Bailey got to the edge of the ISU interior and hit a hole for a gain of 22 yards, setting the Panthers up inside the Cyclones' 15-yard line. J'Veyon Browning carried the ball for nine more yards to the five on the next play.
A couple snaps later, Browning was diving into the end zone to put Northern Iowa ahead for good 25-20 with 2:49 to play.
"It's pretty tough," Iowa State sophomore linebacker Reggan Northrup said about being backed up by the interception. "It would be the same situation for anybody on any other team on any other defense. You've just got to be ready for situations like that."
New head coach Matt Campbell made battling through this kind of adversity one of this main objectives during his first offseason at Iowa State. He didn't want to let penalties, miscommunications or missed assignments snowball into a myriad of mistakes.
That's what made Saturday night's performance somewhat surprising. It wasn't just one Iowa State error that defined the game. It was a whole host of them.
There are the nine penalties that cost ISU 89 yards. There's the snap Lanning dropped during the second quarter giving the Panthers the ball deep in ISU territory or when he committed intentional grounding in his own end zone to give the Panthers two points.
That doesn't even include his two late interceptions or sophomore running back Mike Warren's fumble inside UNI territory.
Sure, UNI deserved to win the football game on Saturday night. That said, Iowa State did just as much to lose it.
"I think there was a lot of things that we've worked on in terms of attention to detail that didn't get displayed tonight," Campbell said about the turnovers. "How are you going to win a game when it's 4-to-1? It's just not going to happen. We're not good enough, nor is anybody to overcome situations like that. That's disappointing."
Speaking of Warren, last season's leading freshman rusher was nowhere to be found for most of the night. He ran for just 30 yards on just 12 carries while being keyed on by the UNI defense.
Even when it seemed like he was starting to break through, the Cyclones would get called for holding. They'd put themselves into first and long situations that are hard for a team with a patchwork offensive line to work out of.
"We break a 12, 13 yard run then it gets called back on a holding call or a block in the back," Campbell said. "Some little detail things that, now, all of a sudden, makes it really hard on an offensive line. When it's first and 20 or second and 20 and next thing you know you've got to play catch up. I don't know what those stats look like on third down, but I know they weren't good. The reality was we put our offensive line in some really tough spots where we had force them to play."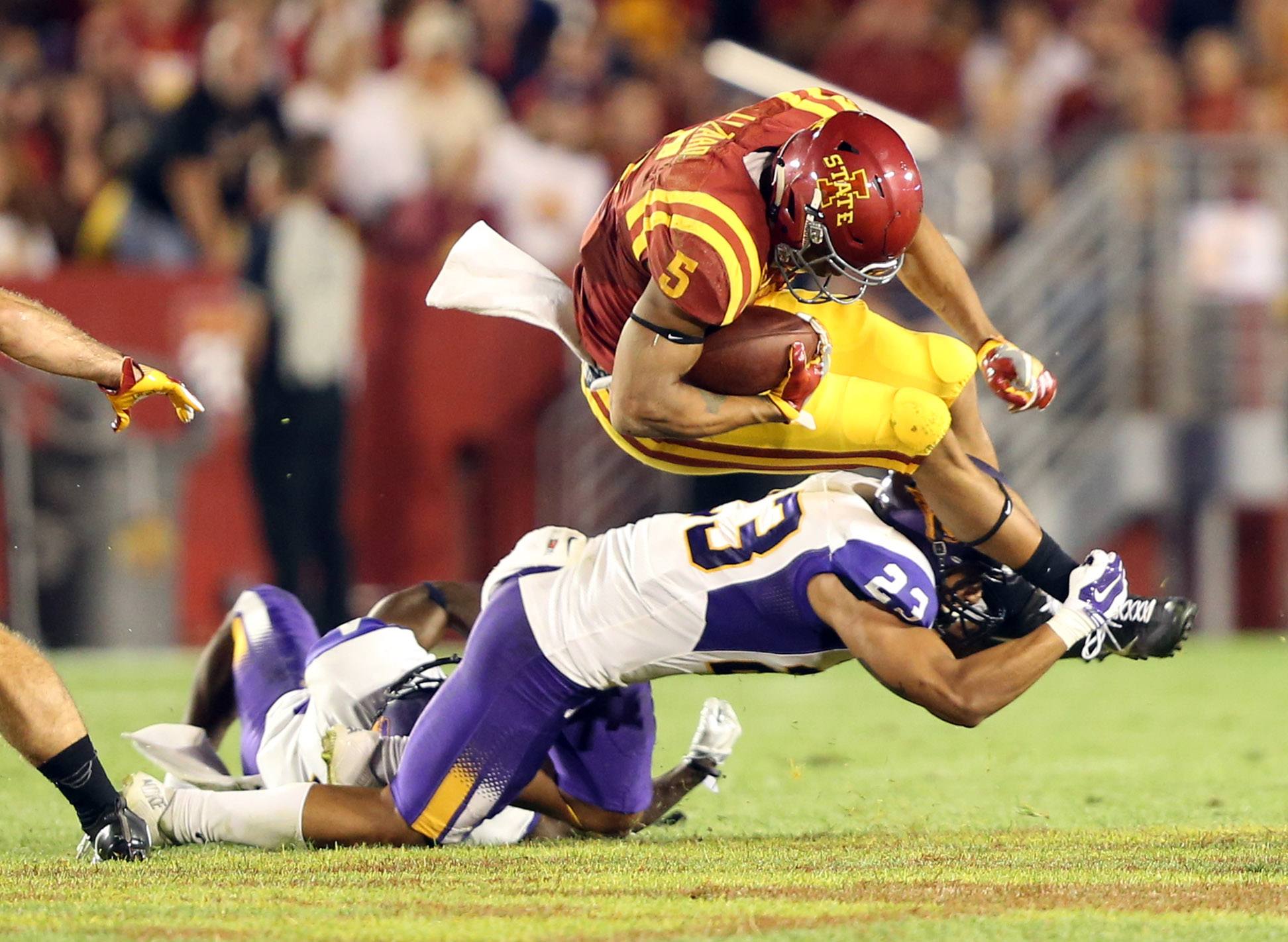 A big part of the narrative surrounding Iowa State since Campbell's arrival has been the ability to handle adversity. He went as far as manufacturing adversity in practice with bad calls by officials and tough situations.
The team failed its first test on Saturday.
"My biggest regret is for this fan base," Campbell said. "There's got to be a point in time where we draw the line and quit disappointing them. That's my mission. That's my goal. It's not about me, it's never been about me. I go back for our kids, but we all have to grow and get better if we want to get this thing to where it needs to get to. Tonight was a bump in the road. Now, will it be a complete spiral downward or can we regroup and can we get better. That's going to be the tell-tale sign of this football team."
Notes
*** Six true freshman saw the field during Iowa State's season opener with Jamahl Johnson, Kene Nwangwu, Steve Wirtel, Deshaunte Jones, Jaquan Bailey and David Montgomery all getting snaps.
Bailey and Montgomery both stood out to Campbell.
"Ironically, those two young guys have a great process already and they know how to work," Campbell said. "I've seen Jaquan Bailey play really well all fall camp. I've seen Jaquan Bailey practice really well. I thought Jaquan played well tonight in a lot of situational things. David Montgomery has been the same way so those two young guys are, certainly, bright spots on a really tough night."
*** Campbell said the defense was hampered by some injuries suffered before and during the game. Starting star D'Andre Payne didn't play in the game due to injury and a handful of others got dinged up.
"I think we're built in terms of putting our playmakers on the field and getting guys in position to have success," Campbell said. "There were times where some of those guys weren't available to us tonight, so we had to change our philosophy a little bit within the game, but, again, I thought those kids really stood up and made some plays when they needed to."