Trust me guys, I want Iowa State to do well too. Between my wife and I, we have four degrees from this place and half of my toddler's wardrobe includes Cyclone cheerleading outfits.
What I am most excited about for the upcoming season though has to do with the product that we plan to bring you – at no charge whatsoever – here at CycloneFanatic.com.
That is why I am so jacked up here just under a week before kickoff. Let me explain.
You have all had a good month to check out our new website. It's sleek, beautiful and technologically gives us the ability to "keep up" with the big boys in an ever-changing media climate (more on this later).
Not only is what you view on a daily basis a major upgrade, the ownership group at Cyclone Fanatic has invested into our manpower as a staff too (I'll tell you a little bit about our guys here in a moment).
When I came to Cyclone Fanatic in the fall of 2009, there was a major void when it came to the local media's coverage Iowa State athletics. Our site's ownership saw that, it angered them and luckily for me (I could not be more blessed to have had that opportunity), they chose to act on it.
What we have now was my dream for the company back then, when the vision was for CF to be more than a message board, but a brand that made people proud to call themselves "Fanatics."
We have since added radio shows, podcasts, bus trips, golf tournaments and more to what we do on a daily basis.
The things we are most proud of:
*** For five years in a row, CF has given football season tickets to a lucky fan at our kickoff party (we are incredibly proud of that).
*** Cyclone Fanatic members have raised $13,771 dollars for the St. Baldrick's Foundation (which raises money to fight pediatric cancer).
*** Last Saturday, we presented a check (from money raised by our readers) for over $21,000 to a local family that has a child battling cancer.
*** Two years ago, our members raised over $10,000 for Blank Children's Hospital in honor of Jamie Pollard being fined by the Big 12 Conference.
*** Cyclone Fanatic members raised over $5,000 for Ponseti International (a charity that is near and dear to my heart), which provides leg braces for children born with clubfeet in third-world countries.
*** Last but certainly not least, you all raised over $12,000 for the family of Buffalo basketball coach Nate Oats, whose wife was battling cancer when that program came to town last season.
Now, a few notes on what you will be seeing during the 2016-17 season here on CF…
1 – Podcasts. Lots of them.
Last week, we had a Cyclone-oriented podcast for you guys every single day. That's our goal for the season as well.
2 – Live "TV"
Thanks to our friends at Agrigold, CFTV-Live with Jeff Woody and Jared Stansbury will air every Tuesday at 12:15 on our front page. Here, you will find cutting edge analysis from one of the single smartest former players I have ever met.
3 – More content than ever before 
Our team has never been more motivated to blanket this market.
4 – New features to our forum
Because of social media, keeping people engaged on a forum is now more challenging than ever. Because of our site transition over the summer, we now have the ability to run a real sportsbook (with fake money) on our forum. Within it, Fanatics will be able to place bets (again, fake money) with one another. We can also hold pick'em competitions right here on Cyclone Fanatic. You guys will love some of these new features, I promise.
One of the largest parts of my job these days is to constantly be turning over new rocks to enhance your experience on our site. I am confident that we will have more "goodies" to roll out in the coming months.
Now, I would like to introduce our team to you all and explain what their individual roles will be here on the site going forward.
JARED STANSBURY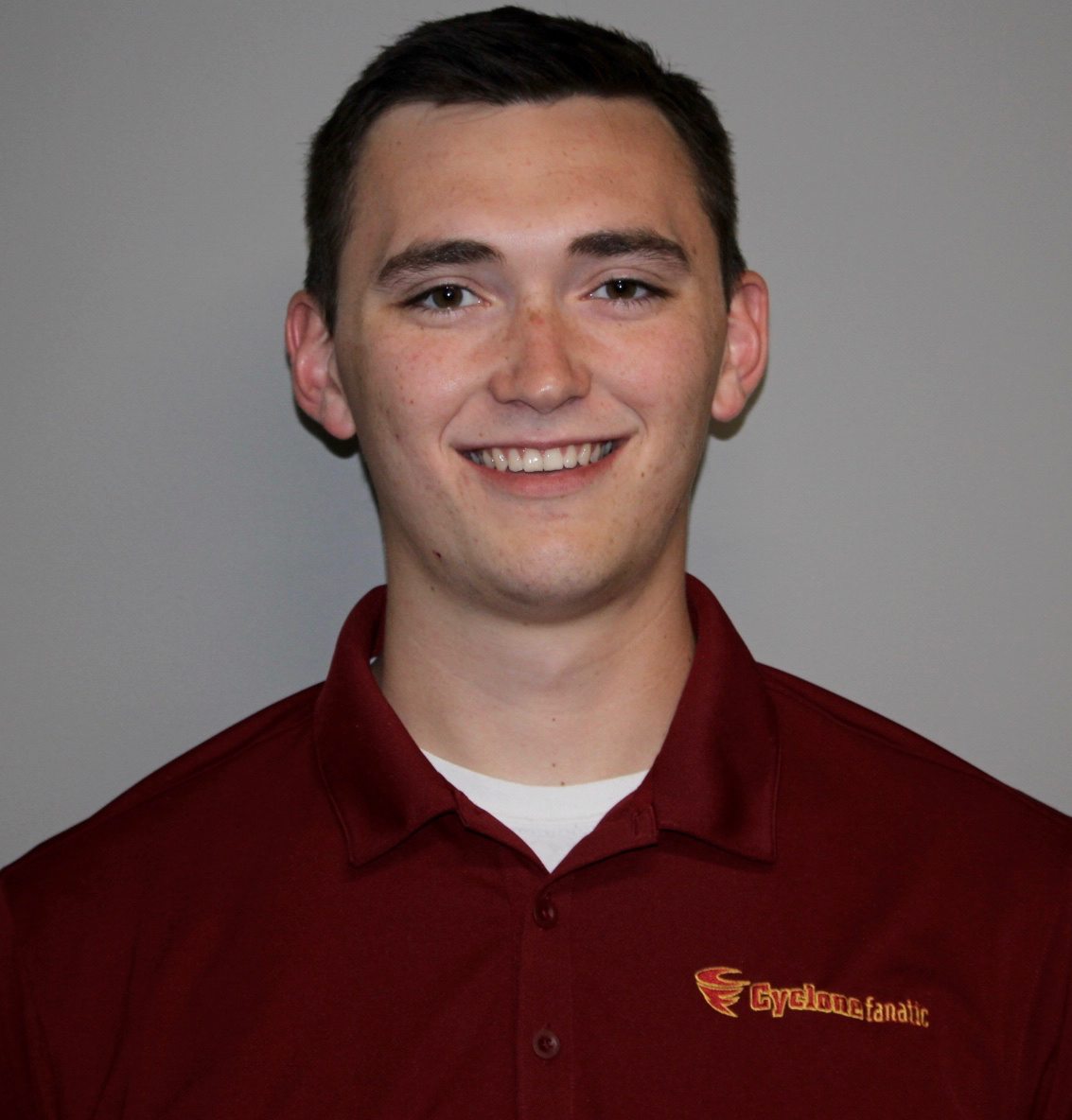 Cyclone Fanatic really wasn't in the market to bring on another full-time writer last spring, but we couldn't let Jared slip through the cracks. He is too passionate, too talented and good of a person to let leave.
Jared has interned with us for three years now. He's been my little brother, has learned a ton and knows exactly how we want to do things here within our company. Jared has the ethics of an old school newspaper reporter but understands the needs to evolve in the year 2016.
Jared's day-to-day job this season is to be our "beat writer." If anything happens within the Cyclone Nation, he will be on it. Look for more recruiting coverage than we have ever had in the past well from this whippersnapper too.
ROB GRAY
I think that Rob is the best feature writer in the state of Iowa. Thanks to the addition of Jared, Rob will be freed up to do more of that in 2016-17.
You have liked seen (and enjoyed) his "Where Are They Now" features so far this year. Rob will continue to write those pieces monthly (connecting with former Cyclones is important to us). Rob's primary role during a game week is to take you all behind the scenes and do what he does best, which is tell a great story.
BRENT BLUM 
Our witty, ref-loving columnist is back for another year. In addition to his weekly commentary on the Cyclones, Blum will join me Thursday night's from 6-7 on the Cyclone Fanatic Radio Show (live from BenchWarmers in Ankeny on 1460 KXnO).
Blum contributes a lot behind the scenes as well. He is my go-to guy when I need an idea, headline or quick edit. Not only is he one of my best friends, Blum is a brilliant writer who Cyclone fans have tabbed as a "must-read" over the last decade.
GARRETT KROEGER 
The man we call "Kroegs" came on as an intern last year and will continue to grow during his junior season at Iowa State.
Kroegs is an information junkie, which I love. He will be instrumental in our video content, what we do on social media and you will see his byline consistently too. Kroegs will contribute to all of our coverage but will be heavily involved in wrestling and women's basketball.
ADAM GRAY
None of this would be possible without our Director of Sales, Adam Gray. His presence on CF allows me to focus on building up our content.
His work with our loyal advertisers also keeps the site free. If you see Adam out and about, buy him a beer. He deserves it.
Adam is also a talented voice man too, as you have heard him for years on the FAWcast and now the "On The Trail" podcast weekly.
OUR SITE OWNERS
When I approach Jason Loutsch with a need for CF, he rarely tells me no. I cannot put into words how valuable that is for a company as small as ours that is attempting to compete with media conglomerates in an ever-changing digital world.
Like Loutsch, I can't find words to describe what Matt and Brian Lazear have meant to my family and me over the years. These three are the big brothers I never had.
None of this happens without this group's vision seven years ago and commitment along the way.
THANK YOU
If you guys weren't so loyal, we wouldn't be here. Seven years ago, there weren't many options when it came to reading about the Cyclones. That certainly isn't the case anymore, yet you continue to come back.
Cyclone Fanatic isn't a website, it's a community, which is why our advertisers receive such great value.
So thank you, enjoy the season and know that we will be working hard to provide the most comprehensive coverage of Iowa State that you can find anywhere.