Because of #HoibergWatch that went on for what seemed like half a century, I feel like Iowa State fans were essentially robbed off their offseason in 2015. 
Believe it or not, the Big 12's annual football media day event is going to go down in exactly two weeks from today in Dallas. Of course, fall camp will kick off just shortly after.  
Get ready, chaps. The unofficial start to football season is just around the corner.
And I get it, guys.
Iowa State going 5-19 over the last two seasons (while not winning a conference game in 2014) hasn't exactly spurred a flurry of optimism within the fan base during the offseason when it comes to the future of Paul Rhoads' program. The glass half-empty crowd has taken over the Internet these days and I can't say that I fault the culture that currently exists within the vocal minority.  
However, today's piece is for the optimists out there. This is for the Fanatics who despite a bleak outlook, are still looking forward to what many consider to be the greatest time of the year (the fall).
Here are 10 reasons (in no particular order) to be excited for the 2015 Iowa State football campaign.
With the pressure being on, might we see the return of the Story County Gambler?
When Paul Rhoads took over a struggling program in 2009, fans (including yours truly) immediately fell in love with his style of play. I'm not referencing a spread offense or anything like that. I'm talking about the onside kicks, the fake punts and the keep-your-head-on-a-swivel preparation that Iowa State opponents were forced to consider the week before going toe-to-toe with the good guys. 
Back then, you never knew what Rhoads would do or when he would do it. I assume a lot of that was because Rhoads knew the talent that his program lacked at the time and figured why not go for broke? 
We have obviously seen less and less trickery the last few years. 
I look at it this way: Nobody is expecting anything from the Cyclones this year. Vegas set the over/under win total at three for crying out loud. If you're Iowa State, you might as well go down swinging with a chip on your shoulder.
And who knows…Maybe that difference in attitude will turn into more victories?
The new Jack Trice Stadium
Getting that south end zone bowled in is something that the collective Cyclone Nation has been dreaming about for decades. A spectacular new addition to JTS won't keep folks around to watch if the team is losing in November, but it's a monumental achievement for this athletic department as a whole.
I've seen the new endzone up close and let me tell you, it is a sight to be seen.
Every Iowa Stater should walk into Trice on Sept. 5 with a sense of pride.
Year two of Mark Mangino running the offense
In year one under Mark Mangino as Iowa State's offensive coordinator, the Cyclones finished ranked 100th nationally in total offense at 373 yards per game. With a fifth-year starting quarterback returning and leading what is arguably the most talented group of wide outs in program history, it would only be natural for this offense to take a major step in the right direction in year two under Mangino's tutelage.
Sam Richardson is a fifth-year senior
Richardson simply has to be more consistent during his final year as a Cyclone and experience usually does that for quarterbacks. He threw for 2,669 yards, 18 touchdowns and nine interceptions in 11 starts during his junior campaign.
ESPN recently tabbed No. 12 as the most important player on Iowa State's roster. 
The wide receivers
The trio of Quenton Bundrage, Allen Lazard and D'Vario Montgomery forms the most capable group of wide receivers I have ever seen at Iowa State. Size, speed and explosiveness: These guys have it all.
The frustrating thing about talented wide receivers though is that they are reliant on the offensive line protecting the quarterback, who has to get them the ball. A decent running game (Iowa State finished ranked 110th in the country last year) would obviously help too.
The talent of these three is undeniable though and if their teammates can put them in the right spot, there is little doubt that Bundrage, Lazard and Montgomery are more than capable of producing some much-needed explosive plays for the Cyclones in 2015. 
Maybe, just maybe, the offensive line will flourish?
Full disclosure: This is blind faith more than anything but with sophomore Jake Campos anchoring the group, there is reason to hope that Iowa State's offensive line will improve next season. Brock Dagel is a quality tackle on the opposite side. The monstrous Wendell Taiese struggled as a junior but is my bet to win the left guard spot. Jamison Lalk and Oni Omoile should provide quality depth in the middle.
I am worried about the center position though, as replacing Tom Farniok will be anything but an easy transition.
The manageable start to the schedule
It doesn't mean that it will happen but Iowa State can realistically win the first five games on its schedule. Northern Iowa and Iowa at home are both very doable. A road trip to Toledo is on the docket.
After the non-con, Kansas (home) and Texas Tech (away) are the two worst teams in the Big 12 (aside from Iowa State) according to preseason pundits.
If Iowa State doesn't at the very least have a winning record at the end of the first five games, that won't bode well for the future of this program.
Kamari Cotton-Moya is really good
I love watching this kid play. The sophomore led his team in tackles as a rookie and is already the best player on Iowa State's defense. As good as he was, Cotton-Moya didn't intercept a pass or force a fumble last year. That's an aspect of his game that should improve come year two.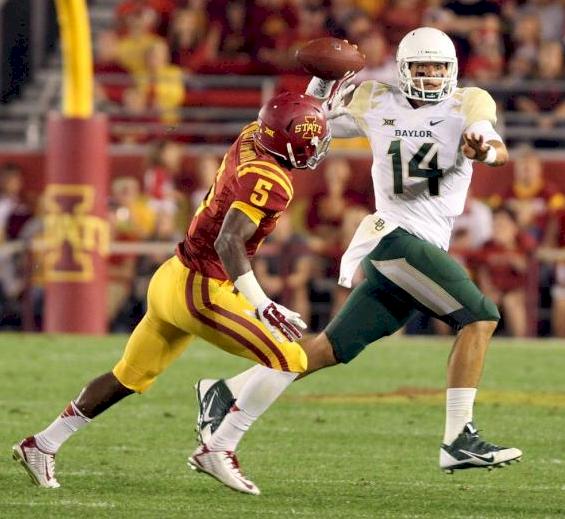 Demond Tucker is supposed to be good
The junior-college transfer received rave reviews this spring. All signs point to him being a legitimate Big 12 player, but does Iowa State have enough depth to help him out? That's my biggest question. Still, it's nice to have a guy like that lining up for the good guys this fall.
It's football dummy 
No description necessary. 
Let's go.