AMES — The sky remained dark as the expected bus appeared, cast in subdued shades of cardinal and gold, the sun a mere glimmer on the horizon.
 A group of bedraggled young men chased that bus. They were taller than most. One stood around 6-foot-8. But size aside they were, in that moment, merely students — desperate to make their bus, to sit in class, and make their mark.
 So why did I write the above?
 Because that's how Iowa State's first two-time All-American Georges Niang wants to be remembered.
 As one of you. Not necessarily special. Just a guy — but what a guy he was as a Cyclone.
 "We were praised a lot," ISU's first two-time All-American said recently to CycloneFanatic. "People really loved us, but the thing I'd say is funny is we're the same (students) that people who'd run up to us and ask us for autographs and pictures — we're the same students that we're waking up at 5:45 in the morning to catch the 6 a.m. bus for Cy-Ride. … Sprinting to the bus to catch the 6:20 Cy-Ride to class, to study hall or a morning lift. It just goes to show you how the work you wake up (for) and put in really does pay off."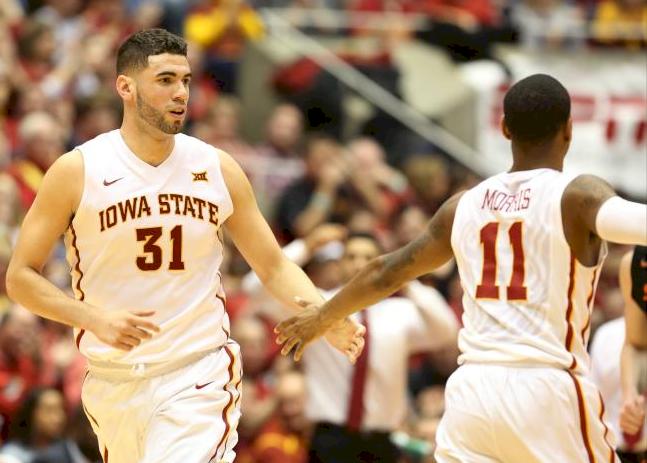 Karl Malone Award winner. Two-time All-American. One of Iowa State's best players ever.
That's Niang. And now he's gone — on the wings of a well-earned cap and gown and professional career.
What follows is a Q and A with one of ISU's all-time greats.
CF: Looks like you've been having a lot of fun, what, with rooming with Wayne (Selden) at (the NBA Combine) and all that?
Niang: "Yeah, everything's been going great, just taking it one day at a time and enjoying the process. That's what you have to do."
CF: Leading up to NBA Draft day, what's your schedule look like?
Niang: "Right now I'm out in L.A., really just working on myself, trying to become a better knock-down shooter and getting in the best shape of my life."
CF: Anything changed with your training?
Niang: "I feel like I'm getting into better shape. Obviously we're focusing on my body but I don't know if you're really focusing on if I feel like I look better, but I do feel like I look better and I feel better but I don't know how you determine that. I think the biggest thing is trying to achieve your goal and doing the little things to help you become an NBA player."
CF: What were the scrimmages like at the NBA Combine?
Niang: "I think it was just guys out there competing and some guys trying to show people what they can do. I think the biggest thing is out there you want to get out there and show that you're a competitor and you can win. So that was the biggest thing, I was just going out there doing what I do and trying to compete; not doing what I can't do and really just trying to win games."
CF: Graduation was obviously a big day, were you more emotional, or less emotional than you expected, given that's the true end point of the  ISU chapter in your career? 
Niang: "Yeah, no, graduation was bad. I had to move all my stuff out of my apartment and I think that's when it really hit me, but like I've said before, I always will call Ames home. I've made some great relationships out there. I've had some great memories, so I'll always cherish my times that I can go back and spend time there, which, you know, will be sooner rather than later for sure."
CF: How excited are you about the camp you'll be involved with?
Niang: "I'm excited. It's a camp from youth to high school and I'm really excited to just teach the game and really give back to a community that gave so much to me."
 CF: What was it like to be asked about when you're going to coach when you haven't even played as a pro yet?
 Niang: "Maybe if I was more athletic they wouldn't ask me that, but I'll cross that bridge when I get to it. I think right now my goal is to become an NBA player."
 CF: Doubters have been an omnipresent force for you, so how have you matured in your approach to them?
 Niang: "The biggest thing for me is just, wake up and try to prove another person wrong. I think that's the thing that you've just got to go in with the mindset of you know what you can do — wake up and do that every day and be consistent and be humble in your approach and you'll be all right. I think the thing that separates me is I work hard and I'm a competitor day in and day out."
 CF: What are your essential tools from a mental standpoint?
 Niang: "I think constantly having a steady mindset of not living life in peaks and valleys; being emotionally stable and really focusing on yourself and really bettering yourself as a person day in and day out, whether that's watching film or reading books on how to be patient with things. I think you've just got to focus on yourself."
 CF: How hard was it to be patient at first?
 Niang: "I think I learned a lot from coach (Steve) Prohm. He's really helped me with stuff like that and I think I have a good support circle that I can talk to and not be stressed with throughout the process."
 CF: I know you have no idea about what will happen, but have you been encouraged by the workouts with multiple teams?
 Niang: "Man, that's such a broad question, you just have no idea. I mean, it's a waiting game for everybody. You want to say you wish you could answer that question, but you just have no idea until June 23."
 CF: Do you feel like you're in a good spot, though, just focusing on yourself and knowing your rivals; kind of let the chips fall where they may?
 Niang: "That's exactly how I'm going about it: You can't think too much; you control what you can control. And what I control is creating a better me day in and day out."