AMES — It looked like a game day.
That was my first thought when I pulled into lot C6 before Iowa State's spring game on Saturday. The lots were packed — so packed we hardly got a spot for our Cyclone Fanatic tailgate.
The weather was beautiful. Speakers were blaring, grill smoke filled the air and quite a few folks were enjoying some adult beverages.
It was a good — no — great day for football. How often can people say that about a spring game?
There are only a few really great spring game atmospheres in college football. Most schools struggle to even get 10,000 fans in the stands.
That brings me to my first of four takeaways from Saturday's game.
1. The Nation Rises
Iowa State football isn't lying with their new slogan. That was clear on Saturday when 15,000 fans showed up for the spring game.
I don't know if that's an official record but it is a record since I've been around.
The amazing weather obviously played a big role in the turnout but I think people were really excited to see what this team could, or would, do. The fans seemed to stay fairly engaged throughout and that couldn't be said for the past couple spring games.
"It's crazy that there's this many people here for a spring game," junior quarterback Joel Lanning said.
Believe me, Joel. I was just as surprised as you were.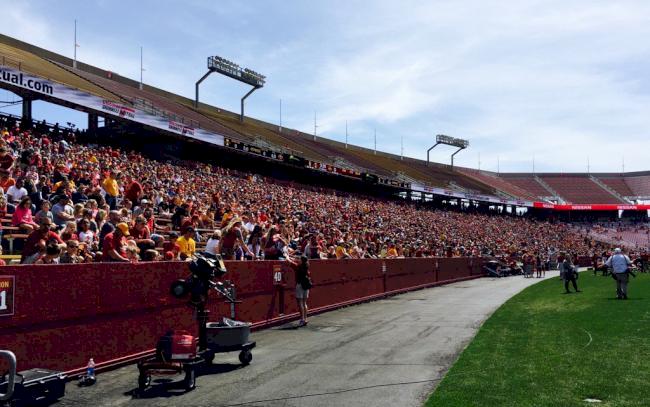 2. Speaking of Mr. Lanning….
Lanning's stats on Saturday didn't exactly jump off the page as he finished 11-of-19 for 161 yards with one touchdown but, man, he was impressive at times. He made a couple really impressive throws for good gains, and a few that weren't completed.
"I feel like I'm in a good spot," Lanning said. "Some of these guys are looking up to me, they're relying on me and I've got to rely on them. I feel good. I'm confident right now and we're just going to take it one step at a time in the summer."
The first throw that sticks out in my mind came during the first quarter. Lanning took the snap and rolled out to his left, before getting his shoulders turn towards the line and zipping a strike across his body to Trever Ryen for a 25-yard gain.
That wasn't a throw we saw Lanning make accurately last fall.
During the second quarter, he went deep to Carson Epps on a broken play. The combination of Epps cutting his route a little short and Lanning having a cannon caused the play to end in an incompletion.
The ball probably went close to 60 yards in the air. His touchdown pass to Dondre Daley during the fourth quarter was pretty dang good too.
I don't think Lanning was the best version of himself on Saturday but you can see the improvement. I just have a feeling he's going to be in for a big junior season.
3. Jay Jones fits at CB
One of the more surprising moves during spring ball was Jay Jones moving from linebacker to cornerback. Last season Jones showed he had playmaking ability on the edge and I wasn't sure how that would translate to the defensive backfield.
If Saturday's performance was any indication, he seems to have found his home on the field. He led the Gold team with five tackles, four of them solo, and should've had an interception that went through his hands.
"I saw him make a couple nice plays on a couple deep balls today," head coach Matt Campbell said. "You know, coverage wise and ability to make plays on the ball, really good. Jay's a senior, his last shot at this so it's going to be a really interesting next three months for him. There's great competition at that position."
Iowa State's defensive secondary has the potential to be really good in 2016. That potential grows as Jones continues to grow in his role.
4. Mitch Harger is going to play some kind of role
The departures of Tyler Brown and Josh Thomas have left the Cyclones in serious need for a No. 2 running back behind Mike Warren. There are a couple freshman that still have to get on campus but I wouldn't be surprised if Harger is someone that eats up a few of those carries.
On Saturday he was essentially the feature running back for the Cardinal team since Warren didn't play.
"I'm pretty consistent, I do things right and I know that's what Coach Campbell and Coach (Tom) Manning want," Harger said. "Whatever my role is, I'll play it. I'm here for them. I'll do my job the best I can."
He isn't going to be a player that rattles off 100 yards every game. Heck, he might not even get 50 yards but he's going to put his head down and run hard. He'll give Warren chances to take breaks.
I would consider Harger to be prime candidate for next season's walk-on to breakout player — and you can take that to the bank.