AMES — Ladies and gentlemen, allow me to present you the definition of the word swagger: To walk or behave in a very confident and typically arrogant or aggressive way.
It might as well just read: West Virginia (18-4, 7-2) basketball next to it.
Boy, Bob Huggins' squad had an awful lot of it in Tuesday night's 81-76 victory over Iowa State (16-6, 5-4). 
Pardon my French, but the Mountaineers were pissed off. Huggins' group woke up to more than a Midwest blizzard in their Ames hotel rooms on Tuesday morning. Recent local newspaper headlines were taped to their doors.
"We were 17-4 and ranked 12th in the country and headlines were 'Mess Virginia,'" Huggins said.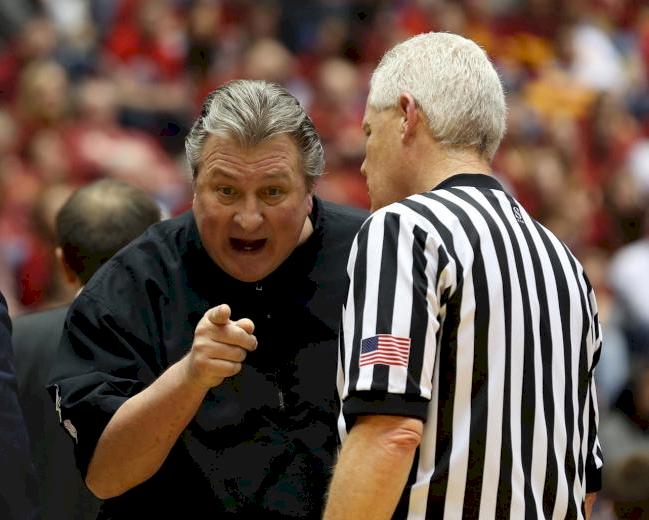 The intense, veteran coach used this to his advantage. The story, which Huggins said questioned his team's toughness and drive, was written after Saturday's 88-71 beat down at the hands of Florida. 
It said that this particular group of Mountaineers doesn't play hard and for the first 11 minutes of this game, it didn't look as if they were going to respond.   
Iowa State led by 15 with 8:46 to go in the first half. The Cyclones were making threes (four of them in the first seven minutes), defending like their hair was on fire. It looked like Iowa State was going to cruise to its 17th win of the season.  
That's exactly when West Virginia began to kick, scratch, elbow and claw. For the final 8:46 of the first half, the Mountaineers out-scored Iowa State 27-8. 
"I think they sped us up the whole game and got us out of what we wanted to do," Iowa State guard Monte Morris said. "A lot of our turnovers led to buckets on the other end. I don't care what kind of team you play. At this level, when you turn the ball over and they go score down there it is tough on everybody. They got us out of sync tonight and you have to give those guys credit."
That's 15 Iowa State turnovers to be exact, which resulted in 18 West Virginia points. The real number on that did the Cyclones in was 17 – the number of West Virginia's offensive rebounds, which resulted in 18 second chance points.
"I think we could have done a better job of cutting out (Devin) Williams," Abdel Nader said. "He was big."
West Virginia's dominant big man had 17 points and 18 rebounds. The Mountaineers out-rebounded the Cyclones 43-26. 
West Virginia – by far – was the tougher basketball team on this particular night. Talent isn't what makes that team good. It's grit.
The Mountaineers are the Oakland Raiders of the Big 12.
When West Virginia comes to town, you know you're in for a fight, and you have to respond. They are relentless. They suffocate you. That energy, Huggins' temperament, the nastiness.  
The swagger (if you didn't notice, West Virginia talked A LOT on Tuesday night).
It is all designed to make the opposition lose its composure, which is exactly what the Cyclones did. 
Out of nowhere, Iowa State's Wooden Award candidate Georges Niang turned the ball over eight times. Somehow, Jameel McKay didn't record a defensive rebound. 
This West Virginia team that just waltzed into Hilton and won – something that Oklahoma and Kansas recently failed to do – had previously dropped a couple of games in a row.
Down for the count, West Virginia got pissed off and responded with its most impressive win of the season.
That's two in a row – albeit to two top 15 teams – losses for the Cyclones. 
They're reading your tweets. Hopefully they'll too get pissed. 
How will the good guys respond?
Stay tuned.
Stillwater and an Oklahoma State (Saturday, 1 p.m. on ESPN2) team that is getting better by the week awaits.