Karl Chevrolet gives you peace of mind when you purchase a GM Certified Pre-owned vehicle. We have been the #1 GM Certified dealer in the nation for 10 consecutive years. Before you make your next purchase, come see why more people nationwide drive a Karl Chevrolet Pre-owned vehicle than any other dealer-There is a difference, Come see why TODAY!!
 AMES — Iowa State coach Steve Prohm said Monday that his team's leading rebounder, Jameel McKay, is cleared to return to practice. 
 As for games, that's yet to be determined — but the 6-9 McKay will definitely not play Wednesday at Texas Tech.
 "We just met," Prohm said. "He'll practice today, but he's still suspended indefinitely from an action standpoint, but he will partake in practice today."
 That's a start.
 McKay, who averages 12.4 points and 9.0 rebounds, was suspended indefinitely in advance of Saturday's 64-59 win at Oklahoma State. McKay later composed a tweet that read, "1 game," which obviously proved to be an erroneous prediction.
 "My hope is he'll be with us Saturday (for Texas)," said Prohm, whose No. 14 team (17-6, 6-4) has won three straight Big 12 road games for the first time since the 2004-05 season. "That's my plan, but right now it's just a game at time."
 In this case that translates to the length of the suspension being up to how McKay continues to respond. The shot-blocking senior — who was not available to the media on Monday — issued a too-long-for Twitter apology of sorts Sunday on Instagram that read as follows: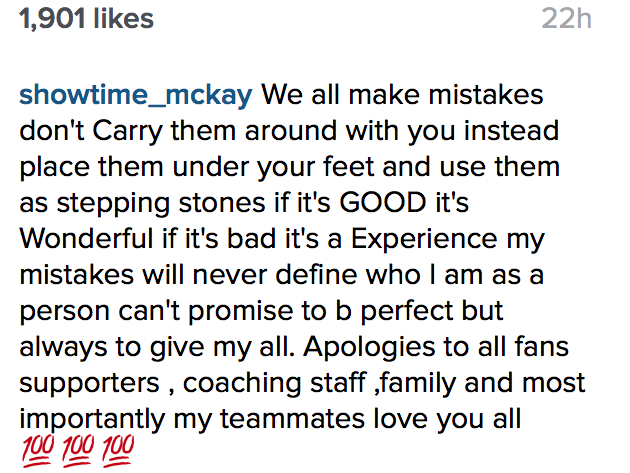 Prohm said he's still deciding whether McKay will travel (despite not being eligible to play) with the team to Lubbock to face the Red Raiders (13-9, 3-7), who shocked the Cyclones 78-73 last season at home. 
 "It's really between me and him and he understands it," Prohm said. "It's basically just doing the right things — what I expect each and every day. It's from a whole perspective. It's not just one single thing. I love Jameel. We need Jameel to be right for us to max out and he knows that. Me and him are continuing to communicate and hopefully he can have a good week this week and then we'll go forward, but right now he's suspended indefinitely until I really say more on the matter. He'll practice today, though, because I want him in practice, but game-wise right now he's suspended."