Abdel Nader's encountered plenty of doubt during his basketball career, but none of it's come from him.
Iowa State's athletic, versatile and mercurial forward has gone from part-time contributor to front-line player — and proof of his heightened success can be found in advanced statistics.
 One note-worthy trend hasn't changed as Nader's minutes climbed from 16.4 last season to 30.0 in 2015-16: The 6-6, 225-pound mismatch creator continues to outpace his season average in almost every measurable category when the No. 14 Cyclones face KenPom top-50 teams.

  Part of that's a renewed commitment to slashing to the rim early and often in games, while letting the game come to him. More of it's due to grit and a deep sense of resolve — a winning mix that must be on full display when ISU faces No. 5 Texas A&M Saturday at College Station.
 "Everybody was trying to count us out about two or three weeks ago," said Nader, who's averaged 14.8 points during the Cyclones' current four-game win streak. "I mean, that's how it works. We kind of use that as fuel to the fire and it's been working out for us."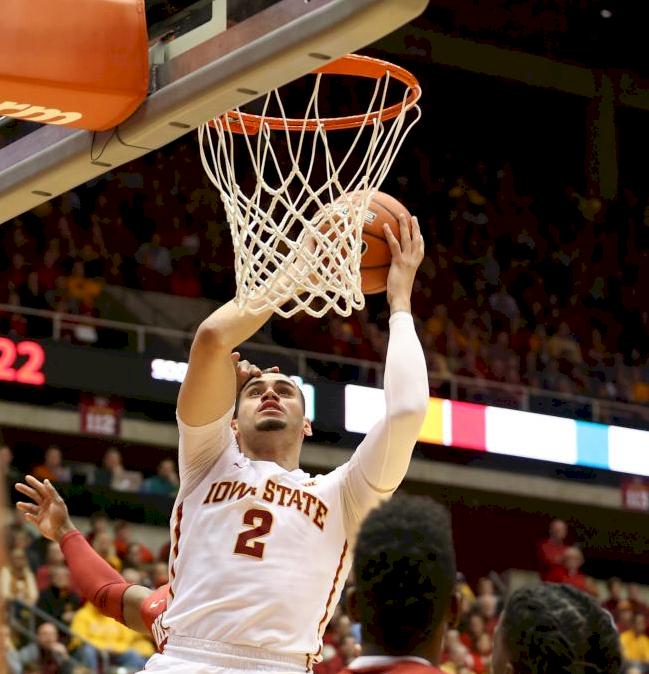 (Above photo credit: Reese Strickland-USA TODAY Sports)
Nader's ability to drive and finish at the rim or the line has reaped both real and stat-based dividends. He's shooting 57.1 percent overall during ISU's recent hot streak and 54.5 percent from 3-point range. He's also the only Cyclone not named Jameel McKay to get to the line 10 or more times in a Big 12 game, making 10 of 12 in the Jan. 18 triumph over No. 1 Oklahoma.
 "Coaches want me to be aggressive and attack the rim and I think with my size and my ability to handle the ball, that makes it pretty easy for me, so I've been trying to get to the line and get some easy points," Nader said.
 It's obviously working. Nader has attempted the third-most free throws this season for the Cyclones, despite playing the fourth-most minutes. He's ISU's best free throw shooter in Big 12 play, hitting 84 percent (21 of 25).
 And here's a shocker based on early returns: The Cyclones rank second in the Big 12 in free throw percentage at 75.2 percent (league games only). Nader's a big reason for that, but his positive attributes don't reside solely on the offensive end.
 Nader matched Matt Thomas with four steals in Monday's 85-72 triumph over No. 4 Kansas and shut down Jayhawks star Wayne Selden, who scored just two of his sub-par 11 points in the second half.
 "Huge defensive plays and that's Abdel's M.O.," ISU All-American Georges Niang said. "He just wants to be the guy to guard the other team's best guy and really get out there and disrupt things."
 So McKay — who may or may not play at A&M because of left knee-related problems — remains ISU's rim protector, but Nader's become adept at creating chaos. It's defense that's fueled the Cyclones' four-game ascension to the realm of contention for the Big 12 regular season title and Nader's helping to lead that charge.
 "He's so long and lanky," Niang said. "(He) really does a good job of getting in those passing lanes."
 Next stop: College Station, where ISU's essentially playing with house money. A loss won't hurt the postseason resume, but a win would greatly enhance it.
 "It's going to be tough," said point guard Monté Morris, who's coming off a 21-point, nine-assist performance. "They've got some vets, we're on a roll and I heard it's sold out, so bring it on Aggies. I mean, this is what we lace up for."
 TIDBITS
 KenPom, unsurprisingly, projects a Texas A&M win on Saturday. Score: 81-76 (32 percent win probability for ISU). … The Cyclones jumped to No. 10 in KenPom's overall ratings after the Big Monday win over Kansas. The Jayhawks fell to No. 16. … The Aggies have never been ranked as high as No. 5 by the AP until now. They spent four weeks at No. 6 during the 2006-07 season.