Karl Chevrolet gives you peace of mind when you purchase a GM Certified Pre-owned vehicle. We have been the #1 GM Certified dealer in the nation for 10 consecutive years. Before you make your next purchase, come see why more people nationwide drive a Karl Chevrolet Pre-owned vehicle than any other dealer-There is a difference, Come see why TODAY!!
AMES — Steve Prohm may have lived in a "dungeon," but it served as a launching pad, not a prison.
Nearly two decades ago, in a dank subterranean room, the precocious 23-year-old former student manager at Alabama toiled assiduously as an unpaid assistant to Billy Kennedy at Centenary College, living and breathing basketball 24/7.
 Flopping down late at night in a dorm's basement was merely part of the price he paid to gain a foothold in the volatile coaching trade. No chains. Simply connections — to people, to cutting-edge ideas, to lofty dreams already at least partially fulfilled.
 Enter, now.
 Prohm, 41, gets to face his mentor when the No. 14 Iowa State Cyclones clash with No. 5 Texas A & M Saturday at 1 p.m. (ESPN) in College Station. 
 So it's just another game, right?
"Obviously, I think it's great," said Prohm, whose team seeks to extend a four-game win streak into this oddly-timed non-conference clash. "You've got two top-15 programs playing on national television, one of the marquee games of this Big 12/SEC Challenge, so I'm really proud of the job he's done there. Obviously he's a guy I look up to and he's been a great influence in my life, so it's a little surreal. But once the game starts it's just the game. He knows what I think of him and how appreciative I am for what he's done for me."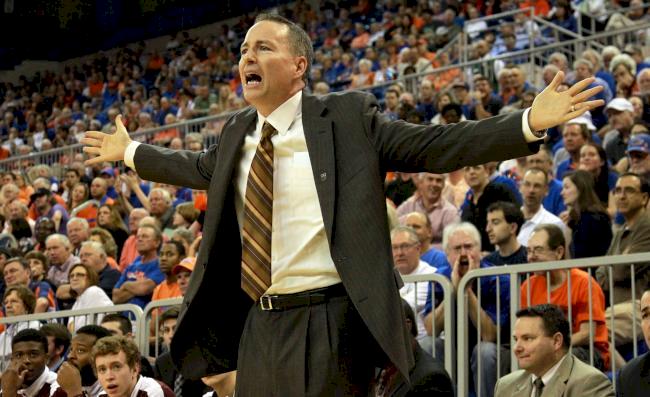 Prohm followed Kennedy (above) to Southeastern Louisiana, then Murray State. When Kennedy left the Racers to lead the Aggies' program, Prohm succeeded him as head coach. Their relationship spans TV dinners and big breaks into the upper echelon of the coaching ranks.
 Now it comes full circle. Surreal, indeed.
 "A lot of people don't want to do it," ESPN Big 12 expert Fran Fraschilla said during a Google Hangout that Cyclone Fanatic took part in. "To me, this is a celebration for Steve of, 'I wouldn't be where I am without Billy Kennedy.'"
 So here they are. Kennedy's SEC-leading team (17-3) is coming off its third loss of the season — a three-point setback at unranked Arkansas.
 Prohm's Cyclones (16-4) blasted No. 4 Kansas on Big Monday, now set their sights on another NCAA Tournament resume-building win — and fourth over a current top-five team this season.
 "They're going to come with a vengeance to try to get a win at home against us," said ISU star Georges Niang, who's scored 20 or more points in six of the past 11 games. "We're going to have our hands full down there. (Jalen) Jones is really good for them, Danuel House, big guy Tyler Davis, (Alex) Caruso — they have a bunch of guys that can really play."
 So do the Cyclones, who feature six different players who have scored 20 points in a game at least once this season.
"We've just got to go there with a mindset that it's an opportunity for us to get better and for us to face up against one of the best teams i the country and see where we're at right now," said big man Jameel McKay, who is expected to play on a dinged-up left knee. "Right now we're playing really well. We got a couple good wins at home. Let's see if we can take that show on the road."
 It will be quite a show. Reed Arena has become a distinct — and noisy — home court advantage for the Aggies. A third straight sellout crowd is anticipated, so it may feel like a conference game even though it's a brief foray outside the Big 12.
 "One of the sneaky things that has happened is that Texas A&M — and you're going to see it this weekend; I saw it against LSU," ESPN SEC insider Sean Farnham said during the Google Hangout. "Their home environment has become outstanding. They're going to have 6,000 students, a minimum of 6,000 students. … They're doing all the football chants. The place was literally rocking (for LSU 10 days ago), like Kiel Field would be during a football game."
 Also impressive: A&M's defense. The Aggies rank fifth nationally in adjusted defensive efficiency, according to KenPom.
 The Cyclones are slotted sixth in terms of adjusted offensive efficiency by KenPom, so both coaches will be scheming feverishly to keep favorable trends on track.
 "So far, so good," Prohm said.
 A lot has changed for Prohm and Kennedy since the protegé's "dungeon" days, but one bedrock principle has remained constant. It ripples through each stop, from small school to mid-major and now elite institutions. 
It just keeps you humble," Prohm said, looking back on his start. "It lets you know where you came from. Everybody just sees this end of the result to where, 'Man, you're making ton of money,' but I used to work at Blockbuster video and work for free and work part-time jobs. You don't see that part of it. So it keeps you humble and it keeps you understanding that you didn't get into this — I got into this business because I just love basketball."
 It's also why he's risen in the profession. Same for Kennedy. There's a reason they connected and thrived together for so long.
 "There's a vein of humility that runs through both guys," Fraschilla said.
 There's also a wellspring of competitiveness, which makes the friends bitter rivals for at least two hours on Saturday. 
 "I definitely want my current head coach to beat his old boss," Niang said. "That's definitely more motivation. Yeah. That's our guy and we stand by him."