AMES — It's a small world.
When Steve Prohm accepted the tall task of replacing Fred Hoiberg at Iowa State just over a week ago, he understandably hadn't yet gotten around to studying his team's 2015/16 non-conference schedule. He was surprised when shortly after accepting the position, Prohm received a text message from the wife of his mentor and Texas A&M coach, Billy Kennedy.
"We're playing you guys," it read. 
Huh? 
Prohm's Cyclones will make the road trip to College Station to take on Kennedy's Aggies on Saturday, Jan. 30 in the Big 12/SEC Challenge.
"They were almost like my second parents because I was so young when I came to work for them," Prohm said. "I was 22 or 23 years old. I looked at them (the Kennedy's) as almost second parent figures."
As Prohm puts it, this scenario is an example of the two lives coming "full circle."
Kennedy (below) was the head coach at Centenary from 1997-1999. It was during that stint where he hired a youthful Prohm on as an assistant. That was Prohm's first coaching job – his first break. 
"We have kind of come up the grunt of the business at Centenary College, the smallest Division I school," Prohm said.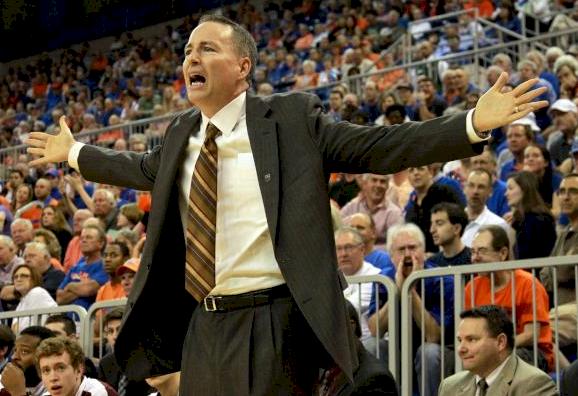 In 1999, Kennedy took the head coaching position at Southeastern Louisiana. Prohm went with him.
"That program had won about eight games prior the previous two years," Prohm said. "We left there and won back-to-back championships and made the NCAA Tournament."
It was in 2006 when Kennedy got the Murray State job. Of course, he took Prohm too. 
"Then we were at the Sweet 16 standing there during the National Anthem and coach looked at me, tapped me and goes, 'Do you believe that we're here?' It's just been a journey," Prohm said. "That part will be really cool. You don't want to play them from the standpoint of you want to both win that game. You want to play someone where you both can go home happy that night. But it will be a big game because it is a big non-conference win, obviously with the RPI and NCAA Tournament seeding and things like that."
In his four years at Texas A&M, Kennedy has yet to lead the Aggies to an NCAA Tournament but that is expected to change next season. Kennedy recently brought in a top 10 recruiting class and with a handful of starters returning, this should be an opportunity for the veteran Cyclones to pad their NCAA Tournament resume.