I was working on an iteration of my "basketball blabbering" that is put together sporadically as I see fit with tidbits of thoughts on Iowa State, or Big 12, or national basketball ponderings already but then the Naz Mitrou-Long news hit.
At first glance it is devastating. At a longer glance it isn't a whole lot more hopeful, to be honest. But if there is one position where Iowa State has some semblance of depth it as at the off guard spot. Plus, it seems more and more obvious that Naz hasn't been healthy for who knows how long. So far this season he had been 16-55 from 3-point land and his last four games looked like this: 0-7, 2-6, 1-8, and 2-9.
Anecdotally, it seemed like the shorter the rest period the more likely he was to struggle. He had a week off before his best outing of the year when he went 6-for-9 against Chattanooga and four days for his next best showing in the next game against Virginia Tech at 2-for-4.
Was it affecting him by the end of last season? I'd assume so but I don't know how much or how much more than the rest of the season. Either way, his final eight games last season had him going 13-for-45 for 28.9 percent. He pretty much struggled from early February until the end of the season. Were his hips to blame? Maybe, but he was also extremely streaky in his sophomore campaign so it is difficult to discern from where we sit.
Now what?
Matt Thomas will bear the brunt of filling the scoring void but so will Hallice Cooke. In reality, Iowa State's leading trio (Monte Morris, Georges Niang, and Jameel McKay) will have to be very consistent but different members of the supporting cast will have to find a way to help the team win games. Naz is/was a leader and I think that matters but I also don't think it matters as much as most of the mainstream basketball thinking.
In my opinion, Iowa State's biggest weakness is still interior depth on the defensive end and this injury doesn't change that.
Slow starts
Maybe you've noticed it's been a topic of conversation lately with slower or sluggish starts against subpar competition or, any competition really. These sluggish starts can be boiled down to an array of things but the most obvious to me had been turnovers.
So I charted them by half for Iowa State for every game this season. At first I was going to just keep it simple and use average turnovers by half but then my anal retentive side wouldn't allow me to not adjust for possessions, so I did that as well.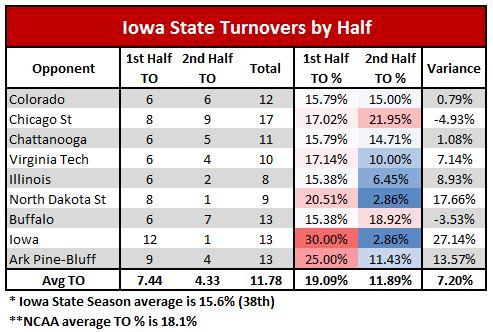 As you can see, there have really been three games where the turnovers dropped off significantly from the first half to the second (North Dakota State, Iowa, and Arkansas Pine-Bluff). The turnover rate by half is color coded all together to show best and worst halves but the variance is then also calculated.
The turnovers have been worse in the first half but I'm not sure what that would really be tied to. Any explanation for it so far that I've heard is pretty much just wild speculation. Whether the guys are too cocky, or they aren't respecting their opponent or, blah blah, the fact of the matter is they just need to make better decisions with the ball. Some just need to hold on to it a bit better. For my money, I think far more turnovers have happened by trying to make an extra pass than by being too selfish.
Against both Iowa and Arkansas-Pine Bluff, it seemed to me the guys were trying to hit home runs and build a 20 point lead in a single possession, or erase a 20 point lead in a single possession and they were led into playing fast, not quick.
Though, it should also be noted that ISU has the 38th best turnover rate in the country and just five of their 18 halves have had a turnover rate worse than the national average.
Iowa and Gesell
I'm kind of surprised no one else has really said anything but maybe that is because it isn't a big deal but I am always fascinated and intrigued by the little quirks and wondering how much little things make huge impacts.
Against Iowa, Morris hit the go ahead bucket with 8.9 seconds remaining. Two years ago in Ames, Niang hit the go ahead shot with 18.8 seconds left to also go up by one. While Iowa fans have lamented over whether or not a timeout should've been used this time around (one was called in 2013) I keep focusing on what transpired.
Two years ago, Mike Gesell went immediately to the rack as he blew by Monte Morris and drew a foul. We all know what happened from there.
Granted, Gesell is really good at getting to the rim but sometimes struggles to make the best decision or convert his shot but I find it extremely interesting that in this case they ran a set to get an open 23 footer when down one. Were those missed free throws from 2013 in the back of his head? Or in the back of Fran McCaffery's head?
Maybe, maybe not, but the situations were very, very similar while the decision of Gesell was completely different. It just makes me wonder if the crowd and missed free throws from 2013 had an impact on the decisions made in 2015.