It was Nov. 17, 2012…
A five win Iowa State squad had recently lost games to Oklahoma and Texas with a tough Black Friday home contest against the Big 12's new brother, a good West Virginia team on the horizon.
On an unseasonably warm mid-November day, the Cyclones desperately needed to defeat Kansas in Lawrence to become bowl eligible.
It was on the third drive of the game when a concussed Steele Jantz stumbled to the sideline. Instead of opting for an experienced Jared Barnett, Paul Rhoads gave the nod to a long haired and wide-eyed freshman by the name of Sam Richardson to make his college football debut. 
Richardson, a Winter Park, Fla. native, came out of nowhere to complete 23-of-27 passes for 250 yards and four touchdowns in Iowa State's 51-23 rout of the Jayhawks. 
With a 7-to-0 touchdown/interception ratio in his first two games, fans and media predictably did what fans and media do. We overreacted and annointed this 19-year old kid as the savior of an Iowa State football program that let's face it – doesn't exactly boast a ton of tradition at the end of the day.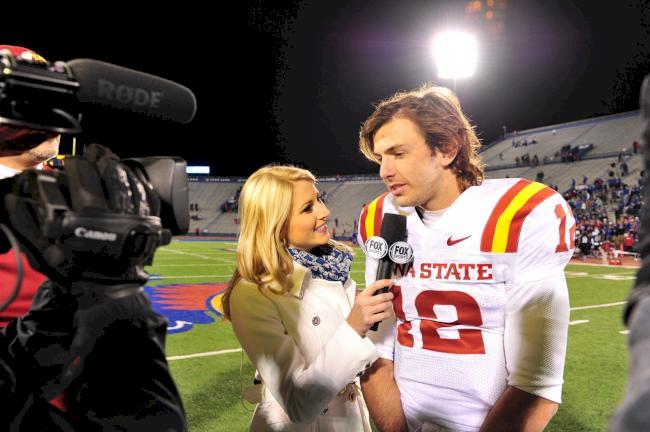 ABOVE: Richardson being interviewed after his debut at Kansas in 2012. 
Richardson was our next big thing – the guy who would lead Paul Rhoads' program to the promised land and beyond over the next three years.
When Oklahoma State comes to town on Senior Day 2015 (Saturday, 2:30 kick on ESPN), Richardson will be on the sideline holding a clipboard and to me, that's a shame. It will symbolize a gloomy end to a career that in my opinion needs to be remembered for something different, which is why I'm writing this today.
One of my favorite parts of this job is getting to know Iowa State's student-athletes on a personal level. I've gotten to do that with Sam over the last five years and let me tell you guys, he is one of the classiest kids you will ever meet.
This young man is the definition of a good seed.
——————————————————————————————————————————————–
Before last week's game at Oklahoma (a game Iowa State would eventually lose by a 52-16 final), Paul Rhoads met Bob Stoops at midfield to have the normal pregame conversation between two head coaches. This week's exchange centered on two young men in similar situations – Richardson and Oklahoma's former starter but now backup quarterback, Trevor Knight (who is playing behind Texas Tech transfer Baker Mayfield).
"Both are captains," Rhoads said. "Neither is starting right now but both are playing important roles on their football team. He (Sam) continues to lead like a captain should. The role that he is in right now, he continues to teach and help Joel both in-game and game week. I sure trust that our fans will recognize that when Sam goes out onto the Jack Trice turf for the last time." 
Just so you guys know, Joel Lanning looks up to Sam Richardson like a big brother.
And about the fans…
Most Iowa State fans are phenomenal. In fact, I would argue that when you stack up attendance numbers next to actual wins, Iowa State has the most loyal fan base in America and it probably isn't even close.
But with loyalty comes passion and with passion comes heat of the moment reactions on social media, some of which have been sent to Richardson personally over the last few years.
"I think that some people have gotten after him on the waves that exist today with social media and that's a shame," Rhoads said. "He's been a great ambassador for Iowa State University. He's been a tremendous competitor for us. He's put up great numbers at Iowa State. That's what I hope they recognize and honor him for."
I'm glad that Rhoads said that.
It's important to note that Richardson, who has played under four offensive coordinators in five years (that's crazy), has never lashed out at a fan. That's way more maturity than I would have had in that situation at that age. Heck, I'm 31 and still lose my mind with trolls on Twitter at least twice a week.
Sick as a dog (Richardson was given multiple IV fluids before the game), Richardson gutted through a demoralizing Liberty Bowl defeat as a freshman. His offensive lines for the most part have always been below average. Richardson was indeed hit by a car while riding his moped before the Iowa game in 2013. I'm not sure he ever fully recovered from that injury throughout the course of a disastrous 2013 season. 
I'm not here to argue that Sam Richardson the best quarterback in Iowa State history.
I'm not even going to run through Sam's list of statistics, which believe it or not are some of the best numbers ever put up in Ames. 
The wins aren't there and at the end of the day, that's what most people will remember.
But hell yes I'm going to jump on my soapbox today and tip my hat to a young man that has represented Iowa State with class and never made an excuse (there were plenty of them that could have been made) in five years. 
When No. 12 gets introduced on Saturday, I sure hope that he gets a standing ovation. He most certainly deserves it.