Keep refreshing this page for updates, information and analysis on Iowa State's football coaching search. 
SATURDAY, NOV. 28
9:46 p.m. — Some more nuggets from Twitter tonight on Matt Campbell. 




8:36 p.m. — Football Scoop is reporting Matt Campbell will interview for the head coaching position at Missouri tonight and they plan to interview Temple head coach Matt Rhule tomorrow. 
8:00 p.m. — Another update on Matt Campbell from Twitter. 

7:52 p.m. — Our publisher has been hard at work, as always, tonight during the basketball game. 

7:03 p.m. — A couple more nuggets from Twitter. 


5:18 p.m. — Toledo making a counter offer it appears.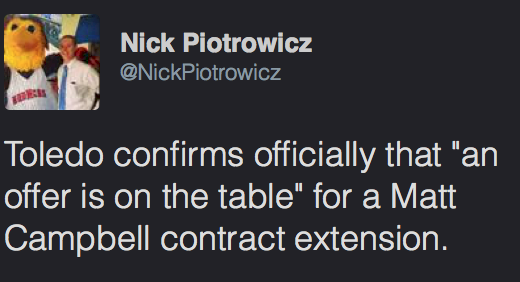 3:31 p.m. — Reporters asked Mike Warren what he thought about the Matt Campbell rumors after the game. 

Football Scoop is also reporting Missouri has named an interim head coach. Quarterbacks coach Andy Hill will take over for Gary Pinkel until further notice. Campbell had been rumored to be in the mix with Mizzou. 
1:52 p.m. — Pete Thamel from Sports Illustrated is also now predicting that Matt Campbell will be Iowa State's next head coach. 
11:52 a.m. — Looks like Jimbo Fischer is getting out in front of the LSU rumors.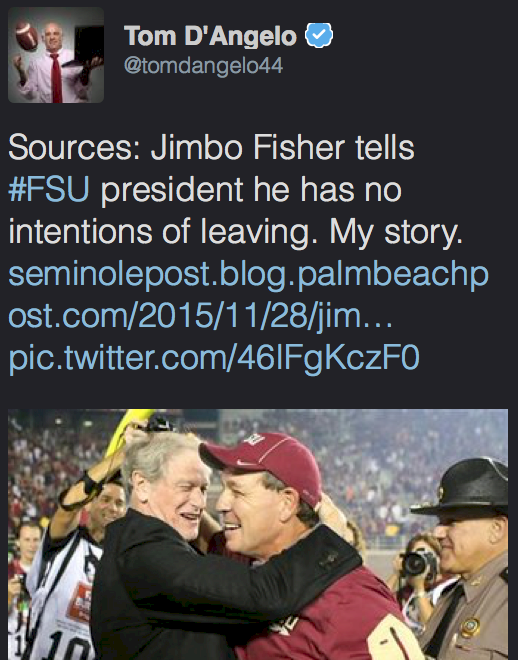 11:50 a.m. — Illinois is going to extend Bill Cubit. That's good news for Iowa State.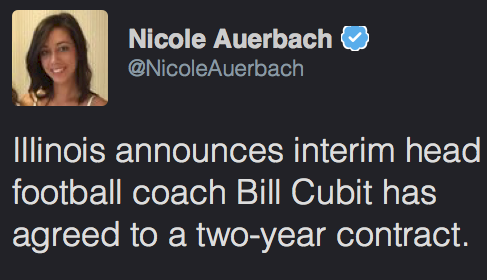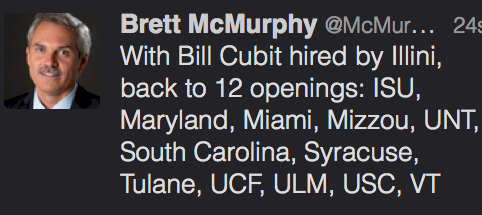 11:44 a.m. — I tweeted this earlier. 

——————————————————————————————————————————————
FRIDAY, NOV. 27
5:41 p.m. — 
Well this is an interesting development.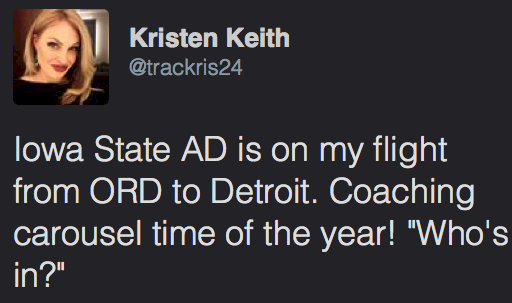 3:32 p.m. —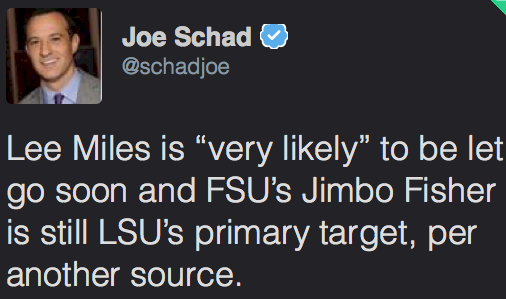 3:30 p.m. — P.J. Fleck's Western Michigan team ended up winning at Toledo (Matt Campbell) 35-30. 
3:18 p.m. —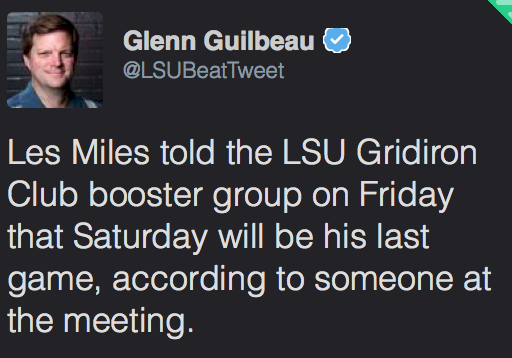 10:58 a.m. — A few updates out of Missouri, who is looking to replace Gary Pinkel. 
FootballScoop.com reports that Toledo head coach Matt Campbell will get an interview. Bowling Green's Dino Baber will potentially get one too. 
10:42 a.m. — If you guys want to get a close look at at a couple of potential Iowa State coaching candidates, Toledo (Matt Campbell) and Western Michigan (P.J. Fleck) will go at it today at 11 on CBS Sports Network. 
—————————————————————————————————————————————
THURSDAY, NOV. 26
10:18 p.m. — If you guys want to learn more about Western Michigan head coach P.J. Fleck, I highly suggest reading this. 
10:05 p.m. — Happy Thanksgiving, guys. 
I do have some updates for you. First of all, CLICK HERE for my daily search update that I posted on our forum. 
Some other nuggets:
— Georgia Southern head coach Willie Fritz has denied talking to Iowa State. Keep in mind though that this is how things usually go. I do believe that Fritz is a candidate. 
— The Chicago Tribune is reporting that Illinois is considering giving Bill Cubit a 2-year deal. This would be good news for Iowa State, as Illinois would likley target some of the same candidates that Iowa State would want to talk to. 
— Tulane is firing its head coach. A well-known NFL name is reportedly in the mix. 
——————————————————————————————————————————————-
WEDNESDAY, NOV. 25
3:39 p.m. — Football Scoop is reporting North Texas has narrowed it down to four finalists. Sounds like they'll go with a Power 5 offensive coordinator that runs a spread offense. 
Also, looks like Illinois will be deciding on Bill Cubit's future on Sunday. Possibly another Power 5 opening. 
1:45 p.m. — USA Today's Dan Wolken takes an interesting and sweeping look at this season's coaching carousel. ISU job isn't explicitly mentioned, but you'll recognize a lot of the names listed as top candidates. 
9:46 a.m. — ESPN's Jake Trotter and Max Olson explain which direction they think ISU should go in finding their next coach. 
9:28 a.m. — Bruce Feldman from FOX with a couple of coaching search nuggets for you.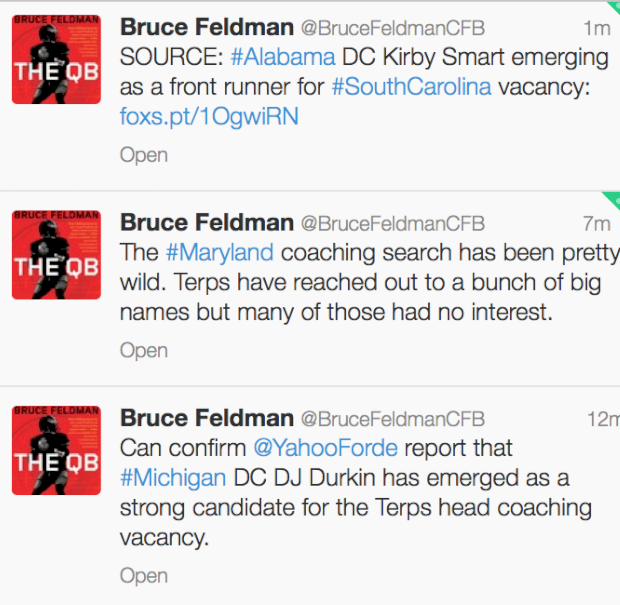 8:43 a.m. — Two quick nuggets and then a link…
— Been working the phones. Sources say that Utah State's Matt Wells and Oregon offensive coordinator Scott Frost would each have interest in the job. 
— Also, Andy Staples from Sports Illustrated recently published a best case scenario list for each of the open coaching jobs. Here's what he wrote about Iowa State. 

——————————————————————————————————————————————
TUESDAY, NOV. 24
11:15 p.m. — Some quick updates before shutting things down for the night…
— A report surfaced on Tuesday afternoon that stated Houston's Tom Herman had agreed to a deal with South Carolina. On Tuesday night, Herman denied that report.
— It also looks like Memphis coach Justin Fuente will be taking over for Frank Beamer at Virginia Tech.
5:45 p.m. — Former Cyclone great Sage Rosenfels talked with Chris Williams and co. in the first hour of today's KXnO Sports Fanatics. Listen here. 
2:29 p.m. — Do yourself a favor and take five minutes to read THIS PIECE written by former Rhoads staffer Brian Schwartze on what Iowa State should look for in its next head coach. You won't regret it. Fantastic insight from a guy who has been in that business for a long time. 
1:15 p.m. — Dennis Dodd at CBSSports.com reports that Willie Fritz of Georgia Southern (see below) is interested in the Iowa State job. Here's one of many interesting tidbits from Dodd's article: "One coaching friend said Fritz is of the "Jerry Kill model." Kill, recently retired at Minnesota, worked his way up to FBS winning at Southern Illinois and Northern Illinois before getting to the Big Ten."
12:05 p.m. — It's been out there a while, but AthlonSports.com has an intriguing top-10 list of ISU coaching candidates. The writer of the article believes Willie Fritz of Georgia Southern should by the Cyclones' top target. 
10:30 a.m. — This page will be updated much more consistently from now on. With all of the press conferences on Monday, we got swamped producing other content. A few nuggets for you guys …
*** I'm hearing that the Iowa State football coaching search will be wrapped up sooner rather than later. I actually heard from one source that it could be done as early as next week. 
A few rumors from Twitter …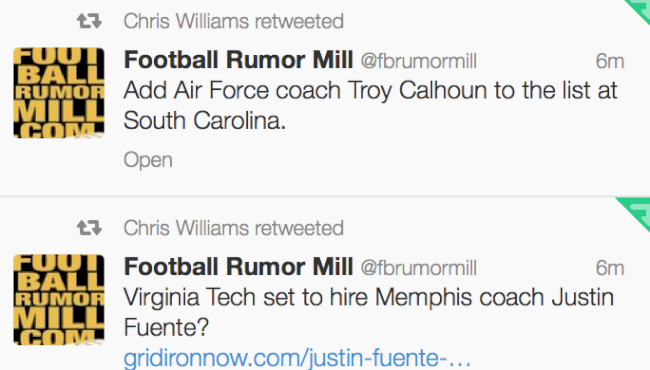 ————————————————————————————————————————————————————
11:21 a.m. — Paul Rhoads just finished up on the Big 12 teleconference. Pollard set to speak in about 40 minutes. 
11:17 a.m. —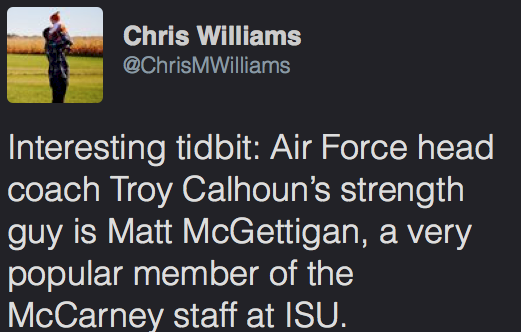 9:15 a.m. — There's more competition in the job market. Syracuse just fired its coach. 
There are now 13 according to ESPN's Brett McMurphy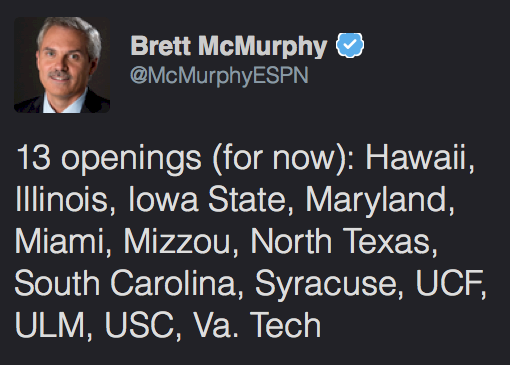 MONDAY, NOV. 23
11:33 p.m. — Former Cyclone linebacker Jake Knott just posted this cool picture to his Instagram account. I had totally forgotten about Iowa State's trip to the ESPY's. — CW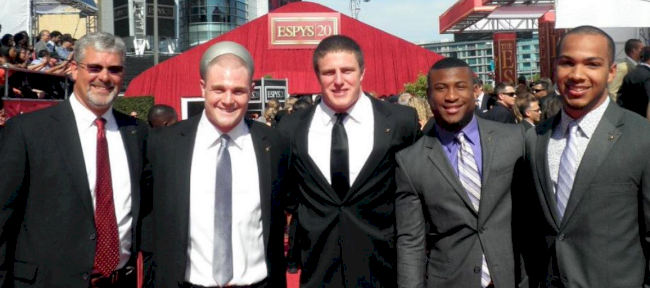 10:33 p.m. — Iowa State women's basketball coach Bill Fennelly chimes in on what he says was a "tough day."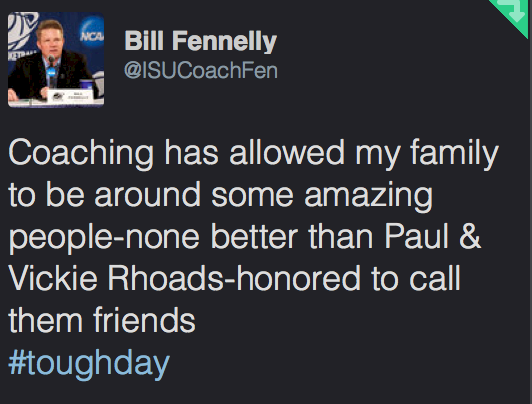 5:41 p.m. — Fansided's Rucker Haringey says Iowa State should bring back Gene Chizik. 
5:10 p.m. — Bobby La Gesse and Travis Hines of The Ames Tribune put their heads together and came up with 30 possibilities for ISU's next football coach. 
4:05 p.m. — Former Cyclone defensive tackle Jake McDonough tells Cyclone Fanatic's Rob Gray that he feels bad for Rhoads, but he'll certainly land on his feet. "One of the things that I'll always remember from coach Rhoads is how passionate he was about us as not only players but human beings," McDonough said. "He definitely was there for me, especially when I was going through all my ailments and my illness and all that. He's the kind of guy you could go to. His door was always open. He always showed love for his players."
3:45 p.m. — The Des Moines Register's Randy Peterson thinks Baylor offensive coordinator Kendal Briles and Oklahoma offensive coordinator Lincoln Riley should be on Jamie Pollard's short list. 
3:20 p.m. — More Twitter reactions and thoughts


3:15 p.m. — The Cedar Rapids Gazette's Mike Hlas says Jamie Pollard had no choice but to fire Paul Rhoads. 
2:20 p.m. — A few more Rhoads related tweets. 



2:05 p.m. — Here are a few of publisher Chris Williams' tweets following Paul Rhoads firing. 



1:50 p.m. — Sports On Earth's David Ubben breaks down the Rhoads era and says UCF or North Texas may be more attractive jobs than ISU. 
12:30 p.m. — You guys have all seen the news by now that Paul Rhoads has been fired.
A few minutes ago, Iowa State released a statement announcing that Rhoads WILL coach next Saturday's 11 a.m. kick at West Virginia.