Enjoy this special sports medicine blog from Dr. Warme. If you'd like to book an appointment with "the doc," CLICK HERE to learn more at McFarlandClinic.com. 
Football season is finally here.
It is one of my favorite times of the year and taking care of Iowa State football is one of the best parts of my job as an Orthopedic Sports Surgeon here in central Iowa. As the season progresses, we will likely have reason to discuss various aspects of Sports Medicine as it relates to college football. Before we get to that, however, I decided to blog today on an awesome international wrestling experience from which I just returned.
I spent Aug 8-18 in Salvador, Brazil (north of Rio) as the USA Wrestling Team Physician at the Junior World Championships. "Juniors" in international wrestling generally constitutes 17-19 year-olds, and is one step below the "Senior" level, which is the highest (Olympic) level. I grew up playing football and basketball, so my wrestling exposure prior to this trip had been limited to helping take care of collegiate wrestling as an orthopedic resident and now the Cyclone wrestling team in Ames the last 3+ years. International wrestling includes men's and women's freestyle (similar to college folkstyle) and Greco Roman Wrestling.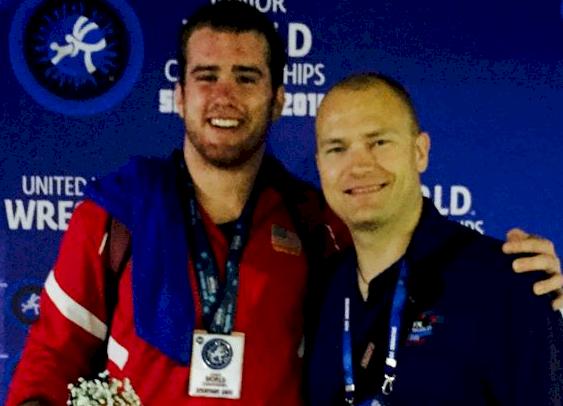 Wrestling Sports Medicine includes treating lots of skin conditions, systemic conditions and orthopedic injuries. On the Brazil trip, I ended up treating lots of skin issues and infections. My most challenging medical condition was treating dehydration and early heat exhaustion with aggressive IV re-hydration and electrolyte replacement. In an international wrestling competition, it is considered "doping" if an athlete is given more than 50 ml of IV fluids, but treating potential life threatening conditions always takes precedence over competition. There were also orthopedic injuries such as knee sprains and shoulder dislocations. The USA did well, getting one World Champion (Spencer Lee at 50 kg from Pennsylvania) and a host of Bronze medalists.
For those of you who are not aware, central Iowa is home to Rachel Watters. She is a senior at Ballard and placed 4th in the world. It was really neat to get to know her and her family, and her future college coaches. Pictured below is Rachel from one of her victories as well as myself with Nathan Butler, who won Bronze in Freestyle at heavyweight (120 kg). Rachel will wrestle in college in Oklahoma City, and Nathan currently wrestles at Stanford. Iowa State had one wrestler one win away from making the Junior National Team. I plan to continue to work with USA Wrestling and this trip will help set up a good foundation for future international wrestling tournament coverage.
Next week, we'll be back to football sports medicine.