AMES — My old man drives three hours to attend every Iowa State home basketball game. He is the definition of a "Fanatic." This is great for a guy in my situation, being that I generally leave Hilton Coliseum about two and a half hours after the conclusion of every game. Due to the fact that we are both driving at the same time, this provides at least a half hour to 45 minutes of father-son bonding time, which in our case is an in-depth break down of the night's game. 
"That place is haunted," Papa Williams proclaimed as he picked up the phone somewhere on I-80 at around 1 o'clock this morning.
Touché, Dad.
Some things in life are truly unexplainable.
The legend of "Hilton Magic" is one of them.
Against Oklahoma — one of the top offensive teams in all of college basketball — there is no reason whatsoever why anyone should be able to overcome a 21-point deficit at any point in a basketball game in any arena in the country.
A 17-0 run in 3:17? That's just stupid.
In case you've been hiding in a cave, after trailing the Sooners 37-18 at halftime, the Cyclones won the contest by a 77-70 final. 
So what exactly is "Hilton Magic?"
Sorry Dad, but the building isn't haunted.
The "magic" exists because of the people – you Fanatics. When your team got down 21 points in the second half, there was no rational reason for you all to keep believing. And for the most part, you did.
The Cyclones fed off of it and something amazing happened. 
That's the magic. 
That's what we saw last night.
The first 20 minutes of that game equaled probably the worst half of basketball I've seen a Fred Hoiberg coached team play in Hilton. The second 20 (in which Iowa State scored 59 points), without question, turned out to be the best.   
Five thoughts on an incredible victory…
DUSTIN HOGUE IS BACK: During Monday night's installment of the Sports Fanatics heard daily from 4-7 on Des Moines' sports station 1460 KXnO, former Cyclone Jake Sullivan and I were both critical of the recent play of senior Dustin Houge. Just a week ago (before the two losses), I had praised Hogue for his shooting 45 percent from 3-point range but admittedly failed to see the bigger picture. While the bruiser had surprisingly been excelling in that aspect of the game, what made Hogue great a season ago was lacking. His rebounding numbers were down significantly (from 8.4 per game last year to 4.9 now). Over the last two weeks, Hogue has probably (my opinion) been the worst defender on Iowa State's roster. 
Having not been crazy about Hogue's body language in recent games, I declared last night a crucial game for the senior and this basketball team. He responded with 10 rebounds and kissed the I-State mid-court logo after the comeback victory. 
After the game on the Cyclone Radio Network, Hogue told John Walters and Eric Heft that he was going to get back to doing what he does best – the little things – which is what he team needs the most.
Hogue's performance on Senior Night was very refreshing, indeed.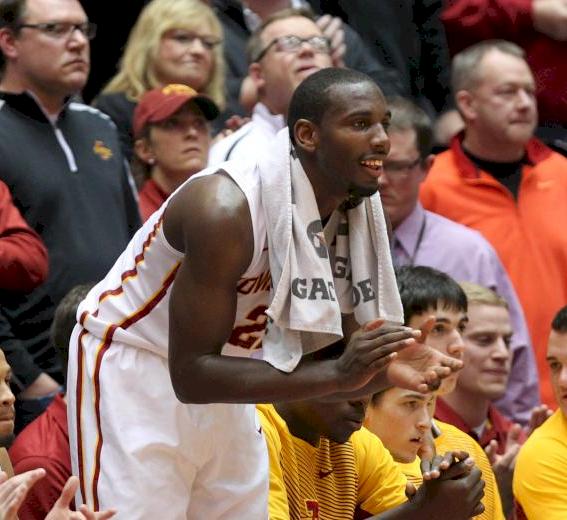 DON'T QUIT ON BDJ: Another senior, Bryce Dejean-Jones, had the opposite kind of Senior Night. In only eight minutes of work, "BDJ" did not score and only collected two rebounds. Dejean-Jones did not play in the second half and his body language was less than ideal throughout the amazing comeback but today, let me challenge the Cyclone Nation.
Don't give up on this guy. Iowa State needs him down the stretch. 
When he's withdrawn, Dejean-Jones is what he is – a guy on the bench not contributing to the team.
However, when he's engaged, Dejean-Jones is an immensely talented player who can change basketball games. After all, he was named the CBS Sports National Player of the Week earlier this season.  
Don't quit on the kid because I guarantee you that Fred Hoiberg hasn't. From now until Saturday (Iowa State's regular season finale at TCU), Hoiberg will attempt to coach him up and get Bryce's mind right for the postseason. If he's successful at that, a good Iowa State team can be even better.
A good sign? Dejean-Jones tweeted this after the big win.
"Hilton magic is real! That was a big win!"
More good news: Hoiberg has to have his attention now. I mean, without him in the game, his team just made the largest comeback (tied) in school history.  
TEAM LEADER: Prior to the season, I thought that Jameel McKay would do a lot of great things this season for the Cyclones but what I saw on Monday night isn't one of him.
When Iowa State hit rock bottom (I don't know what else to call that first half), I only saw one guy on the roster keeping his head up.
Believe it or not, Jameel McKay is the emotional leader of this basketball team.
In addition to that, since entering the starting lineup on Feb. 7 against Texas Tech, the junior has averaged 14 points and 9.75 rebounds per game. Do a little rounding up and obviously, that's a double-double.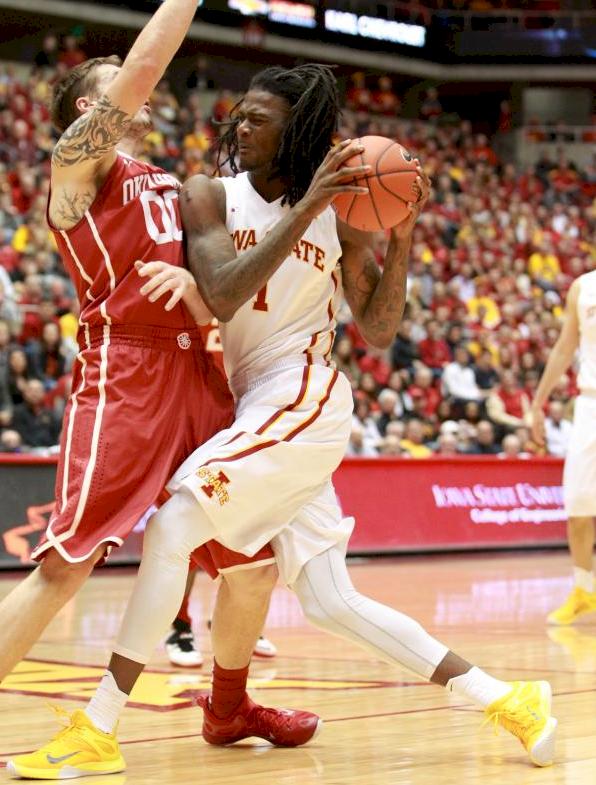 TIP OF THE HAT: Another unsung hero from last night in my opinion was Abdel Nader. He played 16 not perfect, but quality minutes for the Cyclones and made plays down the stretch (off the bench let me remind you) that were crucial in maintaining that lead after Georges Niang and Dustin Hogue had fouled out.
FAR FROM PERFECT: I hate to be the bearer of bad news and pee in everyone's Cheerios today but listen, that first half was an absolute calamity. It's great that Iowa State bounced back and all instead of sitting around gushing about how amazing this team is, let's be realistic for a moment. 
At halftime, my Twitter feed was full of folks proclaiming that the team had quit on Fred Hoiberg and that the season was over.
Now, Iowa State is going back to the Final Four?
I know, that's an extreme.
But let's take last night for what it was – an astonishing comeback, one of the most memorable nights in Iowa State basketball history and a crucial win.
But before next week, there is still a lot of work to be done. Because of this, I'm very anxious to see how Iowa State performs on Saturday night at TCU (7:30 p.m. on ESPNews).