LAWRENCE, Kan. — The former Tilton School teammates both starred, compiling personal runs.
 Georges Niang, for Iowa State, scored seven straight points during one stretch. Wayne Selden, for Kansas, scored eight in a row after being benched in the first half. Niang finished with 24. Selden, 20 — all clutch and all but one after the break.
 
And while Niang won the individual battle, he left Allen Fieldhouse Monday with that same sullen feeling after the No. 8 Jayhawks shined from inside and out in an 89-76 triumph over the No. 11 Cyclones before a sellout crowd of 16,300.
 "I think in the first half, when (Selden) was missing shots and really out of the loop and not playing his game, I fell like everything was flowing," said Niang, whose team's 18-11 lead evaporated beneath a barrage of Kansas threes. "But when he's playing pretty well they're pretty tough to stop. I think we gave them a little too much with letting them get those threes off for sure."
It started with blazing-hot seventh-man Brannen Greene, who drilled a 3-pointer to cut ISU's lead to 18-14. It continued when Greene struck again, putting the Jayhawks (19-3, 8-1) up 21-20. The Cyclones' Monté Morris then drove for a layup to put his team ahead by one, but that lead would last 19 seconds — and Kansas wouldn't trail again.
ISU (16-5, 6-3) trailed by as many as 19 points late in the second half and fell to third place in the Big 12 standings, two games behind the 10-time defending regular season champion Jayhawks.
"We got up 7 early," said Cyclone coach Fred Hoiberg, whose team beat Kansas up and down the floor in an 86-81 win 16 days ago at Hilton Coliseum. "I thought we were really fighting and battling and doing a good job on the glass, then once we started turning the ball over, that gave them rhythm. When they get dunks and get transition points, that gives them confidence. This building explodes when they get those dunks in transition. I've seen it a million times and they did a good job with that."
 Bryce Dejean-Jones scored 14 second-half points while adding nine rebounds for the Cyclones, who allowed Kansas to shoot 10-for-21 from beyond the arc.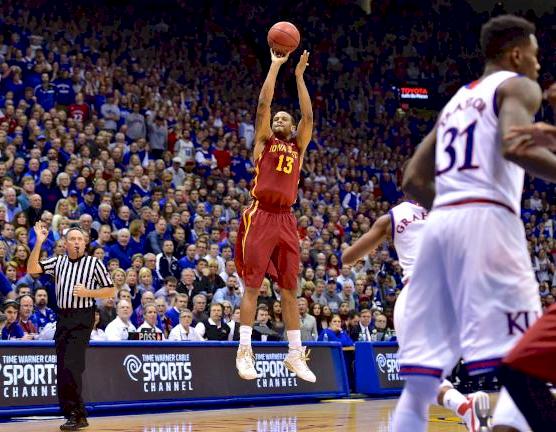 But those turnovers — ISU had nine in the first half alone. 
 "It's tough," Hoiberg said. "What's Bill (Self) lost, nine times in this building? It's tougher than hell to walk out of this building with a win."
 The Jayhawks closed the first half with a 24-10 run. Even struggling shooter Kelly Oubre found his outside stroke, draining back-to-back 3-pointers while Kansas raced to a 35-28 halftime advantage. 
 "When they're making shots and getting buckets in transition, they're a really tough team to play," said Niang, who hit three of the Cyclones seven 3-pointers.
 The roles were reversed in Ames, where ISU proved to be the aggressor.
 The Cyclones shot 18 more free throws than Kansas that day and held a 22-10 edge in fast-break points.
 At halftime Monday, the Jayhawks had scored all 10 of the fast-break points in the game, though ISU added 12 in the second half as it began applying full-court pressure in hopes of cutting into its large deficit.
 "A lot of those came in desperation mode down the stretch," Hoiberg said. "I didn't think we were as committed to running as we were in the first game. Our wings weren't getting into the corner; they were stopping at the free throw line extended. They weren't really driving lanes that you need to create by being committed to running to the corners, but we didn't do a good job with that tonight. Again, we were trying to dribble split in there instead of getting the ball swung side to side, when generally good things happen."
 Generally bad things happened the final 29 minutes Monday, but the conference season is only half over.
 West Virginia, which is a half-game up on the Cyclones in the standings, still must come to Hilton. Kansas will play five road games over the last half, including tough trips to Morgantown, Manhattan and Norman.
 "They played a great basketball game tonight," Hoiberg said. "They had a great game plan and they executed it very well. It's going to be fun to watch how this thing plays out down the stretch with nine games to go, but I think Kansas is playing as well as they have all season."
 Notes
 Morris scored 12 points and Naz Long added 11 for ISU, which allowed 60 percent shooting in the second half. Morris, the NCAA's leader and single-season record holder in assist-to-turnover ratio, had five assists to a career-high four turnovers. …. The Cyclones outrebounded the Jayhawks 41 to 38 and 17 to 12 on the offensive end. Dustin Hogue, Niang and Jameel McKay each had three offensive boards for ISU. … Kansas is now 186-9 at Allen Fieldhouse under Self.
 Quotable
 Self praised ISU after breaking a two-game losing streak against the Cyclones dating back to last March's Big 12 Tournament semifinals. "Fred does a great job and they're a class program," Self said. "It's a fun team to compete against."