AMES — ESPN analyst Fran Fraschilla's Tweet late last night as the final seconds wound down on No. 11 Iowa State's win over ninth-ranked Kansas attracted almost 200 favorites — and a fair number of condescending responses from Kansas fans.
 The Tweet in question: "Well, Georges Niang FINALLY got his charge call!"
 The Cyclone star's reaction to the whistle?
 "I wouldn't say it's a long time coming, but I've been over that for a while now," said Niang, who scored 15 points as ISU beat KU at Hilton Coliseum for just the second time in the last 11 meeting. "We're just focused on getting wins and on our team. I think we took a step in the right direction."
 For Cyclone fans, the fortuitous call served as a bit of a tonic for the no-call at the end of regulation two years ago when the Jayhawks' Elijah Johnson drove into Niang, who fell and was eventually assessed a loose ball foul. Johnson hit two free throws to force an overtime session that he owned in a 108-96 win at Hilton Coliseum.
 Saturday in ISU's 86-81 triumph, Niang stepped in front of old Tilton (N.H.) School teammate Wayne Selden — and this time the call went his way.
 The Cyclones (13-3, 3-1) were clinging to an 83-79 lead and 14 seconds remained. 
 Deja vu? Not really, Niang said.
 "This time I actually didn't have my hands up in the air," Niang said. "I made sure they were down … I thought the ref made a good call, especially when it was against one of my high school buddies. That made it a little bit sweeter."
 So did the timing. Kansas (14-3, 3-1) had whittled down a 14-point deficit as ISU struggled to hit free throws and deal with full-court pressure down the stretch. But it wasn't the only charge the Cyclones took during crunch time.
 "Naz (Long) took a big one as well with under a minute to play and Georges stepped in and took one as well," ISU coach Fred Hoiberg said. "I thought they did a really good job of getting in there and getting their feet set. And, again, that game, was still — it was certainly not over. So for those guys to step up and make defensive plays was obviously a big key."
 Game Day star
  Long scored 16 of his team-high 20 points in the second-half as the Cyclones won for the second straight time over the 10-time defending regular season conference champion Jayhawks. He expected a short celebration, though. 
 "We're on to the next," said Long, who drilled all five of his 3-point attempts. "We know we have a big game ahead (on Tuesday). Kansas State (the Big 12's surprise leader at 4-1) is in a roll right now. We can't take them lightly."
 GameDay Star
 Niang showcased his wit and humor in a wide-ranging interview that ran during the taped portion of ESPN's GameDay coverage Saturday morning. Laughs abounded as his trademark analogies and chuckle-worth quips cracked up his interviewers. 
 "That was super cool," Niang said of the experience. "Coach is probably going to make me put duct tape over my mouth when I do interviews now, so that was good while it lasted."
  The Sealer
 Dustin Hogue battled second-half foul trouble for the Cyclones but still managed to score 14 points, including an emphatic dunk (see below) behind the defense that sealed the 86-81 win. He said Hilton's crowd helped push his team past Kansas. 
 "We had to let Hilton be that sixth man for us and it was, for sure," Hogue said.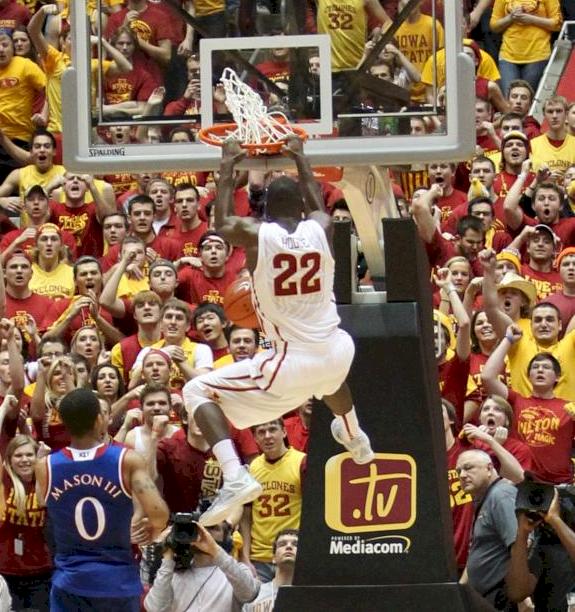 Little Charity
 The Jayhawks attempted 42 free throws in it's most recent win over Oklahoma State. They didn't toe the line even once in the first half Saturday, and finished 8-for-10 from the stripe. Why so few attempts? 
 "Home court advantage?" Niang joked. "No, I think we did a great job of just staying shrunk and staying straight up. There were a couple questionable calls I'm sure they'll be upset about, but I think we did a good job of staying straight up and playing good defense."
 Solid As A …
 Niang shared glowing, but not uncommon praise for point guard Monte Morris, who scored 11 points, dished out 10 assists and collected seven rebounds. It was the NCAA single-season record holder in assist-to-turnover ratio's first career double-double. 
 "He's the rock for us," Niang said. "How he goes is how we're going to go. He's so well-composed and so calm that it really helps us slow down and get into our offense when we need to. And he's really fast and can get out and push the ball and get it going fast on the break. We've got the best of both worlds with them."
 Transition Titans
 Kansas coach Bill Self rated his team's performance as poor, especially on the fast break. ISU outscored the Jayhawks 21-10 in such situations. 
 "I think they surprised us early in the game getting it out quick and beating us down the floor," Self said. "We sent three back and two of the three couldn't remember to get back. That was the biggest difference in the game." 
 Morris said Kansas won't be the only team to be surprised by the Cyclones' hyper-drive in transition — especially as speedy and explosive big man Jameel McKay continues to mature and fully recovers from a bout with back spasms. 
 "It just shows how fast we can get up and down the court," Morris said. "So now I know when we're not doing it, we're loafing."