AMES — Monté Morris stole a final glance at the scoreboard as he calmly played catch with Georges Niang.
 The game clock had slipped under 40 seconds. The shot clock?
 "I looked up, it was at five," Iowa State's poised point guard said.
 In other words, it was go-time in a tense Tuesday Big 12 game that No. 9 Iowa State led, 71-69, over gutsy Kansas State. Morris deftly drove the lane, set his sights on the rim, floated and dropped in a swish. 
 With one clutch move, Morris and the first-place Cyclones essentially sealed what turned into its most lopsided conference win — a 77-71 triumph over the formerly first-place Wildcats before 14,384 nervous, but raucous fans at Hilton Coliseum.
 "They executed that play great," said ISU coach Fred Hoiberg, whose team (14-3, 4-1) is tied with Kansas atop the league. "We came off and did a little hand-off weave and got the switch. Then they tried to switch again and Monté made a really nice move and hit a great floater."
 The Cyclones managed to bob just above the surface all night against a Wildcats team (11-8, 4-2) that seemed to have an answer for every run they faced.
 Kansas State allowed zero fast-break points — though coach Bruce Weber doubted the accuracy of that stat. It shot 51.1 percent over the first 30-plus minutes and made 15 of 16 free throws. The Wildcats led 69-67 with 4:04 left — and still lost.
 "It was do or die," said ISU's Jameel McKay, who matched career-highs with 15 points and seven rebounds in 26 minutes. "It was gut-check time."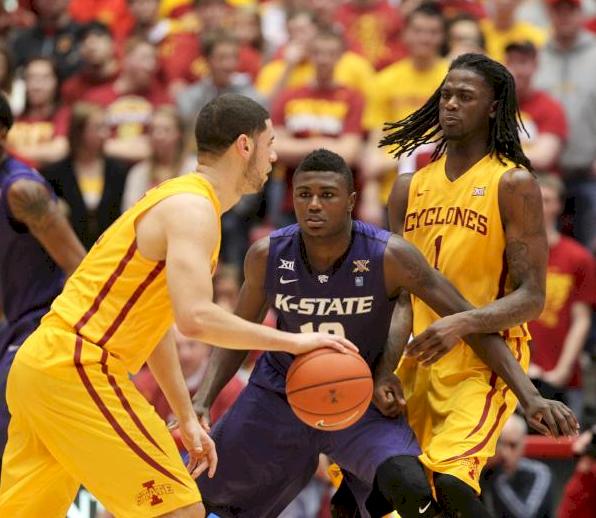 Advantage, Cyclones. When crunch time materialized, they rose to meet it with a 10-0 run. 
 K-State missed eight of their final nine shots, scoring its only points of the last four minutes on Justin Edwards' uncontested layup with one second left.
 "Our attention to detail throughout the entire game was a little off," said Niang, who scored 14 points, grabbed six rebounds and matched Morris with four assists. "With four minutes left we realized we had to do something about that."
 McKay's dunk off a pass from Naz Long tied the game at 69-69. Long hit two free throws to put ISU up for good at 71-69. Then came Morris and Niang's two-man game that pushed the lead to two possessions. Long added two more free throws. Niang splashed in two more.
 "I was really proud of the way they finished the game," Hoiberg said. 
 Disaster averted. The "hangover" from a huge win over the Jayhawks cured. The "magic" again on full display.
 "We're going to get everybody's best effort," said Hoiberg, whose team started 4-1 in the Big 12 for the first time since 2000. "They're going to look at us right now and see that No. 9 in front of our name and they're going to come out swinging. It's a mentality. Everybody's got to be together every single night. All five guys on the floor have got to be together. I didn't think we were — and it wasn't bad, we were just a little bit off. But that's all it takes in this league, is to be a little bit off. When we put it all together we were pretty darn good down the stretch."
 And they were tough throughout. The Cyclones grabbed 12 offensive rebounds to Kansas State's six. That disparity led to ISU's 24-6 edge in second-half points. Game, set, first place — despite the Wildcats' best efforts.
 "(One) thing we talked about was not letting them punk us," said Weber, whose team lost for the fourth straight time at Hilton. "I think that was the difference in the game, the second-half points. They just out-toughed us for balls. I know at least four of them led to 3-pointers and it's hard to recover. We were working our butts off."
 Not enough.
 Morris and emerging bench player Abdel Nader each scored 11 points. Long added 10. Nader made what Hoiberg termed "the play of the game" when he swatted away a seemingly sure-fire layup by Jevon Thomas with 2:59 left and the game still tied, 69-69. 
 "(He) came out of nowhere," Weber said.
 The comeback didn't. Thirteen games remain to sort this maddening Big 12 regular-season race out. The only thing Morris can be sure of is this:
 "I feel like we could have played better but we still got the win," he said. "It's scary because we didn't even play our best and I think we got their best shot."
 Grizzly Gipson
 *Niang compared tangling with K-State veteran big man Thomas Gipson to surviving a rugged wilderness encounter. "Have you ever wrestled a grizzly bear?" Niang asked while referencing the 6-7, 265-pound Gipson, who scored 15 points. "That's what it was like. The dude is huge and he has pretty quick feet. And running into those forearms, I'm sure Jameel's chest is going to be hurting tomorrow." Niang's mom, Alison, found the grizzly bear analogy interesting. "when did you ever wrestle a grizzly bear?" She asked him on Twitter. Niang's response? "that one time you punished me for spilling mik hahaha."
 One man SWAT team
 McKay's blocking shots at an historic rate. How historic? Only Kelvin Cato, in 1996-97, averaged more blocks (a whopping 4.21) then his is right now (2.75) through eight games. McKay's on pace to block 60.5 shots this season — and that's by the end of their first-round BIg 12 Tournament game. Figure in, conservatively (sorry), one more game there and at least one NCAA Tournament game and he'd be at 66 blocks, which would rank fourth all-time in school history. "He expends so much energy out there," Hoiberg said while noting McKay's conditioning continues to improve. "He's a lot better off now than he was that first game (vs. Drake, Dec. 20) when he was sucking all the air out of the gym."
Four in Four
 ISU improved to 56-4 at Hilton in the past four seasons. Hoiberg credited another sellout crowd with helping the Cyclones through numerous rough patches on Tuesday. "The crowd was unbelievable those last 10 minutes as well," Hoiberg said. "Talk about our crowd willing us to win, they were awesome at the end of the game in crunch time."