Twenty years is a long time.
That, of course, is how long Bill Fennelly has been the head coach of the Iowa State women's basketball program.
When Fennelly took over the program, I was a year old. Three players on his current team weren't even born yet. 
"I've been here 20 years. Big deal," Fennelly said Saturday after his team's 59-57 upset win over No. 3 Texas.
It's extremely rare for a coach to spend that much time at one school these days. During that time, Fennelly has built something special. He has won 427 games, led 15 teams to the NCAA Tournament (including the last eight in a row), taken three trips to the Sweet 16, two to the Elite Eight, acquired two Big 12 Tournament championships and one regular season title.
It sure sounds like a big deal to this wide-eyed 20-year old. I didn't grow up a Cyclone, but every basketball fan in Iowa knows the name Bill Fennelly. His program is a model of success. It is a model of how to build a program the right way, as he calls it, "the Iowa State way."
Saturday was a celebration of that program. Eighteen former players (pictured below) were back to honor their coach. The current team didn't do too bad of a job honoring him in their way. It was a day that Fennelly said would always be one of his favorite memories of his time at Iowa State.
"I don't like to rank best players, best teams, best wins, but best memories, yeah," Fennelly said with tears in his eyes. "Just because of the day."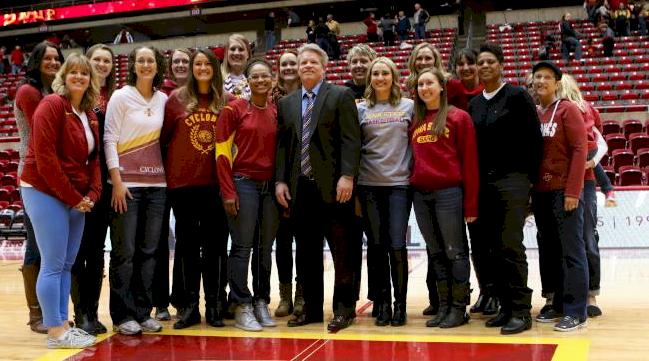 It really was an amazing day. The former players were announced during the under-16 timeout of the second half, just as the current players were making their comeback against the Longhorns. It was a day that embodied the family atmosphere of Iowa State women's basketball.
"Coaching, it's a really hard job, but it's a great job," Fennelly said. "These are the days you live for. That you get to do something so fun, so positive, so much full of life and energy, with all the people that you care so much about."
One of Fennelly's favorite stories to tell is that there were only 310 people at his first game as Iowa State's head coach He keeps the box score from the game in his office. On Saturday, the stands were packed with 7,928 screaming Cyclone fans. Texas head coach Karen Aston called it a "tremendous basketball atmosphere." 
Not many schools can say that about their women's games.
"I think the magic of this program came out today," Fennelly said. "The energy in the building was incredible."
Bill isn't the only Fennelly that's been important to the development of Iowa State women's basketball. His wife, Deb, sat at the podium with him for his postgame press conference on Saturday and has been at every postgame press conference I've attended. Then don't forget about his sons, Billy and Steven, both of which have spent time on the program's bench.
"Iowa State women's basketball, it's the family business," Fennelly said. "That's what we do. My dad ran a gas station his whole life. My father-in-law was a farmer. They have their own business and our business is this team, this school."
If Johnny Orr was the father of Hilton Magic, then the Fennelly's are the first family.