Adversity is blowing a 24-point lead and suffering a two-point loss on the road to TCU. 
Adversity is following that up by a trip home to face the No. 3 team in the nation.
Adversity is not having one of the best players on the team – sophomore guard Jadda Buckley – because of an injury that she had just returned from two games earlier.
Adversity is trailing Texas by 13 at the halftime.
Resiliency however is defined as the ability to readily recover from adversity.
On Saturday, the Iowa State women's basketball team was the definition of resiliency. The Cyclones used a 38-20 run to climb back into the game and eventually picked up a 59-57 upset win over one of the most dominant teams in America in front of 7,928 fans packed inside of Hilton Coliseum. 
This all happened on the day when Iowa State celebrated the 20th season of Bill Fennelly's tenure as head coach.
It all began with a simple piece of advice that senior Brynn Williamson had for her teammates when it came to moving past the loss to TCU.
"I said, 'Honestly the best thing I can tell you is to forget about it,'" Williamson told reporters after the game. "We couldn't get the ball across half court. If Nikki's in foul trouble we have to find another way to score. And knowing Jadda wasn't going to play, we just had to find another way."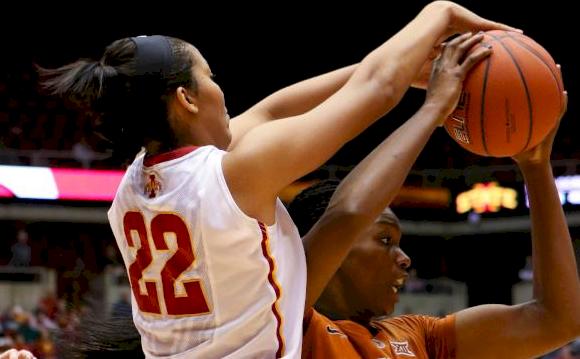 The Cyclones did find another way. They used timely shooting – such as the three that Williamson hit as time expired in the first half – and started the big run. They played defense. The Cyclones held Texas to just 21 percent from the floor and 16 percent from 3-point range in the second half. Texas' top two scorers were held to a combined 10 points and 4-for-21 day from the field.
The run ended when senior guard Nikki Moody found forward Seanna Johnson underneath the basket with 19 seconds remaining and the score tied at 57. The timely shooting came into play – again. Johnson's shot went through the net.
After several missed shots by Texas on the other end, Hilton Magic had found its newest victim.
"I knew I wasn't going to shoot it," Moody said. "When I drove to the basket I saw Nneka (Enemkpali) look me in my face and I knew she was either going to block it, or I wasn't going to be able to get it up there. I knew the best thing for me to do was to dish."
It was a day that according to Fennelly, was too good even for Hollywood. Eighteen former Cyclones were introduced on the floor during the under-16 timeout of the second half, coinciding with the start of the Cyclones' run. The day was a celebration honoring the man that has built the program into what it is today.
"If you wrote this out the way it all happened and took it to Hollywood, they'd laugh at you," Fennelly said. "It's like a movie. It makes everyone feel really good about being a part of this and, for me, that's always been the most important thing."
It doesn't get any easier for the Cyclones after this. A trip to Waco and the No. 5 Baylor Bears looms large on Tuesday and according to Williamson, the Cyclones are just getting started.
"We're not done yet. We have another top-five team to play next week," Williamson said. "Everyone's going to celebrate this, but it's not going to be the end. It's not going to be the highlight of our season because we have so much more to play. The Big 12 is up for grabs and it just shows what we are capable of beating a team like this."
If this isn't the highlight of the season, then how do the Cyclones top this?
"Go beat Baylor." Williamson said.
Quick stats
*** Nikki Moody led the Cyclones in scoring with 17 points, Brynn Williamson added 14 points, and Seanna Johnson scored 12.
*** Johnson led the Cyclones in rebounds with nine. Moody grabbed eight boards and dished out seven assists.
*** The Cyclones shot 38.9 percent from the field, 51.9 percent in the second half, and 33.3 percent from three-point range.
*** Iowa State out-rebounded Texas 59-57.
*** The win was ISU's first win over an AP top-five team since Jan. 14, 2004 (64-63 vs. No. 2 Texas Tech).
*** ISU has won five straight home games against Texas.
*** Iowa State will take on No. 5 Baylor this Tuesday at 7 p.m. in Waco.