AMES — The phone buzzed.
 Paul Rhoads recognized the number.
 "Hi, coach," said the voice on the other end that fateful October, 2012 day. 
  It was supposed to be a farewell call — a too-soon parting message from a formerly unwanted athlete who became Rhoads' first Cyclone recruit; a young man once defined by the term "long shot" who molded himself into an all-Big 12, then NFL linebacker.
 But this was Jake Knott calling.
 Number 20.
 So the message delivered came with a side of toughness, determination and devotion.
 It's the basis of a selfless story you likely remember well (and fondly).
A tale framed by deep physical pain that couldn't stand up against an even deeper sense of loyalty, friendship and belonging.
A cardinal-dyed yarn permeated by blood, sweat, and finally, tears.
 "Epic," Rhoads said, settling on an apt term to describe Knott's on-the-field performance against Baylor a mere three days later.
 "No tomorrow"
 Knott played football at Iowa State with such abandon — unbridled joy mixed with well-meaning recklessness — that Rhoads once joked he'd have to hide his star player's helmet to keep him off the field when hurt.
 Knott didn't have a helmet with him as he met with doctors in Chicago to set the date for season-ending shoulder surgery before that phone call was made, but he refused to give up hope.
 He was scheduled to go under the knife on a Friday, which meant he wouldn't be able to play in the pivotal Oct. 27 matchup with the high-octane Bears. 
 A news report even came out saying as much. 
 Then, surgery mysteriously migrated to the following Monday.
 Knott's mind began churning.
 He had a question for the doctor.
 "Can I play?"
 The answer?
 "'You could,' the somewhat perplexed doctor told Knott then. "'I don't know how effective you're going to be. Or if you're going to be able to even deal with it.'"
 Knott — who'd already battled myriad injuries in pursuit of his dreams — reached for the phone.
 "He says, 'I can play,'" Rhoads recalled. "And to be quite honest, I laughed it off because he was so injured and in need of surgical repair. How can a guy play effectively against a team as good as Baylor with that being the case?"
 Knott heard the laughter, but stood firm.
 "Then, 'No, I'm serious,'" Rhoads said. "'The doctor says I'm not going to do any more (damage). We can harness it up and I can give it a go.' So I reluctantly, with conversation with (defensive coordinator) Wally (Burnham), agreed."
 Rhoads finally shared a few final cautionary words with Knott.
 "But you've got to be effective," he said. "If you're not effective, you can't help us."
 So Knott resolved to play — and play productively.
 He'd have no access to pain medication, since surgery loomed on the other side of the weekend.
 And he was fine with that.
 He merely needed to control his emotions as the team bonded before kickoff under the lights at Jack Trice Stadium.
 "It would be my last time warming up out there and my last time being coached by Wally Burnham as a player," Knott said this week during a break from training as an NFL free agent. "So that was tough. I had to fight back tears."
 But then the tunnel opened up.
 "Smoke on the Water" filled the air.
 Knott grabbed his helmet, snapped the strap, and sprinted onto the field.
 "I just turned that type of emotion into something that was going to help me perform on the field," he said. "Turned it into knowing that I had to lay everything out there, physically, as hard as I could, as much as I could. And knowing that there was no tomorrow for me. It was just this game."
 Little brother, big impact
 Baylor entered the game reeling from a three-game skid, but still averaging 48 points per game on offense.
 Knott hadn't even been able to review game film until arriving back in Ames that Friday. He hadn't practiced for nearly two weeks and struggled to raise his left arm because of his mangled shoulder.
 So he turned to his brother, Luke, then a true freshman wrapped in a redshirt. 
 Luke Knott had studied the Nick Florence-led Bears' offense and shared his knowledge with big brother Jake.
 "He helped me out," the eldest Knott brother said. "He gave me a lot of tips and everything that helped me end up stopping a lot of their plays."
 Luke knew Florence's tendencies.
 He discerned his preferred reads.
 He wasn't going to play and his brother almost couldn't either, but that didn't curtail his zest for in-depth game preparation.
 "He was explaining to me some of the routes I couldn't see," Jake said. "When they were going to sit down in their curl routes based on me."
 The Bears nonetheless started strong, surging to a 14-7 lead.
 It could have been worse.
 Florence drove Baylor within inches of the goal line on the game's initial possession.
 Then, on a third down keeper, he flailed for the end zone and met Knott, who dislodged the football.
 Defensive end Willie Scott recovered.
 A sure six points evaporated and a Steele Jantz-led Cyclone comeback eventually ensued.
 ISU scored 28 straight points and the enigmatic Jantz posted his best statistical numbers — 381 yards, five touchdowns — in a dominant 35-21 win that virtually assured bowl eligibility  with Kansas (and quarterback Sam Richardson's rousing debut in a 51-23 triumph) on the docket in three weeks.
 But Knott, not Jantz, stole the show during his curtain-call.
 He finished with 11 tackles along with the forced fumble, which perfectly complemented star linebacking mate A.J. Klein's 13 stops.
 "He didn't go out and just effectively play, he went out and earned Big 12 Defensive Player of the Week honors," Rhoads said. "So I've got a picture of he and I walking off the field together right around that turn right there."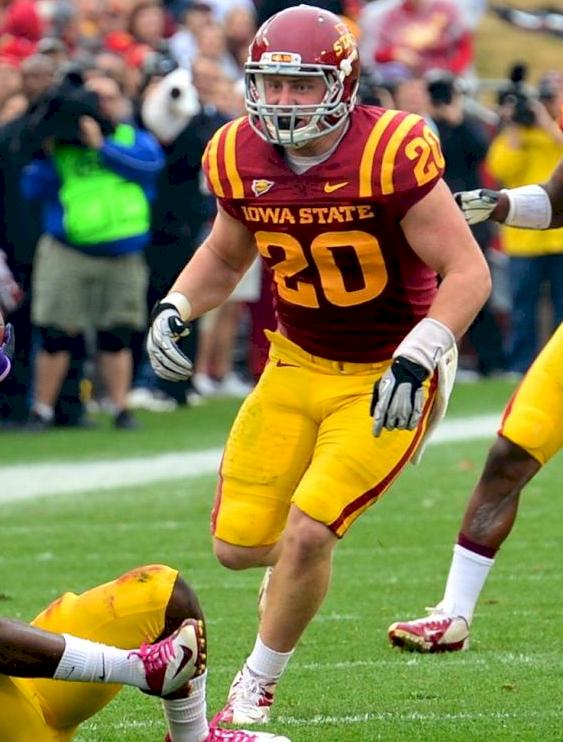 The lasting impression
 The Des Moines Register published that photo of Knott and Rhoads — clenched together as they strode toward the locker room — the next day. 
 Rhoads is frozen in mid sentence, his hand clutching Knott's left arm; the one Knott could barely raise without enduring waves of teeth-gritting plain.
 This served as the true goodbye, a poignant moment memorialized in megabytes.
  "Yeah," Rhoads said of his copy of the photo. "It's a keeper."
 There stood the Waukee High School star who garnered one other FBS football offer and seemed destined for a college baseball career at Iowa.
 There stood his coach — the guy who had barely began assembling a staff before popping a DVD of Knott's high school highlights into a machine and seeing images of a potentially big-time player flash across the screen.
 "It was kind of like it came full circle," Knott said of the moment. "One of the very, very few guys that was willing to give me a scholarship and believed in me enough when I was younger that I could play at that level and be successful at that level. To be walking off the field my last game with him and just very much feeling indebted to him, I guess, because of what he did for me getting me to that point; I wouldn't have been there without him."
 An unexpected return
 Knott went undrafted the following April.
 His lengthy list of injuries made him a risky pick.
 His heart made him a promising undrafted free agent. 
 The Philadelphia Eagles came calling and Knott made the most of his chance, cementing a roster spot.
 Knott saw action mostly on special teams, but recorded six tackles in 12 games and looked to figure in the Eagles' plans for 2014.
 But this spring, a positive PED test caught Knott and the team off guard.
 Knott was suspended four games.
 He'd tested positive for amphetamines.
 A gaffe, he said.
 An error made not on purpose, but by mistake — and something that under recently-negotiated NFL drug policy rules wouldn't warrant similar punishment if it were to happen today. 
 "The people that know me and love me know that it's completely out of character and not something I would do, ever," Knott said of the notion that he'd take shortcuts to success. 
 That didn't matter to the NFL, of course. 
 "I didn't fit in that window," Knott said. "It sucks, but it is what it is and there's nothing I can do about it."
 The Eagles eventually cut Knott loose, unwittingly sending him on a familiar path.
 Back to Ames.
 Back to the Bergstrom Football Complex.
 Back to his brother and the head coach who believed in him when few others did.
 "Having Jake up there (in the film room) giving us key pointers and tips along the way is definitely very beneficial," Luke Knott said of the virtual coaching his brother's done since returning.
 But a possible later career in coaching can — and must — wait.
 Jake's been training twice a day with ISU's strength staff.
 Heavy lifts share time with an injury prevention regimen during morning sessions.
 Afternoons often include an auxiliary workout, along with the implementation of yet more science-based plans to keep his body healthy.
 "I'm actually dumb for not coming back always in my free time until now," Knott said. 
 Knott said he's deeply grateful to ISU assistant strength and conditioning coach Clayton Oyster for the time he's spent aiding his comeback bid.
 He's also enjoyed working with head strength coach, Yancy McKnight, as well as associate athletic director for athletics training, Mark Coberley.
 "It's a tough situation and to have the type of people around me that I do, I'm extremely fortunate," said Knott, who can begin fielding calls from prospective NFL teams by Tuesday morning. "It just makes going in there and working out twice a day and meeting with those linebackers, it makes it easy. I still love the game. I love working out. I love playing football. But it was hard there for a little bit because you had people that looked down on you or whatever because of the situation I'm in. Now I have people that just have nothing for love that me. That just makes it an easy situation for me to work my tail off right now."
 Working … and waiting
 First things first.
 Knott will again stand on the Jack Trice Stadium sidelines when the heavily-disfavored Cyclones face an even better (and No. 7 ranked) Baylor team than he did at 7:20 p.m. Saturday.
 "It's fun to just be around those guys again," Knott said.
 He'll advise Luke and the other linebackers.
 Heck, he'll share hard-earned and hard knock-filled wisdom with anyone willing to listen.
 Knott will be around until another NFL dream sweeps across the horizon, "and hopefully it's next week or the week after that," he noted.
 In the interim, he's reveling in new memories; heartfelt moments shared yet again with his brother and football family.
 After the 20-17 win at Iowa two weeks ago, someone snapped a photo of Luke and Jake holding the Cy-Hawk trophy.
 It appeared, via Instagram, on Luke's Twitter account, right next to the snapshot captured after Jake's late interception sealed a 9-6 win over the Hawkeyes less than two months before the 2012 Baylor win.
 In the side-by-side pictures, both Knotts have their hands on the trophy, even though only one had a hand in winning each game. 
 They're all smiles.
 All in.
 Immersed in the present, while remembering the past. 
 "It was such a cool situation," Jake Knott said. "How many brothers are able to hold that trophy up in Kinnick Stadium for Iowa State in back-to-back years that we played away games? And regardless of if I was playing or now, or if he was playing his redshirt year, it was just cool to be together and have that type of experience. That's all your left with, really, is those types of memories."
 Until you build on them.
 That's Jake's plan once again.
 The odds are long.
 Adversity's high.
 And this time, he can't place that fateful phone call.
 He must wait for it.
 "I have to be just about in the best shape of my life," said Knott, who finished his Cyclone career ranked sixth on the all-time tackles chart with 347 stops. "If I go to work out, or a team signs me to a practice squad or an active roster, I can't miss a beat. I've got to look great always. That's about all I can do right now. Just work my tail off."