For the bulk of Tyrus McGee's two years in Ames, like ESPN's infatuation with LeBron, Cyclone fans and the media incessantly pondered why the Stringtown, Okla. native hardly ever cracked Iowa State's starting five.
McGee, who averaged 13.1 points per game as a senior for the Cyclones, was a no-brainer to win the Big 12's Sixth-Man of the Year award for the 2012-13 season. McGee had a very distinct role on two NCAA Tournament teams that he played for at Iowa State. He was a fearless sharpshooter (McGee made 46 percent of his 3-pointers in 2012-13, which is the second-best mark in school history behind Jake Sullivan in 2001-02). McGee also served as a 6-foot-2 mass of instant energy every time he stepped on the floor. 
While playing for Leche Rio Breogan Lugo (Spain) in the International League last season, things changed. McGee, the only American on his team's roster (most teams have two), was no longer the sixth-man. He was the man.
On a team that lost in the semi-finals of the International League's playoffs, McGee finished the season second on his club in scoring at 13.2 points per game. McGee's 3-point statistics remained impressive. He connected on 43 percent of balls from long range but consider this: The international 3-point line (22.15 ft., 21.65 ft. in the corner) is nearly two-feet longer than college ball in the United States (20.75 ft.) In addition to that adjustment, the days of McGee popping off of a big-bodied Royce White or Chris Babb screen to shoot the rock were long gone. McGee was no longer strictly a 3-point shooter. He was forced to learn how to create his owns shots at the professional level.
"It was a different experience," McGee told CycloneFanatic.com. "I was the main player on the team. I didn't just run off of screens anymore. I came off of ball screens but handled the ball and played point guard as well."
McGee admitted to not actually feeling comfortable until about halfway through his rookie season due to the many obstacles that come with playing overseas, but the rules of the game were the main hurdle. 
"I would call the whole year one big learning curve," McGee said. "It is a different style of play. I had trouble during the beginning of the season with some rules like traveling. Over there you have to put the ball on the floor before you can take off and do anything. Over there, when you shoot the ball, they can swipe it off of the rim, things like that. It's just something I had never experienced before."
From the language barrier to the food to having to adapt to different rules, McGee's rookie season in Europe was no picnic. However, the experience did make him a better player, which could potentially pay off this summer.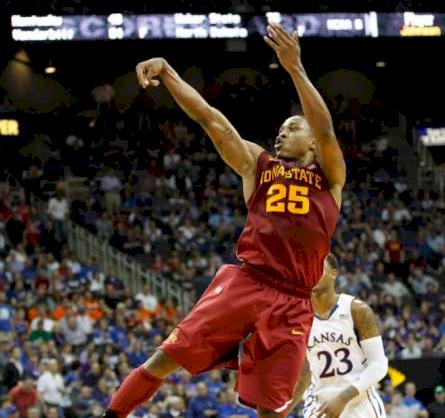 NBA dreams still very much alive
One of the most popular Cyclones of all-time caught one of the toughest breaks of all-time shortly before the NBA's summer league tipped off in 2013. McGee, who was not selected in last summer's NBA Draft, tore a ligament in his knee shortly after the June Draft. In return, the injury kept him out of summer league action. 
"I think that cost him some opportunities," Iowa State head coach and former NBA executive Fred Hoiberg said. "Coming off of a first great season over in Europe where he was able to show what he can do off of the dribble will certainly help this summer."
That is McGee's current plan. After his season in Spain ended on May 2, McGee traveled back to Oklahoma where he continues to train with old friends at a local high school gym. McGee plans to return to Ames in June for Iowa State's annual camp too. 
"Hopefully I get some workouts this summer and I'll go from there," McGee said. "I don't know what my plan is yet though."
Hoiberg is confident that McGee will receive an opportunity from one or more NBA teams. 
"He will probably play in some free agent camps and I think he will show very well," Hoiberg said. "Any guy that can shoot the ball as well as Tyrus will always have an opportunity."
Clone to the bone 
McGee was an entire Atlantic Ocean and half of the USA away from Ames last March but that didn't stop ole No. 25 from taking in Iowa State's run to the Sweet 16. It took staying up all night but McGee, who still communicates with Iowa State fans regularly on Twitter, witnessed it all.
"It was probably 4 o'clock in the morning," McGee said. "We are seven hours ahead in Spain so it was late when I watched the guys in the tournament."
Iowa State's latest trip to the NCAA Tournament didn't surprise McGee at all but it did make him smile.
"It showed me that the young ones when I was there actually listened," McGee said. "I always knew that they would be good because they were always looking up to the older guys and wanted to be better."
McGee's largest takeaway from the season was the development of soon-to-be junior Naz Long. Of course, Long developed a reputation late in Iowa State's run as a dangerous threat from long range when his team needed it most. McGee, who some compare Long to, saw a young man that he once mentored as a freshman grow up right before his very eyes. 
"He stepped up big time," McGee enthusiastically said. "I tell him (via Twitter) to keep being himself. Don't go out there and change for anyone. Just go out there and use that ability when you need to. That's what I kept explaining to him when I was at Iowa State. This year I told him to go out there with a free mind. Coach Fred knows you're a good player. It's all about confidence and he looked confident to me."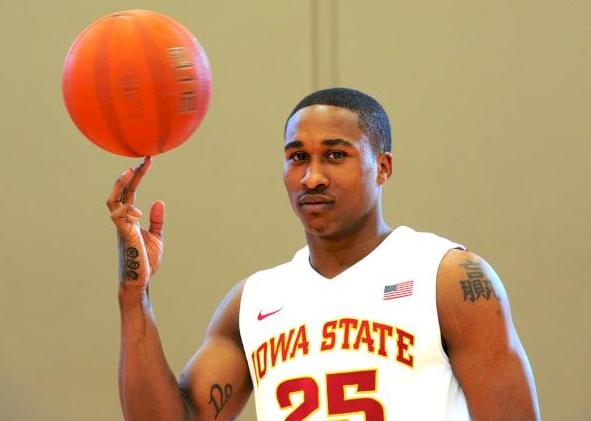 Jottings
*** American players often have a hard time of adapting to certain European customs while playing overseas. Food can be an issue. Luckily, this wasn't the case for McGee in Spain. Believe it or not, the small-town boy from Oklahoma developed a liking for octopus.
"That is typical food for them," McGee said. "I tried to eat with salt and eggs and shrimp along with some other stuff. I thought it was like chewing on gummy worms without the gummy worm taste."
McGee noted that his friends and family in Oklahoma weren't about to try octopus with him anytime soon.
*** Here's a shout out to McGee's former managers at Iowa State. He missed you last season.
"We didn't have many managers," McGee said. "At Iowa State, I used the managers daily. But I still managed to get shots up."
***Quotable: "As the season ended, they told me that I was the best American in that league. I was the only American on my team. The other teams had two Americans. We finished fourth to end the season and then we made it to the semi-finals of the playoffs and got beat in game three."
Why so popular? (a quick editorial)
There is an old saying in golf that, "Chicks dig the long ball."
In basketball, fans dig the 3-point shot. Add the heart of a lion to one of the best 3-point shooters in school history and you've got Tyrus McGee, one of the most popular Cyclones I've yet to see come through Ames. 
McGee most certainly left his mark in on Iowa State's record book. He's Iowa State's second-all team leader in 3-point percentage (minimum 70 made) at .437 behind only Scott Christopherson (.443, 2010-2012). The 96 threes that McGee made in 2013 ranks third all-time in Iowa State's record book. He ranks fifth all-time in career 3-pointers made (146 in only two seasons).
"The thing that was impressive about what he did with us and the 46 percent mark that led the nation in 3-point shooting was the degree of difficulty of the shots that he took," Hoiberg said.
Spot on, coach. There was nothing conventional about the way that McGee played basketball in Ames. Hand in his face? McGee chucked it (and usually made it) anyway. He did it fading away. He buried threes from the corner, on a wing and five steps behind the top of the key.
What will he be remembered for the most? The chatterbox on Hoiberg's first two NCAA Tournament teams did everything with a smile. The same was the case last season in Spain. Perhaps next year, McThree will be doing his thing in the NBA.