By Chris Williams, CycloneFanatic.com Publisher
The first time that Fred Hoiberg saw Tyrus McGee play basketball, he knew that he had to have him. At a junior college function in Oklahoma last summer, Hoiberg saw a guy in McGee whom he wanted to build a program around.
"I said 'I've got to get this kid,'" Hoiberg told CycloneFanatic.com on Monday. "We made him our number one priority. Thankfully we beat out some pretty good teams to get him."
As a sophomore at Cowley County Community College in Arkansas City Kan., McGee's stock has soared. Now an Iowa State signee, McGee is averaging 20.7 points, 5.6 rebounds, 3.4 assists and 2.3 steals per game for his Cowley team that boasts a 17-5 record. On Saturday night, McGee went 5-for-5 from 3-point range and scored 30 points in an 86-83 Cowley County win over Highland C.C.
"I've gotten a lot better since last year," McGee said. "I've improved my point guard skills. Last year I was at the two. My passing ability and being able to see the floor is much better."
McGee is about to enter Cowley College's record books. He is three points away from being the 10th player in the history of the Tiger program to score 1,000 points in his career. Cowley still has eight games left in its regular season schedule.
On Saturday night, McGee was recognized for his excellence on the hardwood and in the classroom, as he was named Cowley's January Student-Athlete of the Month.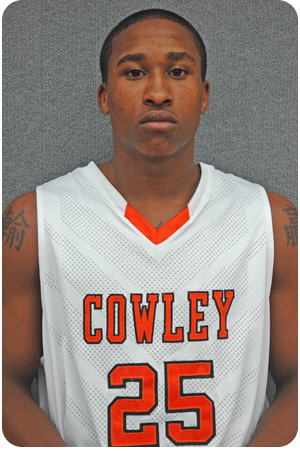 Hoiberg's scouting report from one huge win

When McGee signed with Iowa State in November, Fred Hoiberg was excited. After Hoiberg's Jan. 5 visit to Arkansas City, he became borderline giddy. Here's what went down.
Sixth-ranked Coffeyville C.C. was in town and they got off to an early 20-4 lead. Things looked a bit gloomy for McGee and his Tigers.
"They kind of got off to a start that was similar to what we have been doing lately," Hoiberg said. "Then he just willed them to a win."
It's almost as if McGee wanted to show off for his future coach. After the nasty start, the future Cyclone responded to drop 30 on Coffeyville and led his team to its biggest win of the season in comeback fashion.
"He was shooting the three (McGee hit five of them). He was in the lane shooting floaters. Defensively he was getting big steals in key moments," Hoiberg said. "It reminded me of a game where Jake (Anderson) cramped up but still went out and competed. He did the same thing. He played so hard that he cramped up, but he still found a way to go out there and finish strong for his team."
For more on McGee, CLICK HERE.
Iowa State's future point guard?
You can likely count the number of things that Tyrus McGee has done wrong this year on one hand. That's at the JUCO level though. He'll have some big shoes to fill at Iowa State in 2011.
Twenty-two games into Fred Hoiberg's first campaign, Diante Garrett has averaged 17.8 points and 5.8 assists per contest. Add to that Jake Anderson's 12.3 points and 8.0 rebounds per game and it is painfully obvious that if an NCAA Tournament berth is on the horizon next season, the Cyclones will need some serious production from newcomers in the backcourt.
As a freshman at Cowley, McGee was an off-guard. He wants to be a point guard though. That's why as a sophomore, McGee has been playing more at the one, where he'll likely see time at Iowa State next season.
"He is a combo-guard who can play different positions. He has long arms and big hands," Hoiberg said. "I think that he will play different positions. It is yet to be determined. That will play itself out in practice next year. I know that he will compete for it."
McGee will compete for the gig with fellow newcomers, freshmen Anthony Odunsi and Tavon Sledge. Don't sleep on current redshirt freshman Bubu Palo either, who has gained valuable experience so far this season. Regardless of whom the guy is to start at point guard, Hoiberg and his staff will have options. After this season, that fact is very refreshing.
Hoiberg's vision
We've addressed the three fresh faces that will enter Iowa State's guard court for the 2011-12 season. Don't forget about the transfers though. The fact is that Iowa State might not have one go-to point guard next season.
"What I envision of this team next year is that we'll have multiple ball handlers," Hoiberg said. "We'll have multiple threats, which is always an advantage. If you can have different people bring the ball up and different people in the lanes and different people attack when you throw ahead."
"Tavon and Anthony will be out there. I think that Chris Allen can handle the ball. He did some during his time at Michigan State. Royce (White) can handle the ball. He handles it very well for his size as a power forward."
You get the picture. With Iowa State's current roster, Hoiberg is consistently asked to bring a butter knife to the artillery heavy battle that is the Big 12 Conference.
Things are about to even out for Hoiberg and Iowa State.