Paul Rhoads participated in the Big 12's annual spring football teleconference on Tuesday and to the surprise of nobody, the first question he fielded was about his situation at quarterback. Sophomore Grant Rohach took the majority of the reps with the first string in Iowa State's spring game a few weekends ago but according to Rhoads, has yet to secure the job.
So when will a starter be named?
"I would anticipate we will probably have him named by the middle of August," Rhoads said. "The first scrimmage potentially. The second scrimmage for sure."
Earlier this spring, new offensive coordinator Mark Mangino said, "The sooner, the better," when it comes to naming a starter. Mangino also said that he won't "force" a decision.
Junior Sam Richardson and redshirt freshman Joel Lanning (pictured below) are competing with Rohach for the starting job. 
"I think we still have work to do," Rhoads said of his quarterbacks. "I think that was going to be the case with two things being factual. One is a new quarterback coach and two and more importantly, a new offense to learn. With the new offense and the burden of that being on their plate and being coached technically in different ways, there was a lot of growth that took place through 15 practices and a lot more that has to take place."
Rohach made a statement at the end of last year when he threw for 300-plus yards in season ending wins over Kansas and West Virginia. However, Richardson was the clear-cut No. 1 entering the 2013 campaign. Lanning slit reps evenly with the two veterans this spring and is clearly in the conversation.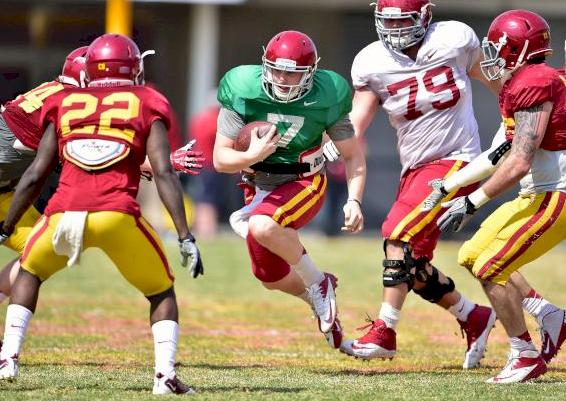 Devron Moore update
There really isn't any update to give on the status of junior free safety Devron Moore but Rhoads did deliver this tidbit.
"It will be a little bit different for him if he does decide to come back in the fact that he will not be on scholarship," Rhoads said. "Right now we are waiting to hear from him."
Moore, who came to Iowa State this spring out of Northeast Oklahoma A&M, left campus mid-semester due to homesickness. When he signed with Iowa State in December, the general thought was that Moore had been penciled in as a starter at free safety. 
"Probably by the end of the school year – this spring semester – a decision will be made by him whether he returns or not," Rhoads said. "He has that opportunity. 
JOTTINGS
*** Iowa State coordinators Mark Manginio and Wally Burnham are in the office this week reviewing spring tape and preparing for the summer. Meanwhile, the assistant coaches are for the most part all out on the road recruiting.
*** In Rhoads' teleconference, he said that his program's offensive line is "vastly improved" compared to a year ago.
*** Iowa State's lack of experience on the defensive side of the football was a big story this spring. However, Rhoads seemed awfully upbeat when asked about that group at the end of the spring.
"I was really pleased with the last week and a half," Rhoads said. "I thought we had a very good week leading up to the spring game and then we finished with two physical practice post spring game and a scrimmage on Wednesday. I was really pleased with how they came on. I think they started slow – that wasn't a surprise – but they started slow. I think here is a lot of room yet, a high ceiling for what can take place with that group."
*** Quote of the day: "We have a lot of linebackers that run but they don't know where they are running to yet and Wally will get that taken care of."