Proudly landscaping Central Iowa since 1981, Country Landscapes has provided the ultimate in custom landscaping with innovative design and quality installation. Their locations in central, eastern, and northern Iowa serve Ames, Ankeny, Des Moines, Iowa City, Cedar Rapids, Clear Lake, Mason City, Marshalltown, and the surrounding communities. Their staff is local to you and loves to landscape–let them help you with all your landscaping needs!

Kansas City, Mo. —Dustin Hogue approaches the game of basketball like most successful undersized "bigs" do. The 6-foot-6 forward plays with relentless energy, which in return allows him to be one of the top rebounders in the Big 12 Conference.  
Fact: Iowa State would not have beaten Kansas State, 91-85, in the quarterfinal of the Big 12 Tournament on Thursday without Hogue's surge. The junior had an ordinary 10 rebounds but those boards fueled the 19 points, which proved to be critical in Iowa State's advance to the semi's vs. Kansas on Friday night.
"We have three main guys on our team and we run our offensive through them so when we get in foul trouble, I know I have to step up sometimes," Hogue said after the game. "When I saw that we didn't have a rhythm going too much, I decided to be a little more aggressive and shots started to fall."
Hogue didn't press. He was a modest 1-for-1 from 3-point range while knocking down 6-of-7 free throws. And of course, there was that step-back, impressive fade away jumper that Hogue hit midway through in the second half.
"Actually, he does hit that in practice and I do call out 'BS' but since he hit it in a game, I will give it to him," Georges Niang joked.
Moral of the story: In basketball, it is very normal for one end of the floor to affect another. When a guy is sinking threes, he generally plays with more confidence and energy on defense. When Hogue is rebounding at a high rate, he usually scores more points because of it.
"If I go into a game and have 10 rebounds and zero points, I feel like I had a successful game," Hogue said. "When I rebound the ball well, I feel like I can do anything. That's the type of guy I want to be." 
Quotable
DeAndre Kane on Dustin Hogue…
"He is probably the heart and soul of our team. He doesn't get the credit that he deserves. He gets all of the loose balls and rebounds. He fights in the paint. He is undersized but he bangs with the big guys every night out there." 
All out brawl
"You ever heard of WWE? I feel like I just got out of a cage match."
That is how Georges Niang chose to describe his team's nail biting victory over league rival Kansas State.
"That was a hard fought game. They wouldn't budge. We wouldn't budge. The lead was going back and forth," Niang said. "I'm sure it was a great game to watch. It was a great game to be a part of. I'm excited for our team. Tonight we showed a lot of will and perseverance. To fight through adversity with Kane fouling out and calls not going our way. I just feel like we did a great job and I'm really proud of these guys."
Leading up to Thursday, Fred Hoiberg and his players praised Kansas State for being the most physical team they had played this season. So how did this game compare to Iowa State's 80-73 loss to the Wildcats in Manhattan on March 1?
"It was much tougher tonight," Monte Morris said. "You could tell that both teams were playing for a title. We both came out aggressive. We out-rebounded them on the offensive glass by nine but in real life, they have big bodies. It is hard to cut them out. With them being so physical, they didn't want to go home."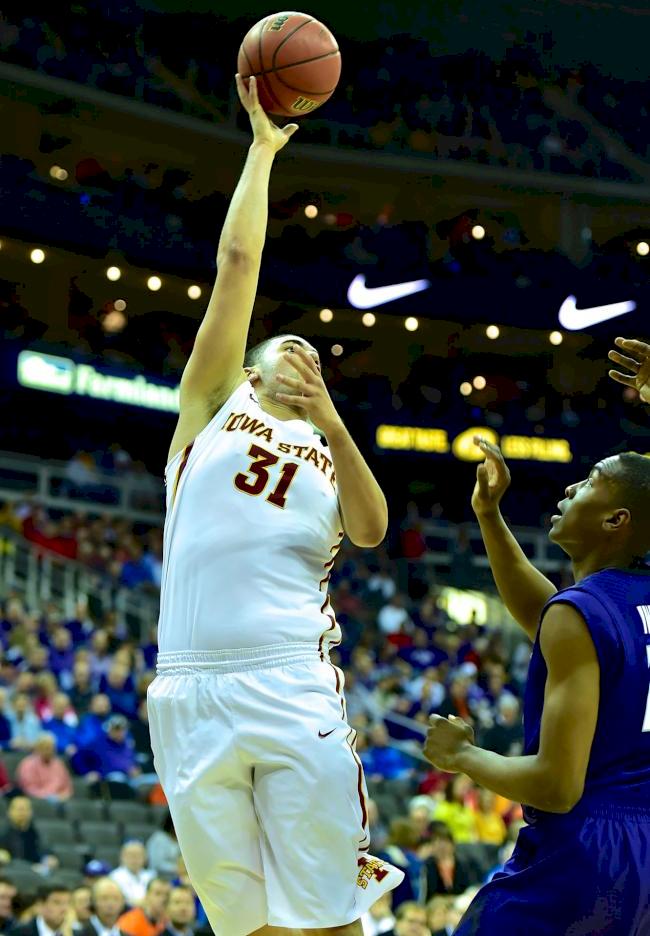 Quotable
Kansas State coach Bruce Weber on the Big 12…
"I don't think nationwide people appreciate how good our league is. And I thought it was a little disrespectful, the polls. We just keep beating each other, and other teams. You know, Iowa lost six out of seven and stayed in the polls. It didn't make a lot of sense to me. But the only way you can back it up is go in the tournament and do something. So I feel good about our group. I feel good about the league."
JOTTINGS
*** Melvin Ejim's 24 points and 10 rebounds marked his 10thdouble-double of the season.  
*** Freshman Monte Morris dished out 10 assists to only one turnover. He scored five points with a rebound in 35 minutes of action.
*** Kansas State's bench out-scored Iowa State's 41-14. 
*** Iowa State is now 18-0 while leading at halftime this season. 
*** Iowa State's semifinal game vs. Kansas will air on ABC5 (Big 12 Network) in central Iowa on Friday night at 6. Outside of central Iowa, the game will be seen on ESPNU.